10th July 2019
Natural looking matt finish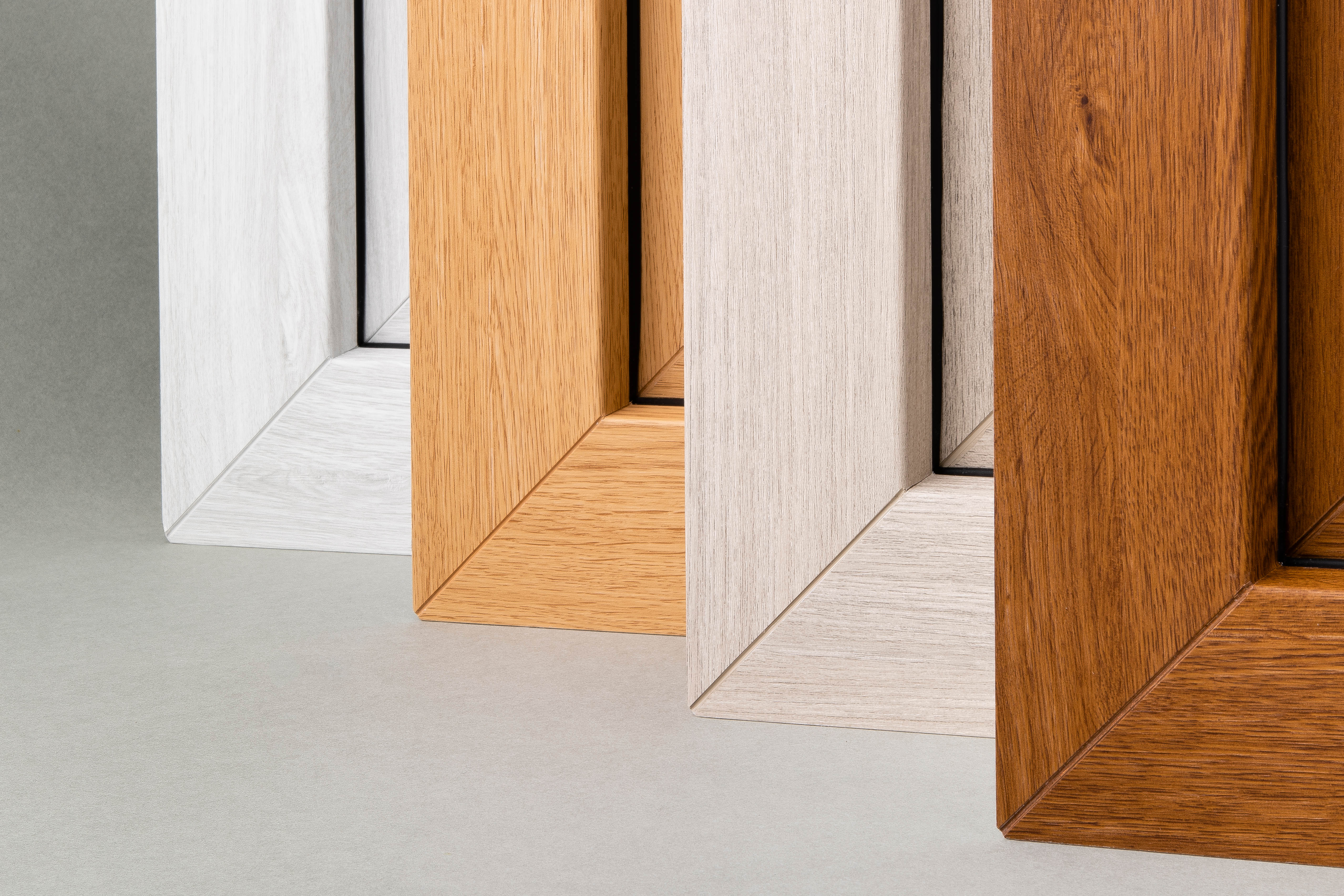 Worms, May 22, 2019 – Matt surfaces are in vogue, and not just in interior design or the automotive sector. There is also widespread demand around the house for surfaces that are pleasant to the touch - the attractive, the more fashionable. With its new finish for exterior films, RENOLIT is now raising the bar for window profiles, door panels and facades. The surface specialists from Worms have combined the deep, dynamic wood texture VLF with a transparent PVDF layer, creating an extremely natural look. "This texture is practically indistinguishable from real wood, neither visually nor in terms of touch,\"....
Door Security

ULTION SMART HAS HOMEOWNER SECURITY AT ITS HEART

Brisant Secure has a long track record as a security company, that creates locks and handles which keep people safe. In Brisant's development of Ultion SMART, homeowner security was at the top of the wish list.

Ultion SMART has been developed in collaboration with Salto Systems. Their tried and tested Danalock technology used with Brisant's most secure lock and handle, creates a new customer focussed Smart lock.

Ultion SMART gives...

 

 

On the safe side, when it comes to Fire Doors

North East Panels, a proud trade supplier of high quality PVCu panels, PVCu internal doors, garage roller shutters doors and composite doors has put its fire door through extensive independent testing to ensure it achieves FD30 certification, demonstrating that the exceptional doors in its FD30 range meet all the relevant fire safety requirements for commercial and domestic use.

Using high quality Halo profile from VEKA UK Group for the outerframe, the Tyne and Wear-based team had redesigned their fire door, with new reinforcements and a different range of hardware before sending the updated system all the way to Barcelona to...

 

 

Fire Doors

West Port's fastener focus helps deliver assured fire door performance

Rapierstar's specialist technical support has played a key role in helping West Port to achieve high performing fire rated door-sets, by eliminating the risk of failure during testing as a result of the incorrect choice and application of fasteners.

Rapierstar, which is the UK's market-leading supplier of window...

 
Trade News

SHORTWOOD UNITED IS INSPIRED BY THE BUNDESLIGA!

When KÖMMERLING's area sales manager, Jason Scrivens, was appointed the manager of semi-professional football club Shortwood United, he decided to take a little inspiration from the Bundesliga.

KÖMMERLING are the main sponsor for the Bundesliga team 1. FSV Mainz 05, who have just finished the season in a highly respectable 12th place and so football is a major talking point...

 

 

Leka Systems launches consumer brochure

Leka Systems has launched a stunning new 36-page consumer brochure. Rhys Hoddinott, Managing Director of Leka Systems, said: "Our consumer brochure has been designed to support installers' marketing activity and help them close more sales by showcasing the quality Leka roofing systems have to offer the consumer."

The brochure uses high quality lifestyle imagery to full effect throughout, showing just how much a Leka rood product can enhance homeowners' lifestyles.

It opens with information about Leka Systems and the research and development expertise that sits behind all Leka products.

The first product to be showcased is Leka's Tiled Conservatory Roof. It...

 

 

New Product

NEW 3D BIM SERVICE LAUNCHED BY ISO CHEMIE

New 3D BIM (Building Information Modelling) technology is available from foam tape sealing company ISO CHEMIE.

The move will enable architects and designers to integrate high quality scaled digital information around window and door sealing solutions as part of their 3D visualisations and client presentations.

BIM is playing an increasingly significant role in the design and delivery of large...

 
Glass Units

GGF UPDATE ON LOW SIGHTLINE GLASS UNITS

Some Planning Authorities, when granting Planning Consent for works to be carried out on Listed Buildings, buildings in Conservation Areas in Scotland and Conservation Areas in England where an Article 4 Direction has been placed on a property, place conditions on the consent that...

 

 

VEKA UK Group joins Lancashire Ambassadors

Burnley-based VEKA UK Group, the industry leader in PVCu profile systems, has joined its home county's growing network of official 'Ambassadors', with MD Dave Jones as representative.

Lancashire Ambassadors, launched by Marketing Lancashire, brings together Lancashire business leaders who share a passion for the county's success and a desire to champion Lancashire's world-leading businesses and sectors.

A group of well-known Lancastrians, including the very first Lancashire Ambassador, Andrew 'Freddie' Flintoff, have committed to helping Marketing Lancashire promote the county nationally and internationally for the greater prosperity of those who invest, live and work in the Red Rose county. Andrew appears in...

 

 

Construction Regs

GGF ISSUES STATEMENT ON CPR AND INSULATING GLASS UNITS

It is now six years since compliance with the Construction Products Regulations (CPR) became a legal requirement in the UK. The CPR (which replaced the Construction Products Directive) was implemented in the...

 
Material Prices

Soaring material prices & lower workloads if we crash out of EU, warns FMB

A 'no deal' Brexit could result in soaring material prices and lower workloads and enquiries, according to the latest research from the Federation of Master Builders (FMB).

When asked about the impact of a 'no deal' Brexit: Key results from the research include:

Over half (53%) say it would result in higher material prices;

 

 

ERA's 3* Kitemarked Invincible Double Cylinder Has Competitive Edge

ERA's 3* BS Kitemarked Invincible Double cylinder is offering fabricators and installers great opportunities for differentiating themselves from their competitors, thanks to its unique features and benefits. And now the cylinder, which has five times the strength of conventional options, is available with a great range of matching ERA compatible handles, escutcheons and furniture.

The strength of the cylinder means it offers maximum protection agains attack. In the face of bumping, lock-picking and drilling it simply will not snap, thereby providing an effective and secure solution. The Invincible Door Security system can withstand over 15 minutes of sustained attack without the...

 

 

Climate Protection

Rosenheim Window and Facade Conference 2019

The commitment of many young people to climate protection and the results of the European election clearly show that the energetic refurbishment of our infrastructure has once again landed at the top of the agenda. That\\'s why the motto of the 47th Rosenheim Window and Facade Conference \\"Windows for the future – smart, practical, climate-friendly\\" is at the centre of public debate. The Rosenheim Window and Facade Conference from 9th to 11th...

 
New Machinery

New Investments At Vetroseal Give Greater Quality Assurances

Vetroseal, a leading independent sealed unit supplier, has recently installed a Bystronic glass 2.3 x 3.5 m IG line as part of an investment programme that will support the company's business plans moving forward.

The Vetroseal journey has been one of excitement, change and steady growth, as...

 

 

EXCELLENCE AND FUN FOR GGF AT GLASS PERFORMANCE DAYS

The recent Glass Performance Days in Tampere proved insightful and enjoyable for the GGF and Members alike as over 1,000 delegates from around the world, participated in four days of excellence from workshops, conference sessions, seminars, forums and an exhibition from hundreds of companies in the global glass industry.

The events continued into the evenings with a "Get Together Party", Conference dinner and memorable "Farewell Party" that this year was combined with organizer Jorma Vitkala's retirement party – and he went out in amazing style – hovering 100ft above a lake at midnight in water jet boots to the gasps of...

 

 

Entrance Doors

NOW THERE'S ENTRANCE DOORS FOR YOUR RESIDENCE TOO

Not only does The Residence Collection encapsulate three different and sumptuous window systems, but now there's a range of engineered residential doors, as well as the flush inward opening balcony and outward...

 
New Door Slab

ODL Europe introduces new Capstone SecureDesign™ Door Slab

ODL Europe, exclusive partner of Capstone Engineering and supplier of the Capstone door slab, has announced the introduction of the new Capstone SecureDesign™ Door Slab. Nathan Barr, ODL Europe's Managing...

 

 

Modplan adds VEKA's new Imagine Vertical Slider to its portfolio

Trade fabricator Modplan has just announced it has added the new VEKA Imagine Vertical Slider to its portfolio. Modplan's International Sales and Marketing Director Justin Williams said: "Vertical sliders are a growth market – latest figures show sales of vertical sliders to the home improvement market increased by 32% and now have 10% market share. The VEKA Imagine Vertical Slider gives our customers a best-in-class solution as they capitalise on the opportunities these statistics represent."

As Justin says, the VEKA Imagine Vertical Slider is a best-in-class solution. It is packed with intelligent features that add value to installers and homeowners alike....

 

 

Competition Time

#Share TheLiniarLove Finds a Winner

At the end of last year, Liniar announced a competition that would not only showcase the projects completed by its customers, but would also help to enhance image libraries through its supply chain. Systems houses know how difficult it is to obtain professional photos of their products once they\\'re installed in properties – and Liniar wanted to give recognition to some of the beautiful installations it knew its customers had participated in.

 
Roofline

New Freefoam video highlights 20 years of change in roofline

Freefoam has released a video of its Commercial Director, Colin St John, explaining the big...

 

 

Five stars for glamorous Gatsby-themed Members' Weekend

With the scene set, the red carpet rolled out, and the host straight from Hollywood, there was only one way this year's Great Gatsby-themed Independent Network Members' Weekend could go; here's the official review…

The annual Independent Network Members' Weekend is a great opportunity for fabricators and fitters to get together, catch up, 'talk shop', and have some fun. And just like any literary or cinematic masterpiece, the weekend had a perfectly thought-out beginning, middle, and end.

On 'location' at the Queen's Hotel, Leeds, the event started with the Affiliates Business Centre. One of the major perks of being a part of...

 

 

New Patio Door

Senior launches new Ali FOLD HD patio doors

Senior Architectural Systems is giving its trade customers another big reason to 'Ask for Ali' with the launch of a new heavy-duty version of its popular Ali FOLD aluminium door system.

Designed to accommodate door leaf widths of up to 1300m x 2400mm and 125Kg, the new Ali FOLD HD offers fewer sightlines and wider views by maximising daylight and reducing the number of door panels required.

With the same...

 
GGF News

FIREX PROVES HUGE SUCCESS FOR GGF

The recent FIREX International exhibition proved a great success for the Glass and Glazing Federation (GGF), as the glass industry's leading trade body was inundated with enquiries on fire resistant glazing.

The GGF had its biggest ever platform at this year's FIREX with a 30m² stand that included three full size product exhibits showing the various stages of the fire-resistant glazing process, as well as glass performance before and after the effects of smoke and fire. It certainly was an attention grabber with constant visitors to the stand from local...

 

 

GGF IN ENERGY EFFICENCY TALKS WITH GOVERNMENT

The Glass and Glazing Federation (GGF) recently attended the British Energy Efficiency Federation's Plenary at the Department for Business, Energy & Industrial Strategy (BEIS) Conference Centre in Westminster.

Directors of BEIS and senior civil servants were present to update delegates on the following areas:

Carbon taxation implications for companies and consumers

Zero Carbon Buildings by 2050

The progress of the Each Home Counts Scheme

The Government spending review 2021

Energy Efficiency in the rental sector

Clean growth strategy and the public sector

Representing the GGF, James Lee Director of External Affairs commented, "The discussions were productive and it was good to...

 

 

GGF News

KEVIN SCHOFIELD TO HOST GGF MEMBERS' DAY

The Glass and Glazing Federation (GGF) is pleased to announce that Kevin Schofield, Editor of Politics Home, will host and present at the GGF's Annual Members' Day Conference on 26th September at Hilton Olympia, London.

Kevin is a renowned political journalist having worked in the national press for over a decade for Scottish news titles, The Herald and The Scotsman and for...

 
Fit Show Review

Haffner Murat enjoys most successful FIT Show to date

As exhibitors return from FIT, few will be as satisfied as Haffner Murat. Dave Thomas, Managing Director of Haffner Murat, says: "It was our best show ever in terms of interest and orders taken."

There was plenty to attract fabricators to the stand but the star of the show was the OPTI-Weld quad welding machine, which can be used for PVC-U, aluminium and wooden profiles. Dave says: "Fabricators could instantly see the benefits it brings. Not only can it be used as a conventional welder, it can also weld a square without the need for pre or post cleaning of the...

 

 

Cantifix launch new rooflight range that will feature in London Landmark

Cantifix, a UK design-led business specialising in the installation of architectural glazing, has announced the launch of its sky.by.cantifix range, a collection of exquisitely engineered, minimally framed rooflights.

The sky.by.cantifix range will be showcased in the properties of a globally recognised design icon, having been commissioned for over 60 rooflights to uniquely compliment the manufacturing prowess of Battersea Power Station.

This is Cantifix's first standardised, tested portfolio of designer rooflight products. Now for the first time...

 

 

Fit Show Review

#COMEALONG CAMPAIGN FUELS SHOW SUCCESS FOR KOMMERLING

Boosted by the award for Best Creative in the FIT 2019 marketing campaign with their #ComeAlong campaign, the FIT Show was nothing short of an extraordinary success for KÖMMERLING, as existing and new customers flocked to their stand en masse.

The show was a culmination of an outstanding marketing campaign, geared to generating considerable footfall, along with a range of window...

 
| | | |
| --- | --- | --- |
| | 0780 505 1322 | |