25th July 2019
Conservatory Outlet unveil new Flat Roof Extension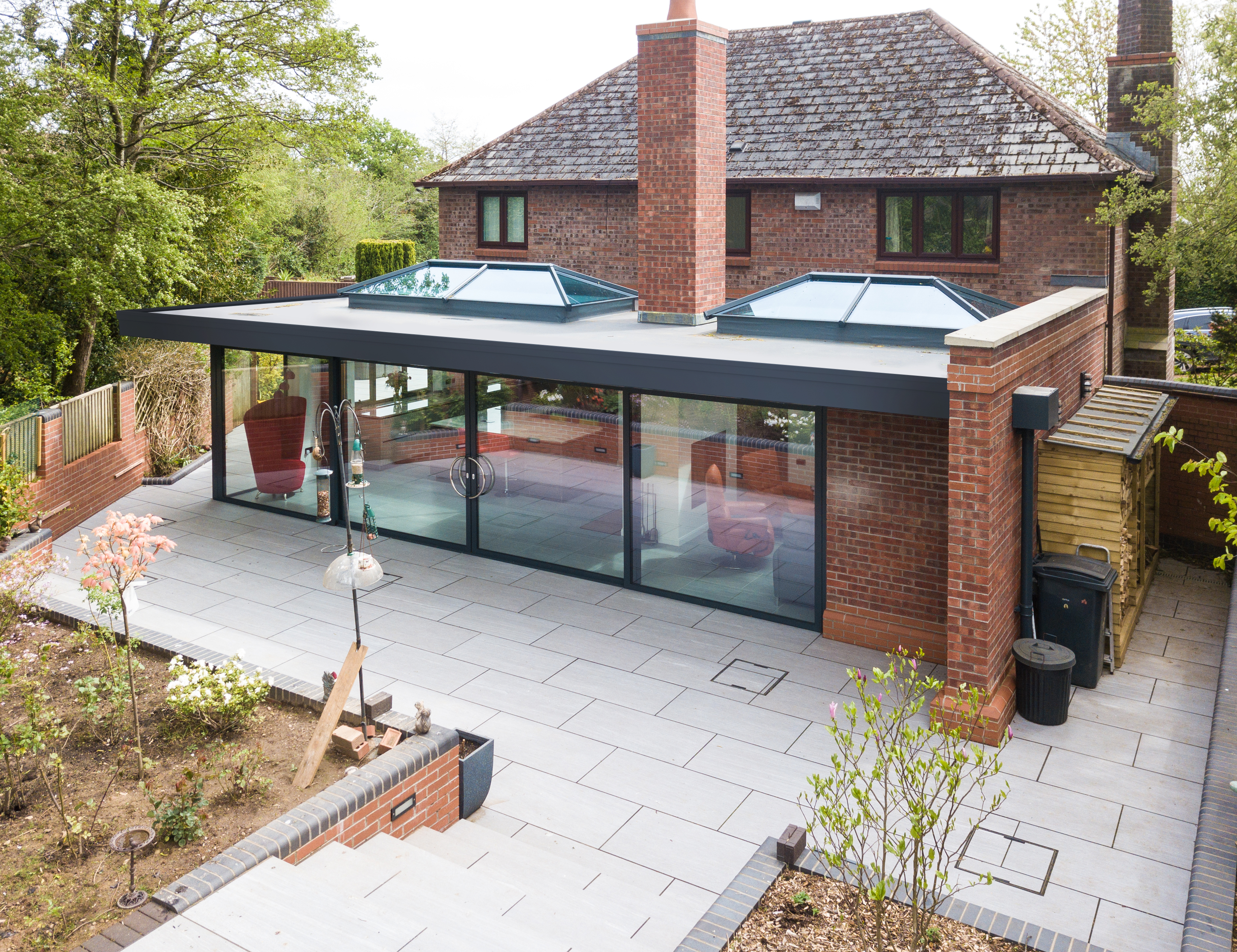 The latest addition to its collection of high-quality home improvement products was unveiled to its UK-wide network of retailers at an exclusive launch event on 3rd July 2019.
The product, which has been launched as part of an ongoing commitment to innovation at Conservatory Outlet, offers a unique alternative to traditional timbered flat roofs, with its lightweight frame making it the most configurable pre-manufactured flat roofing system on the market.
New Window

SENIOR'S PURe® RANGE MOVES FORWARD WITH NEW PARALLEL PUSH WINDOW

Senior Architectural Systems has added further flexibility to its innovative PURe® range of ultra-low U-value aluminium windows with the development of a new parallel push option.

Designed to offer balanced air flow and ventilation with maximum safety, the restricted opening of the PURe® parallel push aluminium windows make them ideally suited to a wide range of sectors including education, healthcare, and high-rise commercial and residential...

 

 

TITON REACHES NEW HEIGHTS IN GLASGOW HOTEL

Titon has supplied over 370 Sobinco Chrono aluminium tilt and turn window systems as part of the new Motel One project in Glasgow. Situated next to Glasgow Central Station at the junction of Oswald Street, Motel One Glasgow has 374 rooms spread over 13 floors, making it one of the largest – and tallest – in Scotland.

The new hotel was designed by Leach Rhodes Walker Architects and built by Ogilvie Construction, while the windows were fabricated by another Glasgow-based company, Marshall Brown Limited.

Commenting on the decision to use Titon's window hardware, Brian Ross, Commercial Manager at Marshall Brown (Windows)...

 

 

Composite Doors

Conservatory Outlet go Extreme with new Solid Core Door

Leading UK fabricator, Conservatory Outlet Ltd, has this week launched its ground-breaking new Solid Core Door Collection.

The team officially unveiled the Extreme Solid Core Door to its UK-wide network of retailers at a launch event in Clitheroe on Wednesday 3rd July.

The product has been heralded for its robust 16 layers of laminated timber and its unique auto-engage locking system, designed to...

 
Aluminium Growth

ALUFAST expand with Exlabesa Building Systems

There is no better endorsement of a product's quality than if you're willing to use it in your own projects. Yorkshire's ALUFAST has been working with Exlabesa Building Products for over two years. When the time came to upgrade and expand their own premises, the team had no hesitation in specifying Exlabesa curtain walling for the project.

James of ALUFAST said: "Exlabesa's products really sell well. The quality and the price...

 

 

Universal Trade Frames adds Visofold 1000 bi-folding doors to its range

Trade fabricator Universal Trade Frames has just added Visofold 1000 bi-folding doors to its already impressive range of products. Brian Kruger, Managing Director of Universal, said: "Bi-folding doors continue to be an on-trend product for homeowners. Visofold 1000 bi-folding doors come with all the assurances you would expect from a quality designed product and will add value to any installers' portfolio."

Visofold 1000 bi-folding doors offer a strong, durable, secure and stylish solution. The high-quality aluminium profile, designed for strength and durability, delivers a structurally sound product that requires minimal maintenance, while smooth glide opening mechanisms deliver reliable performance over a...

 

 

Aluminium Growth

Growth in aluminium sector reflected in sales of Haffner Murat's Spring S7000 machining centre

Dave Thomas, Managing Director of machinery specialists Haffner Murat, says his company's sales are always a reliable indicator of what's happening in the window industry. "The industry buzz at the moment is all about the growth of aluminium. Our sales show that to be true with many fabricators choosing to invest in our ITALMAC Spring...

 
Awards

VEKA UK Group's Khaleel is Young Employee of the Year

VEKA UK Group's Trainee Operations Manager, Khaleel Mahmood, has been named joint winner of the Young Employee of the Year Award at the prestigious Burnley Business Awards 2019.

The trophy was presented in recognition of the valuable contribution Khaleel has made to the industry-leading PVCu systems supplier since he joined in 2017.

 

 

Yale sets the standard by upgrading to stainless steel

Yale has announced that it is upgrading to stainless steel on all of its multipoint lock faceplates as standard, providing new user features and benefits in terms of durability, aesthetics and reduced carbon footprint.

Stainless steel is instantly associated by the consumer with its anti-corrosion properties; is more durable in transportation and fabrication and is less susceptible to surface damage and corrosion, ensuring a longer lasting and sturdier locking solution.

 

 

Energy Report

NEW REPORT HIGHLIGHTS GREATER ENERGY EFFICIENCY WINDOWS

As a new report calls for action to tackle energy inefficient homes in the UK, Andy Swift, sales and operations manager at Iso Chemie, says architects who adopt new approaches to sealing specification will improve the energy efficiency around window and door installations.

The Business, Energy and Industrial Strategy (BEIS) Select Committee's report*, Energy Efficiency...

 
New Appointment

Liniar Appoints New Design and Development Director From Within

More than 15 years ago, Chris Armes began his journey at Liniar as a young apprentice in the tool room. Chris learned quickly and having spent time in different departments decided his career path would be best focused on...

 

 

Modplan announces Leka Systems Open Days

Trade fabricator Modplan has just announced a series of Leka Systems Open Days. Modplan's International Sales and Marketing Director Justin Williams said: "The latest additions to the Leka Systems portfolio attracted a great deal of interest at FIT. The Modplan Open Days build on this interest. They are a fantastic opportunity to understand the products in more detail and speak to the Leka team and our experts."

The event will give installers more detail on the new Leka Xi, the Modular Conservatory Walls and Base System, which provides a warm, sustainable alternative to a traditional block/brick built conservatory base/wall. There will...

 

 

New Door Slab

ODL Europe introduces new Capstone SecureDesign™ Door Slab

ODL Europe, exclusive partner of Capstone Engineering and supplier of the Capstone door slab, has announced the introduction of the new Capstone SecureDesign™ Door Slab. Nathan Barr, ODL Europe's Managing...

 
Door Security

ULTION SMART HAS HOMEOWNER SECURITY AT ITS HEART

Brisant Secure has a long track record as a security company, that creates locks and handles which keep people safe. In Brisant's development of Ultion SMART, homeowner security was at the top of the wish list.

Ultion SMART has been developed in collaboration with Salto Systems. Their tried and tested Danalock technology used with Brisant's most secure lock and handle, creates a new customer focussed Smart lock.

Ultion SMART gives...

 

 

On the safe side, when it comes to Fire Doors

North East Panels, a proud trade supplier of high quality PVCu panels, PVCu internal doors, garage roller shutters doors and composite doors has put its fire door through extensive independent testing to ensure it achieves FD30 certification, demonstrating that the exceptional doors in its FD30 range meet all the relevant fire safety requirements for commercial and domestic use.

Using high quality Halo profile from VEKA UK Group for the outerframe, the Tyne and Wear-based team had redesigned their fire door, with new reinforcements and a different range of hardware before sending the updated system all the way to Barcelona to...

 

 

Fire Doors

West Port's fastener focus helps deliver assured fire door performance

Rapierstar's specialist technical support has played a key role in helping West Port to achieve high performing fire rated door-sets, by eliminating the risk of failure during testing as a result of the incorrect choice and application of fasteners.

Rapierstar, which is the UK's market-leading supplier of window...

 
Trade News

SHORTWOOD UNITED IS INSPIRED BY THE BUNDESLIGA!

When KÖMMERLING's area sales manager, Jason Scrivens, was appointed the manager of semi-professional football club Shortwood United, he decided to take a little inspiration from the Bundesliga.

KÖMMERLING are the main sponsor for the Bundesliga team 1. FSV Mainz 05, who have just finished the season in a highly respectable 12th place and so football is a major talking point...

 

 

Leka Systems launches consumer brochure

Leka Systems has launched a stunning new 36-page consumer brochure. Rhys Hoddinott, Managing Director of Leka Systems, said: "Our consumer brochure has been designed to support installers' marketing activity and help them close more sales by showcasing the quality Leka roofing systems have to offer the consumer."

The brochure uses high quality lifestyle imagery to full effect throughout, showing just how much a Leka rood product can enhance homeowners' lifestyles.

It opens with information about Leka Systems and the research and development expertise that sits behind all Leka products.

The first product to be showcased is Leka's Tiled Conservatory Roof. It...

 

 

New Product

NEW 3D BIM SERVICE LAUNCHED BY ISO CHEMIE

New 3D BIM (Building Information Modelling) technology is available from foam tape sealing company ISO CHEMIE.

The move will enable architects and designers to integrate high quality scaled digital information around window and door sealing solutions as part of their 3D visualisations and client presentations.

BIM is playing an increasingly significant role in the design and delivery of large and...

 
Glass Units

GGF UPDATE ON LOW SIGHTLINE GLASS UNITS

Some Planning Authorities, when granting Planning Consent for works to be carried out on Listed Buildings, buildings...

 

 

VEKA UK Group joins Lancashire Ambassadors

Burnley-based VEKA UK Group, the industry leader in PVCu profile systems, has joined its home county's growing network of official 'Ambassadors', with MD Dave Jones as representative.

Lancashire Ambassadors, launched by Marketing Lancashire, brings together Lancashire business leaders who share a passion for the county's success and a desire to champion Lancashire's world-leading businesses and sectors.

A group of well-known Lancastrians, including the very first Lancashire Ambassador, Andrew 'Freddie' Flintoff, have committed to helping Marketing Lancashire promote the county nationally and internationally for the greater prosperity of those who invest, live and work in the Red Rose county. Andrew appears in...

 

 

Construction Regs

GGF ISSUES STATEMENT ON CPR AND INSULATING GLASS UNITS

It is now six years since compliance with the Construction Products Regulations (CPR) became a legal requirement in the UK. The CPR (which replaced the Construction Products Directive) was implemented in the...

 
Material Prices

Soaring material prices & lower workloads if we crash out of EU, warns FMB

A 'no deal' Brexit could result in soaring material prices and lower workloads and enquiries, according to the latest research from the Federation of Master Builders (FMB).

When asked about the impact of a 'no deal' Brexit: Key results from the research include:

Over half (53%) say it would result in higher material prices...

 

 

ERA's 3* Kitemarked Invincible Double Cylinder Has Competitive Edge

ERA's 3* BS Kitemarked Invincible Double cylinder is offering fabricators and installers great opportunities for differentiating themselves from their competitors, thanks to its unique features and benefits. And now the cylinder, which has five times the strength of conventional options, is available with a great range of matching ERA compatible handles, escutcheons and furniture.

The strength of the cylinder means it offers maximum protection agains attack. In the face of bumping, lock-picking and drilling it simply will not snap, thereby providing an effective and secure solution. The Invincible Door Security system can withstand over 15 minutes of sustained attack without the...

 

 

Climate Protection

Rosenheim Window and Facade Conference 2019

The commitment of many young people to climate protection and the results of the European election clearly show that the energetic refurbishment of our infrastructure has once again landed at the top of the agenda. That's why the motto of the 47th Rosenheim Window and Facade Conference "Windows for the future – smart, practical, climate-friendly" is at the centre of public debate. The Rosenheim Window and Facade Conference from 9th to 11th...

 
New Machinery

New Investments At Vetroseal Give Greater Quality Assurances

Vetroseal, a leading independent sealed unit supplier, has recently installed a Bystronic glass 2.3 x 3.5 m IG line as part of an investment programme that will support the company's business plans moving forward.

The Vetroseal journey has been one of excitement, change and steady growth, as...

 

 

EXCELLENCE AND FUN FOR GGF AT GLASS PERFORMANCE DAYS

The recent Glass Performance Days in Tampere proved insightful and enjoyable for the GGF and Members alike as over 1,000 delegates from around the world, participated in four days of excellence from workshops, conference sessions, seminars, forums and an exhibition from hundreds of companies in the global glass industry.

The events continued into the evenings with a "Get Together Party", Conference dinner and memorable "Farewell Party" that this year was combined with organizer Jorma Vitkala's retirement party – and he went out in amazing style – hovering 100ft above a lake at midnight in water jet boots to the gasps of...

 

 

Entrance Doors

NOW THERE'S ENTRANCE DOORS FOR YOUR RESIDENCE TOO

Not only does The Residence Collection encapsulate three different and sumptuous window systems, but now there's a range of engineered residential doors, as well as the flush inward opening balcony and outward...

 
| | | |
| --- | --- | --- |
| | 0780 505 1322 | |