13th August 2020
NEXT GENERATION FOR MITCHELL GLASS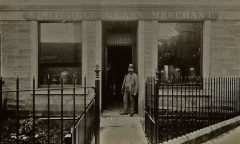 36-year old industry prodigy Lewis Roden has become the 4th generation owner and director of Scotland's longest established glazing business following his parents' official step-away from the leadership team.
Galashiels-based Mitchell Glass, which was established in 1875 by Robert Mitchell, is a local community-heavyweight in the Scottish borders with a firm reputation for excellent customer service. As former chairman of GGF Scotland, Peter Roden and his wife Susan, who have run the installation business since 1993, have officially passed the baton to their son Lewis to build upon the great legacy of decades of hard work and innovation. Peter will go...
Marketing Support

A HUB OF SUPPORT FROM EPWIN WINDOW SYSTEMS

Epwin Window Systems' marketing portal, Brand Hub 360, offers a comprehensive range of marketing assets to support its growing customer base. The range of marketing tools has recently been extended to help further support fabricators and installers and now includes a new range of corporate clothing, product posters and window vinyls.

 

 

Ensinger trusts in the leading trade fair BAU

The insulating profile specialist for energy-efficient windows, doors and façades wants to step up its interactions – both face to face and digitally

The coronavirus crisis has been dramatic and is not yet over. And yet, it is also releasing new energy and creativity. "It is precisely now that changes are possible which can shape the future of construction", says Matthias Rink, Head of Sales for insulbar at Ensinger. "Direct communication with new and existing partners is very important to us. That is why we are once again appearing at the trade fair in Munich in January. Being a leading global...

 

 

Skylights

MODPLAN ADDS LEKA SYSTEMS SKYLIGHT TO ITS PORTFOLIO

Trade fabricator Modplan has just added the Leka Systems Skylight to its portfolio. Heidi Sachs at Modplan, said: "The Leka Systems Skylight gives installers a competitive edge by providing an innovative and flexible solution to bringing natural light into a conservatory."

The Leka Systems Skylight is the latest innovation from Leka Systems. It is a fully glazed unit with a...

 
Windows

PROFILE 22 OPTIMA WINDOWS FITTED IN HIGH SPECIFICATION HOUSING DEVELOPMENT

Over 300 Optima windows from Profile 22 have been installed in a private housing development in Chipping near Preston in Lancashire.

The project specified flush casement windows in 7016 anthracite on white, which would provide a classic heritage appearance and...

 

 

MASTERFRAME CHANGES COURSE WITH THREE NEW WEBSITES

Masterframe, the sash window specialist has launched the first of three new websites, bringing their online image right up to date with a crisp and clean lead generation site with user friendly navigation.

The new retail facing website at masterframe.co.uk signals a change in strategy for the company, with all their product offerings brought together under the well-established Masterframe brand.

Carol Slade Managing Director says "We have engaged the services of experts to create a user friendly, lead generation site that promotes all our products, whilst primarily showcasing our Bygone Collection to retail...

 

 

New Appointment

NEW APPOINTMENT AT MERCURY TO SUPPORT GROWTH

Specialist fabricator Mercury has appointed experienced industry professional Paul Russell as Procurement Manager. Steve Cross, Director at Mercury, said: "We are delighted to welcome Paul to Mercury. He's got some impressive management credentials and we know he'll add value to our team."

Paul added: "I am proud to have joined...

 
New Appointment

NEW APPOINTMENT FOR ODL EUROPE

ODL Europe has announced the appointment of Paul Kitching to the position of Operations Manager at the Bootle-based business. Nathan Barr, Managing Director of ODL Europe, said: "Paul's appointment is part of our strategic growth plan and I am delighted to welcome him to the team. He brings with him a wealth of experience that will be invaluable to our rapidly-growing business."

 

 

VBH INTRODUCES NEW LIFT/SLIDE DOOR SYSTEM

Leading hardware company VBH has added the ClearLIFT hardware system for aluminium lift/slide patio doors to its greenteQ range.

Lift/slide doors are gaining in popularity due to their ability to carry very large and very heavy sliders. They also provide large glazed areas that allow uninterrupted views and maximise the natural light.

ClearLIFT can carry sashes weighing up to 300Kg and measuring up to 3.33m wide or 2.7m high, subject to the systems company's recommendations. VBH advise that stock holding is reduced as all door heights are achieved with just two gear heights.

The system has been cycle tested to 25,000 operations and...

 

 

New Appointment

Window Supply Company strengthens focus on manufacturing excellence with directorial appointment

West Lothian based Window Supply Company (WSC) is pleased to announce the appointment of Lee Harding as Production...

 
Doors

CONTEMPORARY DOOR DESIGNS PROVE POPULAR FROM ODL EUROPE

If you want to take advantage of the growth in contemporary composite door designs, look no further than ODL Europe. This is the view of Suzanne Nicholl, Business Development Manager of Bootle-based ODL Europe who...

 

 

QUALITY WITHIN FROM ODL EUROPE

When it comes to composite doors, quality and strength are essential in the overall credibility of a quality door. And when you choose the Capstone composite door slab from ODL Europe, that's exactly what you get. Ian Glenister, Technical Sales Manager of ODL Europe, comments: "Composite doors need to stay looking good for years to come, they need to be secure and they need to be robust enough to stand up to daily use. For a door slab that ticks all these boxes – and more – the Capstone composite door slab from ODL Europe is the answer. It has...

 

 

Doors

FENTRADE'S ALUMINIUM INLINE SLIDER PROVING POPULAR

Aluminium trade fabricator Fentrade has revealed that its Aluminium Inline Slider is seeing a rise in demand as the industry returns from lockdown. Chris Reeks, Director of Fentrade, said: "We have been delighted to see demand growing as...

 
Machinery

LIVE DEMONSTRATIONS AT HAFFNER MURAT

Leading machinery experts, Haffner Murat now offer live demonstrations of a range of their machinery to potential customers from the company's state-of-the-art showroom in Staffordshire. Dave Thomas, Managing Director of Haffner Murat, explains: "We promote our machines through various digital, video and offline platforms but for potential customers...

 

 

EPWIN WINDOW SYSTEMS' NEW COLOUR COLLECTION REFLECTS THE LATEST TRENDS IN COLOUR

Epwin Window Systems' new Colour Collection has been designed to help its customers lead the way in colour by offering the latest trends in colour today and the favourites of the future. Gerald Allen, Marketing Manager at Epwin Window Systems, said: "By reflecting the latest colour trends and direction, we can give our customers a clear point of difference."

The new Colour Collection includes an expanded number of popular heritage shades, including Sage, Claystone, Pebble Grey, Anthracite Grey Smooth and Cream on White. Gerald commented: "The new additions to the range reflect the latest market research and feedback from our customers....

 

 

Machinery

HAFFNER MURAT TO OPEN NEW FACTORY AS MASK MANUFACTURING TAKES OFF

At the start of the Covid-19 pandemic, automation machinery specialists Haffner Murat pivoted to manufacturing face masks to help overcome the critical shortage throughout the world. The company has just announced it is to expand this part of its operation to meet growing global demand having secured a sizeable 10-digit £ contract with the USA.

 
Awards

Keylite Roof Windows triumphs at the BMJ Industry Awards

For the third year running UK manufacturer, Keylite Roof Windows (Keylite) has scooped the coveted 'Best Roofing Manufacturer' award at the 2020 BMJ Industry Awards.

The BMJ Industry Awards is established as a key event for those working in the industry, recognising and celebrating excellence in the builders' merchants sector.

 

 

MODPLAN REPORTS REASSURING LEVELS OF DEMAND ACROSS ITS RANGES

Leading VEKA trade fabricator Modplan has reported strong levels of demand across its product ranges following their lockdown return. Heidi Sachs, Managing Director of Newport-based Modplan said: "Since we reopened our manufacturing business, I'm delighted to say we are seeing very healthy order levels across all products groups that are growing all the time."

Heidi says while sales have been positive across the board, their conservatory roof range has been especially popular. She comments: "Our customers are commenting that many homeowners see home working as here to stay. They're therefore looking to maximise living and working space, so want to make...

 

 

White Paper

PACE RESOURCING PRODUCES FIRST IN SERIES OF VIRUS CRISIS EMPLOYEE MANAGEMENT WHITE PAPERS

A white paper produced by Pace Resourcing entitled \\\'A New Way To Approach Performance Management\\' is helping managers navigate key employee-related challenges brought about by the virus crisis. It forms the first of a series of three guides from the fenestration industry specialist that...

 
Retail Brochure

PATIOMASTER LAUNCHES NEW RETAIL BROCHURE

PatioMaster has launched a new 36-page consumer brochure. Gerald Allen, Marketing Manager at Epwin Window Systems, said: "Our new...

 

 

Five Benefits of Using a Bridging Loan as a Property Investor

Often, finance can be a huge hindrance to landlords or property – and even more so in this economic climate.

With this in mind, here are some of the many benefits of using a bridging loan for property-related problems:

Allow you to purchase a property before your current home has sold

Bridging loans are the perfect solution for those who need to borrow the funds to complete a property purchase before the equity is released from their current home.

As they are based on property and one will, therefore, be sold to repay the loan – there is no complex criteria...

 

 

Installer Benefits

STELLAR'S EASE AND SPEED OF FITTING OFFERS CLEAR BENEFITS TO INSTALLERS

Stellar, the double G Award-winning aluminium system from Epwin Window Systems, has been setting a new standard for the industry ever since it was launched last year. And one of its features is proving more important than ever at the moment: its speed and ease of fitting.

 
New Website

ODL EUROPE LAUNCHES NEW WEBSITE

ODL Europe has just launched a new website at europe.odl.com. Nathan Barr, Managing Director of ODL Europe, said: "We are delighted to have launched the new website. It brings all the ODL Europe products under one roof and enables our customers to place orders online through our dedicated partner portals in...

 

 

TITON LAUNCHES THE 'TITON PRODUCT HOUSE' – A NEW INTERACTIVE ONLINE EXPERIENCE

Titon has added a dynamic and fully interactive CGI environment – the 'Titon Product House' – to its website, showcasing the array of products available throughout the company's Window & Door Hardware and Ventilation Systems divisions. To launch the Titon Product House, users simply need to visit titon.com and click on the option to 'Explore the Titon House' in the main web banner.

In addition to the Titon's product portfolios, the new feature...

 

 

Glass Facades

Smart façade for innovation campus

To create a new basis for collaboration with customers, startups and partners from science and industry, Uzwil-based technology group Bühler built a groundbreaking innovation campus. The façade is just as technologically sophisticated as the smart building concept...

 
Roofing Framework

Public sector roofing framework extended due to pandemic

Public sector framework specialist LHC has extended its Pitched Roofing framework.

The PR3 Pitched Roofing and Associated Products Framework covers the supply and installation of pitched roof coverings by specialist roofing...

 

 

Lobbying BBA welcomes Green Homes Grant opportunities

The British Board of Agrément has welcomed Chancellor Rishi Sunak's announcement of a £2 billion fund for energy-saving home improvements.

Confirmation of the Green Homes Grant, which will see homeowners receive subsidies of up to £10,000, came just days after the BBA – as part of an influential lobby comprised of UK energy efficiency organisations...

 

 

Green Grant Scheme

GGF WELCOMES GREEN HOMES GRANT SCHEME

Following recent meetings with Government, The Glass and Glazing Federation (GGF) heard late last week from Government officials that there would be a major announcement regarding energy efficiency in the UK.

 
| | | |
| --- | --- | --- |
| | 0780 505 1322 | |