17th December 2020
CONSERVATORY OUTLET HONOURED AS ONE OF 1000 COMPANIES TO INSPIRE BRITAIN.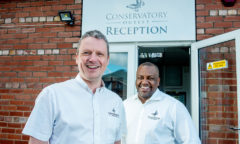 Conservatory Outlet Group has been officially recognised by the London Stock Exchange in its annual publication of 1000 Companies to Inspire Britain.
The report, which is in its 7th iteration, identifies the fastest-growing and most dynamic small and...
NFA Winner

Haffner Murat wins Machinery Supplier of the Year in the NFA Awards 2020

Leading machinery experts Haffner Murat has just been announced as the joint winner of the Machinery Supplier of the Year category of the National Fenestration Awards 2020.

Dave Thomas, Managing Director of Haffner Murat, said: "We are delighted to win this award, particularly as it's voted for by our industry peers, so it's a real vote of confidence. I'd like to thank everyone...

3-UP FOR VBH AT THE NFA AWARDS

The winners of the 2020 National Fenestration Awards were announced via a live video link on Monday 7th December, where VBH won 3 of the 4 categories in which they were shortlisted.

For the second year running, VBH were crowned Hardware Company of the Year, making it a hat trick following their Component Supplier win in the G-Awards in 2018 and 2019's NFA success.

VBH also recorded wins in the Social Networker and Young Person categories, through Marketing Manager Gary Gleeson and Northern England Area Sales Manager Tyler Shutts respectively. Customer Service Team Leader in VBH's Gillingham head office, Louise Eagle, finished as runner up to Tyler.

NFA Winner

STELLAR WINS NEW PRODUCT OF THE YEAR IN THE NFA AWARDS 2020

Stellar Aluminium Systems has won the New Product of the Year at the National Fenestration Awards 2020.

Clare O'Hara, Managing Director at Epwin Window Systems, said: "We are delighted to win this award. It's particularly special because it's voted for by people in the industry. After such a challenging year for everyone, it is good to end 2020 with something positive...
Aluminium

THE ALUTECH BIO-COLOUR COLLECTION – INNOVATIVE HEALTH PROTECTION FOR YOUR PROFILE

As we are now all too familiar, modern day living creates the perfect environment for a wide variety of microbes to successfully grow on almost every surface we touch. Doors and windows, equipment, stationery and work surfaces can all be affected by microbial growth.

The growth of microbes such as bacteria...

BEDFORDSHIRE WINDOWS GOES FROM STRENGTH TO STRENGTH WITH HAFFNER MURAT

Picture above: from left to right: Gary Walker – Bedfordshire Windows, Tom Pitts – Bedfordshire Windows

Trade and retail fabricator Bedfordshire Windows has just invested in a new TT405 Double Mitre Saw from machinery experts, Haffner Murat.

Tom Pitts, Director at Bedfordshire Windows, said: "We saw a dramatic uplift in sales following the first lockdown and we needed to upscale our production fast. Automation gives us the ability to do this quickly and easily. The TT405 Double Mitre Saw automates profile cutting and gives us the speed we needed."

The machine is the second Bedfordshire has purchased from Haffner Murat. Last year, the...

Aluminium

FENTRADE'S EXPERTISE CENTRAL TO UNIVERSITY OF BATH REFURBISHMENT PROJECT

Trade aluminium fabricator Fentrade has recently manufactured 13 sets of single and double entrance doors for the refurbishment of the University of Bath's main campus.

The project's main contractor was Bray & Slaughter and the window contractor was Fentrade customer EWS Facade. Chris Reeks, Director of Fentrade...
GM Fundraising

STERLING GENEROSITY FROM TWO INDUSTRY BUSINESSES

Industry machinery experts Haffner Murat Ltd and Warrington-based fabricator Sterling Windows, Doors and Conservatories have made a combined £5,000 charitable donation to Hope House Children's Hospices which provides palliative care for children with life limiting conditions.

Dave Thomas, Managing Director of Haffner Murat, explains: "As devoted...

ERA'S PARENT COMPANY TO PAY BACK MONEY FROM JOB RETENTION SCHEME

Tyman plc, the parent company of ERA, Zoo, Schlegel-Giesse and Access360, has announced that it intends to pay back £2.3m received in 2020 under the UK Government's Job Retention Scheme*. The payment will be made in full before year end.

Darren Waters, Divisional CEO for Tyman UK and Ireland, explains the rationale behind this decision:

"During the second half, our businesses have benefited from the strong recovery in the residential and commercial markets and we are in the fortunate position where we are able to return this money. The Job Retention Scheme served its purpose in supporting us to preserve jobs through...

GM Fundraising

ERA DONATES £8,000 TO HOPE HOUSE CHILDREN'S HOSPICES

ERA, the Wolverhampton-based security expert, is donating £8,000 to Hope House Ty Gobaith Children\'s Hospices, and making it the company\\'s nominated charity for 2021, for the second year running.

Hope House Ty Gobaith Children\'s Hospices supports families in Shropshire, Cheshire, Mid and North Wales who are either caring for a terminally ill child...
Windows

OXFORDSHIRE ESTATE BOASTS MORE THAN 1000 STEEL WINDOWS

When Steel Window Association member, Cotswold Casements, (www.cotswold-casements.co.uk) was approached to look at a tender for a brand-new housing estate in Oxfordshire, the scale of the project was immediately apparent – over 1000 steel windows! The Station Road Development at Bletchingdon, comprising 61 properties with architecture commissioned by...

GQA INFLUENCE REACHES POLICY MAKERS

The influence of the fenestration industry's leading awarding body was widened substantially recently when its CEO was quoted in the highly prestigious 'Parliamentary Review' talking about the importance of qualifications. This guide to political and industry best practice in management is sent to over 500,000 leading business executives, policy makers and other relevant individuals. In recent years, it has featured forewords by Theresa May, David Cameron, Caroline Lucas, Lucy Powell and many other political figures.

GQA's Mick Clayton said in the Review:

"Qualifications are very much the currency of competence for those operating in the fenestration, glass, glazing and construction industries, with...

Windows

Swadlincote Windows gets an Upgrade!

Located in Derbyshire, Swadlincote Windows has been in operation since 1998 and has a well-earned reputation for delivering high quality, bespoke projects for property owners throughout the East Midlands and beyond.

John Birch, Swadlincote's Managing Director, comments, "Our fabrication operation has been working with the same machinery for over a decade, and we knew that we needed to upgrade to...
Installer Support

NEW FREEFOAM VIDEO FEATURING UK MARKETING MANAGER, LOUISE SANDERSON

Freefoam are pleased to launch another short video in a series to mark our 30 year anniversary. This film features Louise Sanderson, UK Marketing Manager.

Louise has worked at Freefoam for 10 years and explains how her role has changed and developed over that time. Working with both direct customers to help them promote and sell Freefoam products...

ENSINGER TO SHOW INSULBAR INNOVATIONS AT BAU

Picture above: During the coronavirus crisis, proper dialogue with customers in an atmosphere of mutual trust is still very important to Ensinger – the plastics specialist is inviting customers to its digital showroom.

Insulating bars make it possible to improve the energy efficiency of windows, doors and façades in a way that is sustainable and conserves resources.

As a leading trade fair, BAU remains an important meeting point for the industry – even if the coronavirus means we can only come together online", says Matthias Rink, Sales Director at Ensinger. "Between 11 and 15 January we will be using our virtual showroom to present highlights from our portfolio along with two innovations.

Installer Support

NEW ONLINE MARKETPLACE IS AIMED AT INSTALLERS

This month sees the launch of a new, first-of-its kind online service aimed at fenestration industry installers. Recognising that the business support needed by installers and SMEs in the industry is often difficult to reach, 'UBoom' aims to make such support not only affordable but instantly accessible.

Incorporating products and services chosen specifically for the sector, UBoom offers...
Windows

PROFILE 22 OPTIMA WINDOWS FITTED IN CONTEMPORARY NEW HOUSING DEVELOPMENT

Over 250 Profile 22 Optima Flush Tilt and Turn windows were manufactured and installed in a new build contemporary apartment block on a prominent plot in Shirley, West Midlands.

The new build development comprises of 27 two-bedroom apartments with privileged expansive views overlooking Shirley Park which offers approximately 37...

2020's home improvement spend set to continue into 2021

Did you know that that since the beginning of the initial lockdown in March, UK homeowners have spent a reported £55 billion on home improvements? For Liniar, after witnessing a huge increase in demand across all ranges since re-opening its doors in May, this comes as no surprise.

According to money.co.uk, 65% of UK homeowners chose to improve their properties between March and August 2020, spending on average over £4,000 each. But as the economy becomes more unstable thanks to another lockdown and uncertainty around Brexit, will it continue over the coming months?

Why are homeowners investing?

At a time when the future...

Windows

PREMISLIDE PERFECTION FOR SCHOOL RENOVATION PROJECT

A trusted German partner for KÖMMERLING, Kaspari GmbH, recently completed a renovation for Middle School Vulkaneifel in the Ulmen community, Eifel region using the PremiSlide and System 76 tilt and turn product platforms.

Kaspari installed 105 PremiSlide sliding windows in the classrooms, due to the fact that the opening sashes slide horizontally and don't intrude into the limited space...
Bi-Fold Doors

NEW AND IMPROVED SCHÜCO ASS 70 FD BI-FOLD DOOR SYSTEM

The Schüco ASS 70 FD bi-fold system has long been a mainstay of both residential and commercial buildings – and now Schüco has improved its technical values. The ASS 70...

TUFFX INFINITY ROOFLIGHTS: THE PERFECT FIT 'STRAIGHT FROM THE BOX'

Demand for TuffX's Infinity rooflights has been steadily growing, amongst both builders and specialist window installers, thanks to the product's easy-fit design.

Adrian of United Cloud Construction turned to TuffX when he needed a rooflight solution for a new Brighton-based extension where the homeowners wanted to maximise the natural light in their new space.

The rooflights were installed on the low pitch roof of a single story garden room extension to the rear of the customer's property. Inside, the space was partitioned into two areas – a home office and a home gym, both popular home improvements since the pandemic – where...

Bi-Fold Doors

The Stellar Bifold Door is fast becoming the go-to solution for installers

Since its launch, the Stellar aluminium Bifold Door has been grabbing headlines due to its quick fitting properties which have proved popular with installers. The fast-fit benefits of the Stellar Bifold have been further echoed by Langport Glass and Glazing...
Installer Focus

MASTER FITTER CHALLENGE – RISING STARS CHALLENGE LAUNCHED

The ever-popular Master Fitter Challenge is back. Now officially launched and open for entries, the Master Fitter Challenge 2020/21 now features not only its traditional competition for experienced installers, but a brand new and exciting 'Rising Stars' challenge for those who have been...

WIDER APPEAL FOR STELLAR BIFOLD

The Stellar aluminium bifold door has proved popular with fabricators and installers ever since it came to market last year. It's innovative, quick-fitting design has seen a growing number of installers fitting Stellar, and this appeal looks set to increase as a result of the new bifold hardware which allows for wider door apertures.

Paul Booth, Design Director – Aluminium Products, explains: "The new Stellar bifold door hardware allows for an increase in sash sizes of 1200w x 2500h with a maximum height plus width of 3500. This allows the Stellar bifold to be used in wider door apertures which are...

Installer Focus

MRG SERVICES LAUNCHES NEW WEBSITE

Leading Glass Industry training provider MRG Services has just launched its new website at www.mrgservices.org.uk. Paul Gray, at MRG, said: "We are delighted to have launched our updated website. It brings the details of our comprehensive industry training programmes in one easy to navigate platform for...
Consumer Brochures

UPDATED CONSUMER BROCHURES FOR EVERY RESIDENCE

The consumer brochures for The Residence Collection, which includes R2, R7, R9 and RD (Residence Doors), have all been recently updated with their renowned style, content and vision. This helps make them the standout retail publications in the window and door sector.

As one of the most highly regarded brands in the industry from a marketing perspective, sumptuous and detailed new photography...

ACCESS FUNDED TRAINING TO UPSKILL YOUR WORKFORCE AND STAY AHEAD

Leading training and development provider MRG Services is highlighting the opportunities available to employers to access funded training programmes for their employees. Paul Gray, Operations Director at MRG says: "There has never been a better time to strengthen your business by upskilling your employees. What's more, we can help you access at least 95% funding from the Government, so there is next-to-no-risk, opportunity."

As Paul says, training and developing employees brings numerous proven benefits to businesses such as increasing output, cutting costs, reducing errors, building confidence and developing a workforce equipped to provide greater input and ideas.

As a specialist industry training...

Colour

CONSERVATION CREAM FROM THE RESIDENCE COLLECTION

Clotted Cream R9 windows and doors from The Residence Collection, recently graced a beautiful project in a Staffordshire conservation area, much to the delight of the homeowners.

A Grained White internal finish was specified to keep things neutral, featuring polished chrome pear drop handles and black butt hinges. The front elevation of the house also featured Georgian bars to the windows...
| | | |
| --- | --- | --- |
| | 0780 505 1322 | |
Fenestra Build Limited 19 Heather Close, Tickhill, Doncaster, Yorkshire DN11 9UU
To view our privacy policy click here. To Unsubscribe please click here.
© Copyright Fenestra Build 2020