3rd December 2020
UAP'S FIRST INDUSTRY PODCAST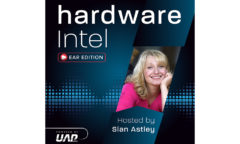 Hardware Intel: Ear Edition is soon to hit the airwaves
UAP Limited are producing their first ever podcast, bringing you fascinating facts about door hardware and the industry.
Presented by TV presenter, interior designer and property consultant Sian Astley, the podcast will run over six episodes released monthly, and each focusing on a different topic – from home security for everyday life, to fire safety and regulation. Each topic is discussed between Sian and two of UAP's experts, who each bring vast experience and knowledge to the conversation.
Installer Support

NEW FREEFOAM VIDEO FEATURING UK MARKETING MANAGER, LOUISE SANDERSON

Freefoam are pleased to launch another short video in a series to mark our 30 year anniversary. This film features Louise Sanderson, UK Marketing Manager.

Louise has worked at Freefoam for 10 years and explains how her role has changed and...

ENSINGER TO SHOW INSULBAR INNOVATIONS AT BAU

During the coronavirus crisis, proper dialogue with customers in an atmosphere of mutual trust is still very important to Ensinger – the plastics specialist is inviting customers to its digital showroom.

Insulating bars make it possible to improve the energy efficiency of windows, doors and façades in a way that is sustainable and conserves resources

With insulbar RE-LI Ensinger is optimising the insulating bar in two different ways: It consists of 100 % unmixed recycled polyamide which is foamed in a special manufacturing...

Installer Support

NEW ONLINE MARKETPLACE IS AIMED AT INSTALLERS

This month sees the launch of a new, first-of-its kind online service aimed at fenestration industry installers. Recognising that the business support needed by installers and SMEs in the industry is often difficult to reach, 'UBoom' aims to make such support not only affordable but instantly accessible.
Windows

PROFILE 22 OPTIMA WINDOWS FITTED IN CONTEMPORARY NEW HOUSING DEVELOPMENT

Over 250 Profile 22 Optima Flush Tilt and Turn windows were manufactured and installed in a new build contemporary apartment block on a prominent plot in Shirley, West Midlands.

The new build development comprises of 27 two-bedroom apartments with privileged expansive views overlooking Shirley Park which offers approximately 37 acres...

2020's home improvement spend set to continue into 2021

Did you know that that since the beginning of the initial lockdown in March, UK homeowners have spent a reported £55 billion on home improvements? For Liniar, after witnessing a huge increase in demand across all ranges since re-opening its doors in May, this comes as no surprise.

According to money.co.uk, 65% of UK homeowners chose to improve their properties between March and August 2020, spending on average over £4,000 each. But as the economy becomes more unstable thanks to another lockdown and uncertainty around Brexit, will it continue over the coming months?

Why are homeowners investing?

At a time when the future...

Windows

PREMISLIDE PERFECTION FOR SCHOOL RENOVATION PROJECT

A trusted German partner for KÖMMERLING, Kaspari GmbH, recently completed a renovation for Middle School Vulkaneifel in the Ulmen community, Eifel region using the PremiSlide and System 76 tilt and turn product platforms.

Kaspari installed 105 PremiSlide sliding windows in the classrooms, due to the fact that the opening sashes slide horizontally and don't intrude into the limited space inside...
Bi-Fold Doors

NEW AND IMPROVED SCHÜCO ASS 70 FD BI-FOLD DOOR SYSTEM

The Schüco ASS 70 FD bi-fold system has long been a mainstay of both residential and commercial buildings – and now Schüco has improved its technical values. The ASS 70 FD system is available in a more diverse range of vent widths, meaning fewer vents are needed and therefore fewer aluminium sightlines.

The thermally insulated...

TUFFX INFINITY ROOFLIGHTS: THE PERFECT FIT 'STRAIGHT FROM THE BOX'

Demand for TuffX's Infinity rooflights has been steadily growing, amongst both builders and specialist window installers, thanks to the product's easy-fit design.

Adrian of United Cloud Construction turned to TuffX when he needed a rooflight solution for a new Brighton-based extension where the homeowners wanted to maximise the natural light in their new space.

The rooflights were installed on the low pitch roof of a single story garden room extension to the rear of the customer's property. Inside, the space was partitioned into two areas – a home office and a home gym, both popular home improvements since the pandemic – where...

Bi-Fold Doors

The Stellar Bifold Door is fast becoming the go-to solution for installers

Since its launch, the Stellar aluminium Bifold Door has been grabbing headlines due to its quick fitting properties which have proved popular with installers. The fast-fit benefits of the Stellar Bifold have been further echoed by Langport Glass and Glazing...
Installer Focus

MASTER FITTER CHALLENGE – RISING STARS CHALLENGE LAUNCHED

The ever-popular Master Fitter Challenge is back. Now officially launched and open for entries, the Master Fitter Challenge 2020/21 now features not only its traditional competition for experienced installers, but a brand new and exciting 'Rising Stars' challenge for those...

WIDER APPEAL FOR STELLAR BIFOLD

The Stellar aluminium bifold door has proved popular with fabricators and installers ever since it came to market last year. It's innovative, quick-fitting design has seen a growing number of installers fitting Stellar, and this appeal looks set to increase as a result of the new bifold hardware which allows for wider door apertures.

Paul Booth, Design Director – Aluminium Products, explains: "The new Stellar bifold door hardware allows for an increase in sash sizes of 1200w x 2500h with a maximum height plus width of 3500. This allows the Stellar bifold to be used in wider door apertures which are...

Installer Focus

MRG SERVICES LAUNCHES NEW WEBSITE

Leading Glass Industry training provider MRG Services has just launched its new website at www.mrgservices.org.uk. Paul Gray, at MRG, said: "We are delighted to have launched our updated website. It brings the details of our comprehensive industry training programmes in one easy to navigate platform for...
Consumer Brochures

UPDATED CONSUMER BROCHURES FOR EVERY RESIDENCE

The consumer brochures for The Residence Collection, which includes R2, R7, R9 and RD (Residence Doors), have all been recently updated with their renowned style, content and vision. This helps make them the standout retail publications in the window and door sector.

As one of the most highly regarded brands in the industry from a...

ACCESS FUNDED TRAINING TO UPSKILL YOUR WORKFORCE AND STAY AHEAD

Leading training and development provider MRG Services is highlighting the opportunities available to employers to access funded training programmes for their employees. Paul Gray, Operations Director at MRG says: "There has never been a better time to strengthen your business by upskilling your employees. What's more, we can help you access at least 95% funding from the Government, so there is next-to-no-risk, opportunity."

As Paul says, training and developing employees brings numerous proven benefits to businesses such as increasing output, cutting costs, reducing errors, building confidence...

Colour

CONSERVATION CREAM FROM THE RESIDENCE COLLECTION

Clotted Cream R9 windows and doors from The Residence Collection, recently graced a beautiful project in a Staffordshire conservation area, much to the delight of the homeowners.

A Grained White internal finish was specified to keep things neutral, featuring polished chrome pear drop handles and black...
GM Fundraising

ODL EUROPE DONATES ,000 TO GM FUNDRAISING

To help mark its 75th anniversary year, ODL Europe has donated ,000 to GM Fundraising to support Hope House Children's Hospices. Nathan Barr, Managing Director of ODL Europe, said: "We are delighted to make this donation to GM Fundraising to mark our 75th anniversary. Hope House Children's Hospices is such an important cause because no one should have to face the death of a child on their own."

Gary Morton, founder of GM Fundraising said: "We're very grateful to ODL Europe for...

CONSERVATORY OUTLET HONOURED AS ONE OF 1000 COMPANIES TO INSPIRE BRITAIN.

Conservatory Outlet Group has been officially recognised by the London Stock Exchange in its annual publication of 1000 Companies to Inspire Britain.

The report, which is in its 7th iteration, identifies the fastest-growing and most dynamic small and medium-sized enterprises from across the country. This includes companies that have not only grown their own revenue, but have also consistently outperformed industry peers. Unlike other reports, 1000 Companies to Inspire Britain is compiled based on factual information as opposed to nominations.

Conservatory Outlet Group has been officially recognised by the London Stock Exchange in its annual publication of 1000 Companies to Inspire Britain.

The report,...

GM Fundraising

A CORPORATE GIFT TO SHOW YOUR SUPPORT FOR HOPE HOUSE CHILDREN'S HOSPICES

GM Fundraising is offering framed prints of a beautifully designed rainbow – the symbol of 2020 – to raise funds for Hope House Children's Hospices this Christmas. Each print is framed to order, featuring the company's logo and will make a superb corporate 2020 Christmas gift and help support the charity too.

Gary Morton, founder of GM Fundraising, said: "Like all charities, Hope House has been very hard hit this year.
Windows

SPECTUS WINDOWS DELIVER FOR NEW WATERFRONT DEVELOPMENT IN EDINBURGH

Approved Spectus fabricator Sidey has recently manufactured and installed over 200 flush tilt and turn windows for a low-rise, contemporary new apartment block in Edinburgh. The block forms part of Places for People's Waterfront 3 development which embraces the best in...

65 EVANDER APPRENTICES SUCCESSFULLY COMPLETE INDUSTRY-SPECIFIC QUALIFICATIONS THANKS TO MRG SERVICES

The two learners in the picture are (R) Chris Mcloughlin (L) Stephen Woodcock

Sixty-five apprentices at Evander, the UK's leading provider of responsive, pre-planned and emergency home services, have just successfully completed their Level 2 and 3 programmes in Fenestration Installation, Glazing, and Fenestration Surveying. The programmes were delivered by industry training experts, MRG.

Paul Gray of MRG, said: "We are proud of our long-standing partnership with Evander. Together we've ensured that these latest 65 Apprentices have successfully completed their qualifications."

Matt Smith, HR Director at Evander, said: "We would like to congratulate all of the Evander learners that have recently...

Glass

Nobu Hotel Warsaw: Timeless elegance meets modern design

A new design hotel in the Polish capital is making its mark with extraordinary architecture that combines the Art Deco style of the 1920s with the modern era: the Nobu Hotel Warsaw. Established by Oscar prize winner Robert De Niro, the Japanese chef Nobu Matsuhisa and the entrepreneur Meir Teper, the exclusive 5-star hotel with 117 rooms and...
| | | |
| --- | --- | --- |
| | 0780 505 1322 | |
Fenestra Build Limited 19 Heather Close, Tickhill, Doncaster, Yorkshire DN11 9UU
To view our privacy policy click here. To Unsubscribe please click here.
© Copyright Fenestra Build 2020