16th July 2020
MASTERFRAME WINDOWS STAND VIRTUALLY BEHIND THEIR CUSTOMERS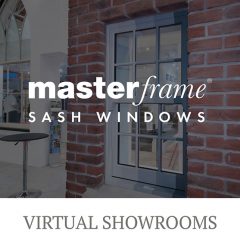 During lockdown the Directors at Masterframe continued to work, talking to customers via one on one zoom meetings to get a feel of how they were weathering the storm both personally and commercially. They then took the time to a look at how they could help minimise the impact on their customer's businesses and help them to emerge from the crisis with a distinct advantage by generating interest in their products.
They looked at new research on the Internet Retailing website on how Covid-19 is changing the way shoppers buy. According to the research on...
Retail Brochure

PATIOMASTER LAUNCHES NEW RETAIL BROCHURE

PatioMaster has launched a new 36-page consumer brochure. Gerald Allen, Marketing Manager at Epwin Window Systems, said: "Our new PatioMaster retail brochure has been designed to support both fabricators and installers' marketing activities by showcasing the exceptional quality and design credentials of our PatioMaster doors."

The high-end consumer brochure includes information on the comprehensive...

 

 

RECORD SALES FOR CLEARVIEW AS MONTHLY TOTAL REACHES £3M

Retail installation business Clearview Home Improvements has broken its previous sales record, reaching nearly £3m of sales in a single month for the first time in its 12-year history.

Part of the Conservatory Outlet Group, the North-West-based company, which installs cutting-edge home improvements including contemporary extensions, conservatories, orangeries, windows and doors, saw its sales total peak at just shy of £3m in June 2020, 20% greater than its previous best.

The record-breaking achievement is largely attributed to the team's proactive approach to sales and marketing throughout lockdown. Quickly realising the demand for its products remained high despite the restrictions, the team continued...

 

 

Installer Benefits

STELLAR'S EASE AND SPEED OF FITTING OFFERS CLEAR BENEFITS TO INSTALLERS

Stellar, the double G Award-winning aluminium system from Epwin Window Systems, has been setting a new standard for the industry ever since it was launched last year. And one of its features is proving more important than ever at the moment: its speed and ease of fitting.

Gerald Allen, Marketing Manager at Epwin Window Systems...

 
New Website

ODL EUROPE LAUNCHES NEW WEBSITE

ODL Europe has just launched a new website at europe.odl.com. Nathan Barr, Managing Director of ODL Europe, said: "We are delighted to have launched the new website. It brings all the ODL Europe products under one roof and enables our customers to place orders online through our dedicated partner portals in addition to downloading marketing and technical materials."

The website has...

 

 

TITON LAUNCHES THE 'TITON PRODUCT HOUSE' – A NEW INTERACTIVE ONLINE EXPERIENCE

Titon has added a dynamic and fully interactive CGI environment – the 'Titon Product House' – to its website, showcasing the array of products available throughout the company's Window & Door Hardware and Ventilation Systems divisions. To launch the Titon Product House, users simply need to visit titon.com and click on the option to 'Explore the Titon House' in the main web banner.

In addition to the Titon's product portfolios, the new feature also contains detailed information about indoor pollutants, as well as advice on how these can best be combatted.

Once the user has opened the house in their...

 

 

Glass Facades

Smart façade for innovation campus

To create a new basis for collaboration with customers, startups and partners from science and industry, Uzwil-based technology group Bühler built a groundbreaking innovation campus. The façade is just as technologically sophisticated as the smart building concept – the electronically tintable all-glass façade made of SageGlass provides solar...

 
Roofing Framework

Public sector roofing framework extended due to pandemic

Public sector framework specialist LHC has extended its Pitched Roofing framework.

The PR3 Pitched Roofing and Associated Products Framework covers the supply and installation of pitched roof coverings by specialist roofing contractors, will be extended for a further 12 months, expiring on 30 June 2021.

The framework helps local authorities, social landlords and other public bodies source specialist roofing...

 

 

Lobbying BBA welcomes Green Homes Grant opportunities

The British Board of Agrément has welcomed Chancellor Rishi Sunak's announcement of a £2 billion fund for energy-saving home improvements.

Confirmation of the Green Homes Grant, which will see homeowners receive subsidies of up to £10,000, came just days after the BBA – as part of an influential lobby comprised of UK energy efficiency organisations – called on the government to include a 'major' green stimulus within its economic recovery package.

"We are delighted that the Chancellor has concurred with industry and included this incredibly positive grant scheme within his economic statement," said BBA CEO Hardy Giesler. "The BBA, along with eight other organisations from...

 

 

Green Grant Scheme

GGF WELCOMES GREEN HOMES GRANT SCHEME

Following recent meetings with Government, The Glass and Glazing Federation (GGF) heard late last week from Government officials that there would be a major announcement regarding energy efficiency in the UK.

The Government is now set to announce on 8th July 2020, a new "Green Homes Grant Scheme" that will allow millions of homeowners to apply for vouchers worth up to £5,000 to insulate...

 
Colour

EPWIN WINDOW SYSTEMS RELEASES NEW COLOUR RETAIL GUIDE

Epwin Window Systems has released its new colour retail guide to help fabricators and installers sell colour into the consumer. Gerald Allen, Marketing Manager at Epwin Window Systems said: "The new four-page brochure illustrates our new colour offering across the six colour families to help consumers choose the perfect colour and finish."

The Colour Collection, as it's known, features the six colour families...

 

 

CLEAR VISION AS FIRE WINDOWS FIRM LAUNCHED

Picture above: Alex Sutherland has launched Fire Windows Direct.

A company focusing on manufacturing and installing high quality aluminium fire rated windows, doors and curtain walling has been launched in the West Midlands.

Fire Windows Direct aims to take advantage of an increasing demand for aluminiumfire rated glazing products at private and public sector property developments across the country.

Based in Aston, Birmingham, the business is part of Performance Windows Fabrications (PWF), under the umbrella of Six-Twenty Group. It has assembled a highly trained team of fenestration experts with more than 100 years' experience between them.

Alex Sutherland, managing director of PWF, will lead the ambitious company's drive...

 

 

Machinery

AVANTEK ANNOUNCES PARTNERSHIP WITH GRAF SYNERGY

Dedicated machinery provider to the fenestration industry, Avantek Machinery is delighted to announce it is now an official Graf Synergy distributor for the UK!

This commercial partnership will lead the Italian company to significantly consolidate its presence in the United Kingdom, thus allowing Avantek to revolutionise the national market of PVC windows thanks to its V-Perfect®...

 
Recovery

GGF INVITED TO GOVERNMENT WORKSTREAMS TO HELP RECOVERY

Picture above; John Agnew, GGF Managing Director.

The Glass and Glazing Federation (GGF) has recently been invited to attend two Government Work Streams for the Housing Working Group and the Repair Maintenance and Improvement Working Group respectively.

Both of these Groups will be attended by Cabinet Ministers and senior Government Officials...

 

 

GARY MORTON JOINS BOARD OF TRUSTEES AT HOPE HOUSE CHILDREN'S HOSPICES

Picyure above: Gary Morton

We are very proud to announce that our founder and chairman, Gary Morton, has joined the Board of Trustees at Hope House Children's Hospices from 1st July, 2020.

Gary said: "It is a huge honour to join the Board of Trustees. Over the past 25 years, GM Fundraising has raised nearly £2 million for Hope House Children's Hospices and I've got to know everyone at the charity very well. I am looking forward to a new opportunity to see things from the other side and learning more about the internal workings of such a complex organisation."

Andy Goldsmith, CEO of Hope...

 

 

Home Improvement

GGF SUPPORTS NATIONAL HOME IMPROVEMENT FORUM

Picture above: James Lee, GGF Director of External Affairs

The Glass and Glazing Federation (GGF) is fully supportive of the new home improvement forum set up recently by The National Home Improvement Council (NHIC).

The NHIC Strategic Forum will bring together many of the major organisations representing the...

 
Fit Show 2021

Haffner Murat confirms presence at FIT 2021

Haffner Murat has just announced it will be exhibiting at the FIT Show 2021, which will be held 25-27 May 2021 at the NEC Birmingham. Dave Thomas, Managing Director of Haffner Murat, said: "I'm delighted to be announcing we'll have a presence at FIT 2021. Like everyone in the industry, I was disappointed when...

 

 

FULFILLING CONSUMERS' NEEDS WILL BE MORE IMPORTANT THAN EVER

Bison Frames, home to the Genesis Collection of windows and doors has seen a strong pipeline of orders since reopening the business in May, 2020. Marcus O'Boyle, Business Development & Marketing Manager at Bison Frames believes this immediate upturn is down to the changing needs of the consumer during the lockdown. He said:" Spikes on Google searches have shown a surge in interest for home improvement products during the lockdown as many consumers have noticed where their home needs to be improved. They will have had time to research the options and while by no means all consumers will be...

 

 

Machinery

Haffner Murat reinforces its service support with the appointment of Julian Grummett

Leading machinery supplier Haffner Murat Ltd has further strengthened its service support team with the appointment of Julian Grummett in the position of Service Engineer.

 
Construction Group

RPM International Inc. launches Construction Products Group (CPG) Europe, a new umbrella brand for top UK construction names

RPM International Inc, one of the global leaders in speciality construction products, has unveiled a new identity for its...

 

 

Fentrade Aluminium bounces back to pre-Covid shutdown levels

Aluminium trade fabricator Fentrade Aluminium Building Products has bounced back to pre-Covid manufacturing levels in just four weeks. Chris Reeks, Director of award-winning Fentrade Aluminium Building Products, said: "Throughout the shutdown period we kept visible across all digital platforms to ensure we secured a strong sales funnel of work for our return. Continuing with proactive marketing in uncertain times was crucial and has paid off."

Since the Newport-based company reopened their business in May 2020 with safe manufacturing disciplines in place, they have seen a strong surge of immediate orders for their range of high-quality aluminium products and in particular for...

 

 

Lockdown Boost

Post-lockdown boost for Morley Glass & Glazing

Picture above: Ian Short, Managing Director

Morley Glass & Glazing has achieved a 35% increase in production of its sealed units with integral blinds inside compared to pre-lockdown manufacturing levels.

Last week the £18m turnover company manufactured 3400 integral blinds compared to a weekly average of 2500 which was typically produced prior to lockdown.

Managing Director Ian Short said: "We were closed for six weeks

 
Industry Re-opens

Epwin Window Systems ramps up their controlled re-opening

Epwin Window Systems began a controlled reopening of their Telford operation on 4th May, 2020 and have continued to scale up their operation in line with increasing customer demand.

Clare O'Hara, Managing Director of Epwin Window Systems, said: "Since our re-opening, we have continued to scale up the teams across all key...

 

 

Modplan adds Leka Systems Skylight to its portfolio

Trade fabricator Modplan has just added the Leka Systems Skylight to its portfolio. Heidi Sachs at Modplan, said: "The Leka Systems Skylight gives installers a competitive edge by providing an innovative and flexible solution to bringing natural light into a conservatory."

The Leka Systems Skylight is the latest innovation from Leka Systems. It is a fully glazed unit with a neatly finished surround that doesn't need roof bar caps. It is available in any height and has a maximum width of 800mm, which offers flexible alternatives to opening vents.

Heidi commented: "This takes the aesthetics of skylights to a whole new level....

 

 

Aluminum Windows

Kingfisher Windows to fabricate Stellar aluminium system

Longstanding Profile 22 fabricator Kingfisher Windows is manufacturing Stellar, the double award-winning aluminium window and door system from Epwin Window Systems.

 
News Update

PROFINE ACQUIRES ASSETS FROM APERTURE

Picture above: The new profine site in Huthwaite, Nottinghamshire.

profine Group, has acquired essential assets from Aperture Group, formerly Synseal, one of the leading manufacturers of window and door systems in the UK.

 

 

Entrepreneur takes control of window manufacturer

Longstanding Profile 22 fabricator Kingfisher Windows is manufacturing Stellar, the double award-winning aluminium window and door system from Epwin Window Systems.

Deborah Beeley, Sales and Marketing Manager at Kingfisher Windows, said: "We are delighted to be adding Stellar to our portfolio because it has outstanding features that will give our customers a competitive advantage."

She continued: "It's...

 

 

News Update

LOCKDOWN ACCELERATES LAUNCH OF PROFESSIONAL DESIGN SERVICE

High-end retail fabricator Conservatory Outlet Ltd has continued its commitment to customer excellence by revealing an innovative new digital design package to support its customers' lockdown sales efforts.

 
| | | |
| --- | --- | --- |
| | 0780 505 1322 | |