2nd July 2020
CONSERVATORY OUTLET NETWORK HITS £4M SALES IN LOCKDOWN SALES COMP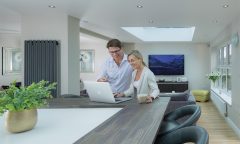 UK-wide fabricator Conservatory Outlet has this week announced retail sales figures topping £4m across its Network for the seven-week lockdown period beginning Monday 30th March.
It is believed the dramatic results are largely owed to the launch of a proactive 'lockdown sales...
Colour

EPWIN WINDOW SYSTEMS RELEASES NEW COLOUR RETAIL GUIDE

Epwin Window Systems has released its new colour retail guide to help fabricators and installers sell colour into the consumer. Gerald Allen, Marketing Manager at Epwin Window Systems said: "The new four-page brochure illustrates our new colour offering across the six colour families to help consumers choose the perfect colour and finish."

The Colour Collection, as it's known, features the six colour families...

 

 

CLEAR VISION AS FIRE WINDOWS FIRM LAUNCHED

Picture above: Alex Sutherland has launched Fire Windows Direct.

A company focusing on manufacturing and installing high quality aluminium fire rated windows, doors and curtain walling has been launched in the West Midlands.

Fire Windows Direct aims to take advantage of an increasing demand for aluminiumfire rated glazing products at private and public sector property developments across the country.

Based in Aston, Birmingham, the business is part of Performance Windows Fabrications (PWF), under the umbrella of Six-Twenty Group. It has assembled a highly trained team of fenestration experts with more than 100 years' experience between them.

Alex Sutherland, managing director of PWF, will lead the ambitious company's drive...

 

 

Machinery

AVANTEK ANNOUNCES PARTNERSHIP WITH GRAF SYNERGY

Dedicated machinery provider to the fenestration industry, Avantek Machinery is delighted to announce it is now an official Graf Synergy distributor for the UK!

This commercial partnership will lead the Italian company to significantly consolidate its presence in the United Kingdom, thus allowing Avantek to revolutionise the national market of PVC windows thanks to its V-Perfect®...

 
Recovery

GGF INVITED TO GOVERNMENT WORKSTREAMS TO HELP RECOVERY

Picture above; John Agnew, GGF Managing Director.

The Glass and Glazing Federation (GGF) has recently been invited to attend two Government Work Streams for the Housing Working Group and the Repair Maintenance and Improvement Working Group respectively.

Both of these Groups will be attended by Cabinet Ministers and senior Government Officials...

 

 

GARY MORTON JOINS BOARD OF TRUSTEES AT HOPE HOUSE CHILDREN'S HOSPICES

Picyure above: Gary Morton

We are very proud to announce that our founder and chairman, Gary Morton, has joined the Board of Trustees at Hope House Children's Hospices from 1st July, 2020.

Gary said: "It is a huge honour to join the Board of Trustees. Over the past 25 years, GM Fundraising has raised nearly £2 million for Hope House Children's Hospices and I've got to know everyone at the charity very well. I am looking forward to a new opportunity to see things from the other side and learning more about the internal workings of such a complex organisation."

Andy Goldsmith, CEO of Hope...

 

 

Home Improvement

GGF SUPPORTS NATIONAL HOME IMPROVEMENT FORUM

Picture above: James Lee, GGF Director of External Affairs

The Glass and Glazing Federation (GGF) is fully supportive of the new home improvement forum set up recently by The National Home Improvement Council (NHIC).

The NHIC Strategic Forum will bring together many of the major organisations representing the...

 
Fit Show 2021

Haffner Murat confirms presence at FIT 2021

Haffner Murat has just announced it will be exhibiting at the FIT Show 2021, which will be held 25-27 May 2021 at the NEC Birmingham. Dave Thomas, Managing Director of Haffner Murat, said: "I'm delighted to be announcing we'll have a presence at FIT 2021. Like everyone in the industry, I was disappointed when...

 

 

FULFILLING CONSUMERS' NEEDS WILL BE MORE IMPORTANT THAN EVER

Bison Frames, home to the Genesis Collection of windows and doors has seen a strong pipeline of orders since reopening the business in May, 2020. Marcus O'Boyle, Business Development & Marketing Manager at Bison Frames believes this immediate upturn is down to the changing needs of the consumer during the lockdown. He said:" Spikes on Google searches have shown a surge in interest for home improvement products during the lockdown as many consumers have noticed where their home needs to be improved. They will have had time to research the options and while by no means all consumers will be...

 

 

Machinery

Haffner Murat reinforces its service support with the appointment of Julian Grummett

Leading machinery supplier Haffner Murat Ltd has further strengthened its service support team with the appointment of Julian Grummett in the position of Service Engineer.

 
Construction Group

RPM International Inc. launches Construction Products Group (CPG) Europe, a new umbrella brand for top UK construction names

RPM International Inc, one of the global leaders in speciality construction products, has unveiled a new identity for its regional construction division in Europe.

Launching in the UK on June 1st, and already active across the continent, Construction Products Group (CPG) Europe, is the new umbrella for...

 

 

Fentrade Aluminium bounces back to pre-Covid shutdown levels

Aluminium trade fabricator Fentrade Aluminium Building Products has bounced back to pre-Covid manufacturing levels in just four weeks. Chris Reeks, Director of award-winning Fentrade Aluminium Building Products, said: "Throughout the shutdown period we kept visible across all digital platforms to ensure we secured a strong sales funnel of work for our return. Continuing with proactive marketing in uncertain times was crucial and has paid off."

Since the Newport-based company reopened their business in May 2020 with safe manufacturing disciplines in place, they have seen a strong surge of immediate orders for their range of high-quality aluminium products and in particular for...

 

 

Lockdown Boost

Post-lockdown boost for Morley Glass & Glazing

Picture above: Ian Short, Managing Director

Morley Glass & Glazing has achieved a 35% increase in production of its sealed units with integral blinds inside compared to pre-lockdown manufacturing levels.

Last week the £18m turnover company manufactured 3400 integral blinds compared to a weekly average of 2500 which was typically produced prior to lockdown.

Managing Director Ian Short said: "We were closed for six weeks...

 
Industry Re-opens

Epwin Window Systems ramps up their controlled re-opening

Epwin Window Systems began a controlled reopening of their Telford operation on 4th May, 2020 and have continued to scale up their operation in line with increasing customer demand.

Clare O'Hara, Managing Director of Epwin Window Systems, said: "Since our re-opening, we have continued to scale up the teams across all key...

 

 

Modplan adds Leka Systems Skylight to its portfolio

Trade fabricator Modplan has just added the Leka Systems Skylight to its portfolio. Heidi Sachs at Modplan, said: "The Leka Systems Skylight gives installers a competitive edge by providing an innovative and flexible solution to bringing natural light into a conservatory."

The Leka Systems Skylight is the latest innovation from Leka Systems. It is a fully glazed unit with a neatly finished surround that doesn't need roof bar caps. It is available in any height and has a maximum width of 800mm, which offers flexible alternatives to opening vents.

Heidi commented: "This takes the aesthetics of skylights to a whole new level....

 

 

Aluminum Windows

Kingfisher Windows to fabricate Stellar aluminium system

Longstanding Profile 22 fabricator Kingfisher Windows is manufacturing Stellar, the double award-winning aluminium window and door system from Epwin Window Systems.

 
News Update

PROFINE ACQUIRES ASSETS FROM APERTURE

Picture above: The new profine site in Huthwaite, Nottinghamshire.

profine Group, has acquired essential assets from Aperture Group, formerly Synseal, one of the leading manufacturers of window and door systems in the UK.

 

 

Entrepreneur takes control of window manufacturer

Longstanding Profile 22 fabricator Kingfisher Windows is manufacturing Stellar, the double award-winning aluminium window and door system from Epwin Window Systems.

Deborah Beeley, Sales and Marketing Manager at Kingfisher Windows, said: "We are delighted to be adding Stellar to our portfolio because it has outstanding features that will give our customers a competitive advantage."

She continued: "It's...

 

 

News Update

LOCKDOWN ACCELERATES LAUNCH OF PROFESSIONAL DESIGN SERVICE

High-end retail fabricator Conservatory Outlet Ltd has continued its commitment to customer excellence by revealing an innovative new digital design package to support its customers' lockdown sales efforts.

 
News Update

EPWIN WINDOWS SYSTEMS DRIVES PRODUCTIVITY AND EFFICIENCY

Staying at the forefront of the industry is in the DNA of Epwin Window Systems and their recent business investments are driving both innovations and supporting Covid-19 working practices too.

 

 

After every storm comes a rainbow… A personal mission to help

The worldwide pandemic of COVID-19 has brought challenging and distressing times for many. Yet, through the negativity, there have been spots of brightness. From Sir Tom Moore raising millions for the NHS as he walked laps of his garden prior to his 100th birthday, to local postmen delivering food to the elderly on their routes, we've seen examples of humanity at its best.

Innovative brand Liniar wanted to do more than protect its employees, which it did by temporarily closing its facilities until social distancing measures could be put into place. The company has a deep-rooted ethos of 'doing the right...

 

 

News Update

LEANER, FITTER AND BETTER FUNDED

In an extraordinary, timely interview, one of the UK's leading window and door installers, David Thornton of The Window Company (Contracts) Ltd, says that he will be visiting next year's FIT Show with a view to identifying additional new supply partners, because the event will "highlight the leaner, fitter and better funded companies in our industry."

David, who has previously shown his support for the event, which will take place...

 
News Update

HOW A MARKETING FOCUSED BUSINESS MAKES A DIFFERENCE

Sue Davenport, Group Marketing Director at Liniar, explores the true meaning of marketing.

At the time of writing, I'm sitting in my makeshift office (the dining room) where I've been based for the last few weeks, thanks to the worldwide COVID19 pandemic.

After closing our main facilities in order to protect our workforce, we continued to work from home – focusing on internal...

 

 

CONTINUED INVESTMENT DESPITE UNCERTAIN TIMES

The world, and our industry, are navigating uncharted waters as we emerge from the COVID-19 pandemic – but even whilst we're in a period of uncertainty, one systems company remains firmly focused on the future.

Known for its ongoing commitment to quality and innovation, together with pressing the importance of continued investment, Liniar has announced it has made £ millions of further investment into its PVCu extrusion facility. Not only is this positive news during a time of uncertainty, Liniar customers can rest assured the ongoing high quality of products remains safeguarded for the future.

New Arrivals

Liniar's Production Director Eddy Webb provides...

 

 

News Update

CAPITAL WINDOWS SIGN UP TO STELLAR

Specialist fabricator, Capital Windows is fabricating Stellar, the double-award winning aluminium window and door system from Epwin Window Systems. Marketed under their branding 'Evoke', Peter Adams, General Manager at Capital Windows said: "We have manufactured aluminium products for many years and we were very impressed by the true flush aesthetics of Stellar. We are marketing it under the brand...

 
New Appointment

NEW APPOINTMENT AT HAFFNER

Leading machinery supplier Haffner Murat Ltd has further strengthened its sales management team with the appointment of Paul Yeo in the position of Technical Sales Manager from 1st June, 2020.

Paul joins an eight-strong technical sales team as demand for Haffner Murat's cutting-edge fabrication machinery continues to gather pace.

Speaking on Paul's appointment, Dave Thomas, Managing Director of Haffner Murat, said: "Paul has extensive knowledge of PVC-U and aluminium profiles along with fabrication machinery from his...

 

 

GGF to provide even more COVID-19 Support

Following the release of the GGF's two free Safe Guides for Homeowners and Companies respectively, and having published over 55 related articles, the GGF is now aiming to provide even more support to continue helping the industry get through the COVID-19 crisis.

John Agnew, Managing Director states, "Our first priority will always be to help our Members, but in this current situation, it is in everyone's interests for the GGF to also help the entire industry recover. We'll continue to provide free guidance and information to all companies in the industry, but for Members, we will be putting together some additional...

 

 

Colour

EPWIN LAUNCHES COLOUR OFFERING

Epwin Window Systems has launched its new colour offering across its market-leading PVC-U system brands. Clare O'Hara, Managing Director of Epwin Window Systems, said: "Our new colour offering has been designed to deliver what our customers need – making the most popular colour profiles available on their next delivery schedule as well as introducing new shades that look set to be the next trends in colour. It's the latest in a series of major investments in colour so we can give our customers a market advantage both now and into the future."

 
| | | |
| --- | --- | --- |
| | 0780 505 1322 | |