18th June 2020
Insulbar puts door in best climate category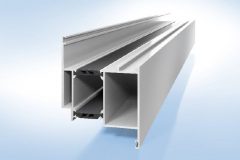 Ensinger's shear-free insulating bar for metal doors scores well in the comparison test and enables the best climate category B3/C3
Thanks to their high resistance to weathering, aluminium doors are becoming more and more popular. If, however, the temperature on the outside vastly differs from that on the inside, for example...
Construction Group

RPM International Inc. launches Construction Products Group (CPG) Europe, a new umbrella brand for top UK construction names

RPM International Inc, one of the global leaders in speciality construction products, has unveiled a new identity for its regional construction division in Europe.

Launching in the UK on June 1st, and already active across the continent, Construction Products Group (CPG) Europe, is the new umbrella for RPM's leading construction product brands...

 

 

Selecta – Getting Back to Work!

Picture above: Andy Green

As we all begin to get back to work, in what has been frequently described as unprecedented circumstances and exceptional times, Selecta Systems Sales Director, Andy Green, talks directly and openly on how Selecta have dealt with the whole situation, getting back to work and his thoughts on opportunities moving forward.

Selecta began the year with enthusiasm and excitement, having converted 46 fabricators of all sizes in 2019 and a further 12 switching to the Advance 70 System in the first three months of this year. January saw Selecta 25% up on the previous year, with February returning similar...

 

 

Lockdown Boost

Post-lockdown boost for Morley Glass & Glazing

Picture above: Ian Short, Managing Director

Morley Glass & Glazing has achieved a 35% increase in production of its sealed units with integral blinds inside compared to pre-lockdown manufacturing levels.

Last week the £18m turnover company manufactured 3400 integral blinds compared to a weekly average of 2500 which was typically produced prior to lockdown.

Managing Director Ian Short said: "We were closed for six weeks, as directed by the Government, but...

 
Industry Re-opens

Epwin Window Systems ramps up their controlled re-opening

Epwin Window Systems began a controlled reopening of their Telford operation on 4th May, 2020 and have continued to scale up their operation in line with increasing customer demand.

Clare O'Hara, Managing Director of Epwin Window Systems, said: "Since our re-opening, we have continued to scale up the teams across all key business functions as demand increases. I am delighted that many of our customers have reported a brisk pick-up and we have a strong level of immediate enquiries that we are actively working on."

She added: "Of course, while it is encouraging that we are seeing...

 

 

VBH Supplies NHS Specialist CB Solutions

One of major VBH customer CB Solutions UK Ltd's specialisms is the manufacture and installation of windows and doors for the modular construction industry. The COVID crisis has seen the company particularly busy with the supply of product on numerous NHS contracts, including one recently for Kingston Modular Systems.

Kingston were delighted with the service received from CB Solutions, thanking them publicly for their ongoing support in difficult times to deliver on key NHS projects.

VBH are proud to call CB Solutions a customer, supplying them with many products including greenteQ Alpha window and door handles, Q-Star TS007 profile cylinders and door and window hinges among others.

VBH MD Simon Monks says "When lock down occurred we evaluated the safety of our staff and customers and quickly came to the conclusion that we could and would remain open with a skeleton staff to service our customers such as CB Solutions, who would need hardware for such vital work. Although working from home came as a shock at first, we've all adjusted and have reacted quickly when called upon. Well, done to all at CB."

 

 

Aluminum Windows

Kingfisher Windows to fabricate Stellar aluminium system

Longstanding Profile 22 fabricator Kingfisher Windows is manufacturing Stellar, the double award-winning aluminium window and door system from Epwin Window Systems.

Deborah Beeley, Sales and Marketing Manager at Kingfisher Windows, said: "We are delighted to be adding Stellar to our portfolio because it has outstanding features that will give our customers a competitive advantage."

She continued: "It's...

 
News Update

PROFINE ACQUIRES ASSETS FROM APERTURE

Picture above: The new profine site in Huthwaite, Nottinghamshire.

profine Group, has acquired essential assets from Aperture Group, formerly Synseal, one of the leading manufacturers of window and door systems in the UK.

 

 

Entrepreneur takes control of window manufacturer

Longstanding Profile 22 fabricator Kingfisher Windows is manufacturing Stellar, the double award-winning aluminium window and door system from Epwin Window Systems.

Deborah Beeley, Sales and Marketing Manager at Kingfisher Windows, said: "We are delighted to be adding Stellar to our portfolio because it has outstanding features that will give our customers a competitive advantage."

She continued: "It's...

 

 

News Update

LOCKDOWN ACCELERATES LAUNCH OF PROFESSIONAL DESIGN SERVICE

High-end retail fabricator Conservatory Outlet Ltd has continued its commitment to customer excellence by revealing an innovative new digital design package to support its customers' lockdown sales efforts.

 
News Update

EPWIN WINDOWS SYSTEMS DRIVES PRODUCTIVITY AND EFFICIENCY

Staying at the forefront of the industry is in the DNA of Epwin Window Systems and their recent business investments are driving both innovations and supporting Covid-19 working practices too.

Clare O'Hara, Managing Director of Epwin Window Systems explains: "We are committed to continuous investment which can be seen in our new warehouse and distribution centre. The building, which is...

 

 

After every storm comes a rainbow… A personal mission to help

The worldwide pandemic of COVID-19 has brought challenging and distressing times for many. Yet, through the negativity, there have been spots of brightness. From Sir Tom Moore raising millions for the NHS as he walked laps of his garden prior to his 100th birthday, to local postmen delivering food to the elderly on their routes, we've seen examples of humanity at its best.

Innovative brand Liniar wanted to do more than protect its employees, which it did by temporarily closing its facilities until social distancing measures could be put into place. The company has a deep-rooted ethos of 'doing the right...

 

 

News Update

LEANER, FITTER AND BETTER FUNDED

In an extraordinary, timely interview, one of the UK's leading window and door installers, David Thornton of The Window Company (Contracts) Ltd, says that he will be visiting next year's FIT Show with a view to identifying additional new supply partners, because the event will "highlight the leaner, fitter and better funded companies in our industry."

David, who has previously shown his support for the event, which will take place...

 
News Update

HOW A MARKETING FOCUSED BUSINESS MAKES A DIFFERENCE

Sue Davenport, Group Marketing Director at Liniar, explores the true meaning of marketing.

At the time of writing, I'm sitting in my makeshift office (the dining room) where I've been based for the last few weeks, thanks to the worldwide COVID19 pandemic.

After closing our main facilities in order to protect our workforce, we continued to work from home – focusing on internal...

 

 

CONTINUED INVESTMENT DESPITE UNCERTAIN TIMES

The world, and our industry, are navigating uncharted waters as we emerge from the COVID-19 pandemic – but even whilst we're in a period of uncertainty, one systems company remains firmly focused on the future.

Known for its ongoing commitment to quality and innovation, together with pressing the importance of continued investment, Liniar has announced it has made £ millions of further investment into its PVCu extrusion facility. Not only is this positive news during a time of uncertainty, Liniar customers can rest assured the ongoing high quality of products remains safeguarded for the future.

New Arrivals

Liniar's Production Director Eddy Webb provides...

 

 

News Update

CAPITAL WINDOWS SIGN UP TO STELLAR

Specialist fabricator, Capital Windows is fabricating Stellar, the double-award winning aluminium window and door system from Epwin Window Systems. Marketed under their branding 'Evoke', Peter Adams, General Manager at Capital Windows said: "We have manufactured aluminium products for many years and we were very impressed by the true flush aesthetics of Stellar. We are marketing it under the brand...

 
New Appointment

NEW APPOINTMENT AT HAFFNER

Leading machinery supplier Haffner Murat Ltd has further strengthened its sales management team with the appointment of Paul Yeo in the position of Technical Sales Manager from 1st June, 2020.

Paul joins an eight-strong technical sales team as demand for Haffner Murat's cutting-edge fabrication machinery continues to gather pace.

Speaking on Paul's appointment, Dave Thomas, Managing Director of Haffner Murat, said: "Paul has extensive knowledge of PVC-U and aluminium profiles along with fabrication machinery from his...

 

 

GGF to provide even more COVID-19 Support

Following the release of the GGF's two free Safe Guides for Homeowners and Companies respectively, and having published over 55 related articles, the GGF is now aiming to provide even more support to continue helping the industry get through the COVID-19 crisis.

John Agnew, Managing Director states, "Our first priority will always be to help our Members, but in this current situation, it is in everyone's interests for the GGF to also help the entire industry recover. We'll continue to provide free guidance and information to all companies in the industry, but for Members, we will be putting together some additional...

 

 

Colour

EPWIN LAUNCHES COLOUR OFFERING

Epwin Window Systems has launched its new colour offering across its market-leading PVC-U system brands. Clare O'Hara, Managing Director of Epwin Window Systems, said: "Our new colour offering has been designed to deliver what our customers need – making the most popular colour profiles available on their next delivery schedule as well as introducing new shades that look set to be the next trends in colour. It's the latest in a series of major investments in colour so we can give our customers a market advantage both now and into the future."

 
COVID-19 Measures

WORK SAFETY POSTERS AVAILABLE FROM EPWIN WINDOW SYSTEMS

With many businesses beginning a staged return to work across the industry, Epwin Window Systems has produced a series of work safety posters to help support their customers and...

 

 

HAFFNER MURAT COMMENCES MANUFACTURING OF SURGICAL FACE MASKS

The manufacturing team at Haffner Murat have begun manufacturing surgical face masks in response to the ongoing global battle against the Covid-19 pandemic. The surgical masks will be made and distributed worldwide from Haffner Murat's state of the art manufacturing facility.

Dave Thomas, Managing Director of Haffner Murat, said: "The Covid-19 pandemic has created a critical shortage of face masks throughout the world. We purchased the manufacturing equipment needed and thanks to the expertise of our talented production engineers, we achieved the relevant accreditations to be able to manufacture and supply surgical masks globally. Production commenced in April and we will...

 

 

COVID-19 Measures

FLEXIBILITY AT VBH HELPS CUSTOMERS

Hardware specialist VBH has reduced its minimum order value to just £10 per order to give fabricators and installers the flexibility to place smaller orders while they 'get their ducks in a row' following a return from lockdown.

The company hopes this added flexibility will help customers get back to normal working practices as quickly as possible.

VBH remained open during lockdown, with a reduced number of...

 
COVID-19 Measures

GOVERNMENT GUIDANCE VITAL AS INDUSTRY RESTARTS

During the COVID-19 crisis, the GGF has remained at the forefront of breaking news and conveying key guidance to the industry. As the Government is starting to rejuvenate the economy, the GGF calls on companies to adjust to the safety guidance...

 

 

Add value to the sale in a Blink!

ODL Europe began a phased and controlled reopening of their business on 4th May, 2020 and whilst still in the early stages of business recovery, the Bootle-based business has already noticed that adding value to the sale is something that is becoming even more essential to fabricators and installers. Andy Meakin, Business Development Manager of ODL Europe, explains: "Throughout the lockdown we have continued to develop a pipeline of strong enquiries from our online portal for Blink Integral Blinds along with a steady flow of immediate orders upon our return. At consumer level, Blink Blinds answer consumers' need...

 

 

COVID-19 Measures

GGF WARNS OF COVID-19 MISINFORMATION

In the last few weeks, the GGF has observed further examples of misinformation around the COVID-19 situation and its impact on the home improvement sector.

 
| | | |
| --- | --- | --- |
| | 0780 505 1322 | |