7th May 2020
An Education in Multitasking and Innovation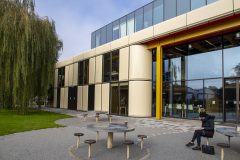 The iconic 8,500 square metre former Herman Miller factory on the banks of the Kennet and Avon Canal in Bath has been transformed into a new School of Art and Design for Bath Spa University with the help of some innovative thinking by Structura UK.
Originally designed by Sir Nicholas Grimshaw in 1976 and Grade II listed in 2013, the architects returned 40 years later to convert the factory into a modern, bright, functional and flexible space.
As part of the conversion, Structura UK worked closely with main contractors Willmott Dixon on the complete building envelope from the entrances and glazing through to repairs, refinishing and creating a complete new glass top floor.
RE-OPENING

EPWIN WINDOW SYSTEMS BEGINS PHASED REOPENING

Epwin Window Systems has announced a phased and controlled reopening of their Telford operation from Monday 4th May, 2020.

The phased reopening will commence with a small team of Customer Service personnel who will be available to discuss customers' order requirements from 4th May. During that week, the production plant will fire up with a view to reopening the manufacturing facilities...

 

 

EPWIN WINDOW SYSTEMS MANUFACTURING PPE FOR NHS FRONTLINE WORKERS

Picture above: Clare O'Hara

Epwin Window Systems is using its 3D printing capabilities to produce two types of Personal Protective Equipment (PPE) to support NHS frontline workers.

Clare O'Hara, Managing Director at Epwin Window Systems, said: "NHS staff are doing an amazing job and we all owe them so much. Two members of our Epwin team, Alan Humphries, Systems Developer, and Steve Coxill, Engineering Service Manager, saw how they could use our equipment to give something back."

Working in line with social distancing advice, Alan and Steve are producing two types of PPE. The first is "ear savers", which are worn behind the head...

 

 

RE-OPENING

MILA EXPANDS DELIVERIES IN LINE WITH DEMAND

With an increasing number of fabricators announcing their intentions to restart limited operations from 11 May, Mila is expanding the delivery service it has been offering from its Daventry warehouse.

As of 4 May, any hardware orders received before 3pm every day will be...

 
RE-OPENING

ANGLO RE-OPENS POST-COVID19 CLOSURE

Steel reinforcement specialist, Anglo European has opened its doors as part of a safe and structured return to work.

It follows a decision by its directors to temporarily 'pause' operations at the end of March in response to government guidance.

Paul Sullivan, Managing Director, Anglo European, said with the position now clarified on working and with growing customer demand...

 

 

HERITAGE TRADE FRAMES BECOMES STELLAR FABRICATOR

Picture above: from left to right: Paul Culshaw – Heritage Trade Frames, Mark Austin – Epwin Window Systems

Longstanding Profile 22 customer Heritage Trade Frames has become the latest fabricator to manufacture Stellar, the award-winning aluminium window and door system from Epwin Window Systems.

Phil Cresswell, Sales and Marketing Manager at Heritage Trade Frames, said: "The superb aesthetics of Stellar completely raise the bar in aluminium system design. First impressions are that it will be quicker and easier to fabricate than other traditional aluminium systems. But more importantly for our customers, it's an installer's dream, which is a huge selling point for us."

 

 

RE-OPENING

ULTRAFRAME RE-OPENING STATEMENT, JULIAN SLADE, CEO

Following the closure of the Ultraframe factory at the end of March, we have strictly followed government advice while at the same time responding to customer queries and requests via a small number of staff working from home. As a result of listening to our customers as well as broad consultation with industry stakeholders, we now plan to re-open the Ultraframe factory week commencing the 11th May.

 
COVID-19 GUIDANCE

GGF UNDERLINES POSITIONS ON COVID-19 ISSUES

The GGF has underlined its positions on several issues around the developing COVID-19 crisis and its impact on the glass and glazing industry. In a statement to GGF Members and the Industry, John Agnew GGF, Managing Director clarified the GGF's position with regard to the issue on whether companies should choose to close temporarily or to...

 

 

SENIOR'S MAMMOTH CHARITY CAMPAIGN PAYS OFF

A small aluminium elephant has helped to make a big difference to two South Yorkshire hospices and pay homage to an important part of Sheffield's history in the process.

Inspired by the legend of Lizzie, the Indian Elephant that became a familiar sight around Sheffield throughout the Great War, the unusual charity challenge saw South Yorkshire based aluminium glazing systems manufacturer Senior Architectural Systems create a number of bespoke ornamental elephants that went on to be sold at various events throughout last year. In total, over £8k has been generated and split between two important local charities -St. Luke's Hospice and...

 

 

Key Worker Support

LINIAR MOVES SWIFTLY TO HELP FRONT LINE WORKERS

Innovative PVCu systems company Liniar has developed a new supply chain whilst its extrusion facility is temporarily closed – producing protective face visors for front line workers during the COVID19 crisis.

Whilst most of the workforce was furloughed, with a skeleton team working from home...

 
Key Worker Support

MODPLAN DONATES ITS STOCK OF PPE TO LOCAL DOCTORS' SURGERY

Trade fabricator Modplan has just donated its stock of personal protective equipment (PPE) to its local doctors' surgery to help protect NHS staff as they tackle the Covid-19 outbreak.

Heidi Sachs from Modplan, said: "All our manufacturing facilities and paint plant...

 

 

LINIAR GOES FOR 'BACK TO BACK' AWARD WINS

We are living in uncertain times, with more still to come as our industry, and British manufacturing and construction in general, deal with navigating the disruption caused by the ongoing coronavirus pandemic.

Amongst all the negativity there are still good news stories to be found, one of which came last week for industry-leading systems company Liniar – a shortlist spot in the Made in the Midlands Awards for the coveted Manufacturer of the Year award.

This follows on from the announcement in March that Liniar had also won the Midlands Business Award for Manufacturer of the Year for the second year running!

 

 

Cowboys

'Stop the Cowboys' roundtable backs calls for a licence to build

Key influencers within the UK construction industry have called upon the government to take action against cowboy building contractors by consulting on an industry-wide licensing/certification scheme to give end-users a recognisable mark of quality and trust.

 
GM Fundraising

GM Fundraising moves Peak, Paddle, Pedal to 2021

GM Fundraising has announced its 2020 Peak, Paddle, Pedal charity event to raise money for Hope House Children's Hospices has been postponed until a similar date in 2021.

Gary Morton, founder of GM Fundraising, said: "In view of the current unprecedented situation that we all find ourselves in, we have had to make the difficult decision to postpone Peak...

 

 

ALUMINIUM CURTAIN WALLING THAT'S FIT FOR PURPOSE

Combining strength and efficiency with a sleek slimline appearance, Senior Architectural Systems' SF52 aluminium curtain walling system has become a popular choice for use on leisure contracts of all shapes and sizes.

Repeat business with some of the major leading architects working in the sports and leisure sector has seen Senior's high-performance SF52 system installed on various schemes across the country including the Bridge Leisure Centre in Horsham and the Slough Ice Arena. Senior has also been involved in the creation of a number of sports facilities with leading universities, such as Solent University in Southampton and the University...

 

 

NHS Support

WIDGETS AND GLAZERITE PROVIDE NHS PRODUCT SUPPORT

When Jason Thompson, group managing director of Glazerite UK Group, asked for some product assistance to support a family member operating on the frontline at St Helier Hospital, London, Window Widgets were quick off the mark to provide the much-needed support for the NHS.

 
Industry News

FORWARD-THINKING IS PRUDENT PLANNING

The world around us is changing and along with it, consumer behaviour. Property owners are more aware of the impacts that the fenestration products they purchase have on the environment – whether that's through their manufacturing process or the environmental benefits they provide once installed. Because of this, more homeowners are requesting products that are manufactured in environmentally-friendly facilities who use safe...

 

 

FENTRADE'S NEW FLUSH CASEMENT WINDOW WILL OPEN OPPORTUNITIES FOR INSTALLERS WHEN THE MARKET RETURNS

Aluminium trade fabricator Fentrade Aluminium Building Products has announced it will start manufacturing the Optio 58BW Flush window from AluK when the industry reopens. Chris Reeks, Director of Fentrade Aluminium Building Products, said: "We know our installing customers will want to maximise every opportunity when the market returns. The Optio 58BW Flush window taps into the growing aluminium market and is perfect for contemporary new build and traditional refurbishment projects alike."

The Optio 58BW Flush window offers a powerful combination of performance, versatility and security. Key features include impressive U values as low as 1.5W/m2K as well as a double rebate...

 

 

Industry News

FIRST PAST THE POST

Established just before the start of a new millennium, Pearl Windows has become one of the most widely renowned PVCu window and door fabricators in the industry. This exceptional reputation is all thanks to its forward-thinking nature, high-quality products and its commitment to go above and beyond for customers. One of the early adopters of the Liniar system, Pearl Windows has always been on the front foot for fabricating the new products emerging from Liniar's Design...

 
Industry News

UK manufacturers need £650m in April to survive 2020

Loans:50% of manufacturers are seeking £643.5m CBILS funding before end of April. Cash:Two-thirds report shrinking order with less than £50k cash before they run out of money. Revenues:64% have halved order...

 

 

WINDOWS PLUS STEPS UP TO SUPPORT THE NHS

Profile 22 fabricator Windows Plus is fitting infection control doors and privacy screens in Warwick Hospital to support the efforts of the NHS in caring for Covid-19 patients. The doors and screens will enable staff to safely put on and take off protective clothing before entering or leaving wards. Gary Hampton, Managing Director of Windows Plus, said: "Like everyone, we have been in awe of the amazing work NHS staff are doing in caring for patients with Coronavirus. Having previously carried out work at Warwick Hospital, I got in touch to find out if there was anything we could do to protect and support staff in the hospital at this critical time. When they confirmed the need for infection control doors and privacy screens, we were more than happy to support them."

 

 

Industry News

Grants could bring construction SMEs back from the brink, says FMB

It's paramount that the Government steps up its support for small construction firms, as we risk seeing a crash similar to that experienced during...

 
Consumer Protection

Don't leave company directors high and dry, FMB tells Chancellor

Greater support is needed for those running small businesses who fall between the gap in schemes to support employees and the self-employed, said the Federation of Master Builders (FMB) in a letter to the Chancellor today.

 

 

MORE SUPPORT FOR GGF MEMBERS DURING CRISIS

As the spread of the Coronavirus (COVID-19) continues across the world, the glass and glazing industry is witnessing and experiencing one of the most extraordinary periods in living memory.

Across the UK and Ireland, companies continue to make tough decisions and take unprecedented measures to ensure their businesses stay solvent against a bleak backdrop. The trading environment is sharply brought into perspective by the health statistics and the omnipresent risk to everyone's health and safety. The Government has closed down several industries but the construction is one they are keen to see continue, if workers can operate within the Public...

 

 

Builders Merchant

80% of builders left in dark by banks on Coronavirus loan, says FMB

The Federation of Master Builders (FMB) is calling on the Chancellor to address the blockages in the Coronavirus Business Interruption Loan Scheme (CBILS), as small builders across the country are struggling to keep their businesses afloat. It follows an FMB survey of 579 members...

 
Hardware

PROFILE 22'S OPTIMA FLUSH CASEMENT WINDOW DELIVERS WHAT THE MARKET NEEDS FROM A FEATURE-RICH PRODUCT

As the trend towards feature-rich windows continues, Profile 22 reports that demand for its Optima Flush Casement Window has never been higher. Gerald Allen, Marketing Manager at Epwin Window Systems, said: "Consumers are...

 

 

SENIOR LAUNCHES NEW TRAINING ACADEMY

As even the most experienced of fabricators can benefit from brushing up on their practical skills and product knowledge, Senior Architectural Systems is inviting its customers to put training in focus for 2020.

Senior offers training support in the fabrication and installation of its full range of aluminium fenestration products and has recently created a dedicated Training Academy at its South Yorkshire head office. From here, Senior is now offering a comprehensive training programme in the use of its popular SF52 aluminium curtain walling system. Senior's training combines both theoretical and practical elements and is supported by GQA Qualifications; the leading...

 

 

Hardware

LINIAR MAKES A SPLASH WITH COLOUR

Homeowners are clamouring for more – more choice, more colour and the ability to personalise more of their homes. Liniar's heard those demands – and its answer? An ever-increasing colour range with stunning shades and finishes for every property owner's taste.

No stranger to colour, Liniar has offered choices in both substrate colour and foil finishes...

 
| | | |
| --- | --- | --- |
| | 0780 505 1322 | |