5th November 2020
GREENTEQ INVICTA SHOOTBOLT COMPLETES THE RANGE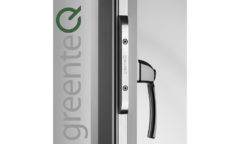 Hardware expert VBH has added the Invicta shootbolt locking system for outward opening windows to its greenteQ range of premium quality window and door hardware and furniture.
Invicta has been successfully tested to PAS24 on a number of profiles and is suitable for windows where a high security locking system is required.
The system consists of a gearbox, in a choice of industry standard 20 or 22mm backsets, and a series of extensions to cover sash sizes up to 1540mm.
The extensions are connected to the gearbox and secured in place by an attractive central cover plate, which clearly announces the shootbolt as...
GM Fundraising

ODL EUROPE DONATES $1,000 TO GM FUNDRAISING

To help mark its 75th anniversary year, ODL Europe has donated $1,000 to GM Fundraising to support Hope House Children's Hospices. Nathan Barr, Managing Director of ODL Europe, said: "We are delighted to make this donation to GM Fundraising to mark our 75th anniversary. Hope House Children's Hospices is such an important cause because no one should have to face the death of a child on their own."

Gary Morton, founder of GM Fundraising said: "We're very grateful...

CONSERVATORY OUTLET HONOURED AS ONE OF 1000 COMPANIES TO INSPIRE BRITAIN.

Conservatory Outlet Group has been officially recognised by the London Stock Exchange in its annual publication of 1000 Companies to Inspire Britain.

The report, which is in its 7th iteration, identifies the fastest-growing and most dynamic small and medium-sized enterprises from across the country. This includes companies that have not only grown their own revenue, but have also consistently outperformed industry peers. Unlike other reports, 1000 Companies to Inspire Britain is compiled based on factual information as opposed to nominations.

Conservatory Outlet Group has been officially recognised by the London Stock Exchange in its annual publication of 1000 Companies to Inspire Britain.

GM Fundraising

A CORPORATE GIFT TO SHOW YOUR SUPPORT FOR HOPE HOUSE CHILDREN'S HOSPICES

GM Fundraising is offering framed prints of a beautifully designed rainbow – the symbol of 2020 – to raise funds for Hope House Children's Hospices this Christmas. Each print is framed to order, featuring the company's logo and will make a superb corporate 2020 Christmas gift and help support the charity too.

Gary Morton, founder of GM Fundraising, said: "Like all charities, Hope House has been very...
Windows

SPECTUS WINDOWS DELIVER FOR NEW WATERFRONT DEVELOPMENT IN EDINBURGH

Approved Spectus fabricator Sidey has recently manufactured and installed over 200 flush tilt and turn windows for a low-rise, contemporary new apartment block in Edinburgh. The block forms part of Places for People's Waterfront 3 development which embraces the best in modern architecture.

Designed by Reiach and Hall Architects, the contemporary project provided 34 homes for affordable rent built using a mix of traditional and timber-framed modular construction.

65 EVANDER APPRENTICES SUCCESSFULLY COMPLETE INDUSTRY-SPECIFIC QUALIFICATIONS THANKS TO MRG SERVICES

The two learners in the picture are (R) Chris Mcloughlin (L) Stephen Woodcock

Sixty-five apprentices at Evander, the UK's leading provider of responsive, pre-planned and emergency home services, have just successfully completed their Level 2 and 3 programmes in Fenestration Installation, Glazing, and Fenestration Surveying. The programmes were delivered by industry training experts, MRG.

Paul Gray of MRG, said: "We are proud of our long-standing partnership with Evander. Together we've ensured that these latest 65 Apprentices have successfully completed their qualifications."

Matt Smith, HR Director at Evander, said: "We would like to congratulate all of the Evander learners that have recently...

Glass

Nobu Hotel Warsaw: Timeless elegance meets modern design

A new design hotel in the Polish capital is making its mark with extraordinary architecture that combines the Art Deco style of the 1920s with the modern era: the Nobu Hotel Warsaw. Established by Oscar prize winner Robert De Niro, the Japanese chef Nobu Matsuhisa and the entrepreneur Meir Teper, the exclusive 5-star hotel with 117 rooms...
NFA Awards

FINALIST STATUS FOR FENTRADE ALUMINIUM

Trade fabricator, Fentrade Limited has been confirmed as a finalist at this year's National Fenestration Awards in the category of Fabricator/Manufacturer 2020. Having picked up the NFA award for New Company of the Year 2019, Director of Fentrade, Chris Reeks, is hoping to secure a second win. Chris said: "Winning the 2019 New Company of the Year was a huge...

MERCURY ACHIEVES FINALIST STATUS AT NFA'S

Specialist fabricator, Mercury Glazing Supplies, has been named a finalist in the category of Vertical Sliding Window Company at the National Fenestration Awards, 2020. Steve Cross, Director at Mercury Glazing said: "We are delighted to have been nominated for this award and would like to thank everyone who has voted for us. It means so much to everyone at Mercury."

Since 2002, Gloucester-based Mercury has been manufacturing a range of quality vertical sliders and the business has grown to become one of the UK's largest specialist VS fabricators. The 50-strong team manufactures a range of standard and mechanically jointed vertical sliding...

NFA Awards

HAFFNER MURAT ACHIEVES FINALIST STATUS

Machinery experts, Haffner Murat, has been confirmed as a finalist at this year's National Fenestration Awards in the category of Machinery Company 2020. Dave Thomas, Managing Director of Haffner Murat, said: "We are delighted to have been shortlisted for this award and would like to thank everyone who nominated us. Our teams across the UK and Europe are dedicated...
Training

ACCESS FUNDED TRAINING TO UPSKILL YOUR WORKFORCE AND STAY AHEAD

Leading training and development provider MRG Services is highlighting the opportunities available to employers to access funded training programmes for their employees. Paul Gray, Operations Director at MRG says: "There has never been a better time to strengthen your business by upskilling your employees.

FINALIST STATUS FOR LEKA SYSTEMS

Conservatory roof innovators, Leka Systems, has been confirmed as a finalist at this year's National Fenestration Awards in the category of Conservatory Roof Manufacturer. Rhys Hoddinott, Director of Leka Systems, said: "The Leka team are delighted to have been shortlisted for this award. This nomination celebrates the dedication and innovation behind our roofing systems and the fact the industry has nominated us, makes it very special."

The National Fenestration Awards was launched in 2013 and has become the industry's fastest growing, independent awards event. The all-inclusive fenestration event rewards the very best in the sector and is voted by the participation...

Mental Health

SOLARFRAME INVESTS IN EMPLOYEE EMOTIONAL RESILIENCE CREATING A CULTURE FOR IMPROVED MENTAL HEALTH

Rotherham based Solarframe Holdings Ltd has teamed up with Kate Ashley-Norman of Positive Mind Management to integrate a long term approach to its employee mental health. The initiative will ensure its 100 employees take a proactive approach...
Virtual Expo

ODL EUROPE EXHIBITING AT FENEX

ODL Europe have signed up to FENEX, the new industry virtual exhibition which kicks off on in November with the Doors, Windows and Hardware mini Expo. Nathan Barr, Managing Director of ODL Europe said: "We are looking forward to welcoming visitors to our virtual stand and showing them what ODL Europe has to offer. We are launching some exciting new products this year, including our new Guardsman FD Fire Door, which has the ability to revolutionise this sector and...

Yale DWS prioritises hygiene with BioCote® partnership

In a time where hygiene and cleanliness are of the utmost importance, Yale has partnered with market leading antimicrobial additives provider, BioCote, to launch the Quartus combi door handle range with a coating that will reduce up to 99.99% of microbes on its surface.

Proven effective against many common microbes including bacteria, mould and fungi; this technology will protect the Quartus door handle from colonisation, and significantly reduce the risk of cross-contamination.

Appointment

Earl Tate Joins VBH

Leading hardware company VBH has recently appointed Earl Tate to the position of Area Sales Manager for South East England.

Earl joins the company after 12 years at another well known hardware supplier and is well respected within the hardware fraternity.

VBH Regional Sales Manager for the South, Dan Powell, comments "I have known Earl for a number of years and I admire his work ethic.
Machinery

LINIAR STAYS AHEAD OF FOIL DEMAND WITH INVESTMENT IN LAMINATION TECHNOLOGY

Innovative PVCu systems company Liniar is ramping up its capacity for foiled profiles, with the purchase of one of the most technically advanced lamination machines on the market.

The £750k investment in the Luna R Automatic Profile Wrapping Machine from Italy...

A STELLAR JOB FOR ABBEY WINDOWS

44 Stellar aluminium Flush Casement Windows and a Stellar French Door in anthracite grey have been fitted in a substantial residential property in Leeds, West Yorkshire. The job was carried out by local Leeds installer Abbey Windows who has been fitting Stellar products for a few months and is delighted with the products' aesthetics and ease of fitting.

Darren Capitano, owner of Abbey Windows, explains: "Stellar is a superior aluminium window and door system and the slimline, flush aesthetics make it an attractive product to sell to our customers. The low-level gaskets mean the frames look even slimmer, which taps into...

Case Study

Adapting to a Changing World: Horton's Goes Digital

Rob Horton, Managing Director for Horton's Building Plastics, discusses how the company's outlook continues to adapt – during 2020 in particular, in response to the COVID-19 pandemic and the changes in consumer purchasing behaviour.

The new version of 'business as usual' is now a far cry from...
Aluminium

STELLAR'S AESTHETICS ATTRACT CONSUMER APPEAL

Retail installer Walkers Windows in Huddersfield has been selling Stellar, the double award-winning aluminium system from Epwin Window Systems to his growing retail customers for several months.

HELP SPREAD A LITTLE HOPE THIS CHRISTMAS WITH GM FUNDRAISING

GM Fundraising is bringing some much-needed Christmas cheer to the industry with the launch of its popular 2020 Christmas card. After such a tumultuous year, the beautifully designed Christmas card allows the industry to spread a little hope to customers, suppliers and friends as well as raising some much-needed money for Hope House Children's Hospices.

Gary Morton, founder of GM Fundraising, explains: "We know the festive season will soon be upon us and the children at Hope House have been busy creating our annual Christmas card. Every year we commission a beautifully designed Christmas card and this year's card has been a collaborative effort from Oliver and the other children at Hope House, which is very special."

Aluminium

FENTRADE DELIVERS ON COLOURFUL TOOL HIRE PROJECT

Trade fabricator, Fentrade Aluminium recently manufactured and supplied a commercial shopfront system for a colourful refurbishment project for a specialist tool hire company based in Bristol, Avon.

Working with installer Crystal Clear of Bristol, one of Fentrade's established trade customers, the specialist tool hire company were particular on the choice of colour.
Windows

TIMBER REPLICA WINDOWS MORE POPULAR THAN EVER BEFORE

The United Kingdom's landscape is awash with properties from a variety of periods and with a variety of styles. From the ultra-modern abodes of the suburbs to heritage properties full of character and until recently, there wasn't one window that could fit all these unique homes.

With the introduction of a new, groundbreaking PVCu flush sash window system from Liniar in 2019, homeowners can now benefit from not...

MODPLAN LAUNCHES INTERNAL CONTROL HUB TO SUPPORT ITS CUSTOMERS

In response to the industry-wide supply chain challenges, leading VEKA trade fabricator Modplan has launched an internal Control Hub to keep its customers one step ahead.

Heidi Sachs, Managing Director at Modplan, commented: "Our new Control Hub gives us at-a-glance information on the status of every order in the system across our multiple manufacturing sites. This includes our planning summary, stock availability, production levels and dispatch details. It means we can identify any issues immediately and let our customers know what's happening so they can plan accordingly."

The Control Hub gives Modplan detailed insight across all its manufacturing sites and the company...

Windows

SPECTUS FLUSH CASEMENT WINDOWS REVAMP A 16TH CENTURY BUILDING

Spectus flush casement windows have been used in a 16th century building near Chelmsford, Essex. The Pig and Whistle has a long history as a public house but got converted in 2013 to a popular local restaurant.

The replacement windows were undertaken by local domestic installation company, Chignal Windows Ltd who are based near Chelmsford.
Commercial

SONIA TRAVIS PROMOTED TO HEAD OF COMMERCIAL SALES AT EPWIN WINDOW SYSTEMS

Sonia Travis has been announced as the new Head of Commercial Sales at Epwin Window Systems. Commenting on her new appointment, she said: "I am delighted to be taking up the post of Head of Commercial Sales. Epwin Window Systems is unique when it comes to supporting the commercial sector...

TAP INTO GROWTH WITH LEKA SYSTEMS

Conservatory roof innovators, Leka Systems has reported a significant upturn in demand for their Leka Xi conservatory wall and base system. Leka Xi allows fabricators and installers to tap into the trend for thermally efficient home extensions or freestanding garden rooms whilst offing fast installation too.

Rhys Hoddinott, Managing Director of Leka Systems, explains: "Following lockdown there has been a definite increase in consumers looking at home extensions or freestanding garden rooms. And the Leka Xi is the perfect product to tap into this market. Installers also like the fact they can be constructed in just three to five days therefore...

Commercial

EYG COMMERCIAL TRANSFORMS SCHOOL WITH SPECTUS ELITE 70 WINDOWS

Yorkshire commercial fabricator EYG Commercial has recently transformed Driffield School and Sixth Form with 180 Spectus Elite 70 windows in a £250,000 project. Business Development Manager at EYG Commercial, Mike Hastie, said: "This project is very good example of how new windows can transform the look, and performance of an...
| | | |
| --- | --- | --- |
| | 0780 505 1322 | |