10th September 2020
CONSERVATORY OUTLET LAUNCH NEW ALUMINIUM COLLECTION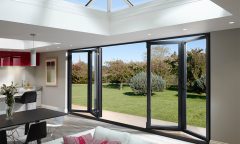 Market-leading fabricator, Conservatory Outlet Ltd, has unveiled an innovative new aluminium collection of windows and doors to add to its extensive product portfolio under an exclusive new brand – the Eclipse Collection.
Fabricator Support

HAFFNER MURAT'S MACHINES SUPPORT MERCURY GLAZING'S CONTINUED GROWTH STRATEGY

Haffner Murat has installed three pieces of new fabrication machinery for specialist trade fabricator Mercury Glazing Supplies to support their ambitious growth strategy.

 

 

YOUR BUSINESS NEEDS A SOCIAL MEDIA PRESENCE!

Selecta Systems Marketing Manager, Mark Walker, talks about how on-line sales and social media engagement have soared in recent months and it's become more apparent that having a marketing plan for on-line presence should form a vital part of every businesses marketing strategy – especially social media.

Recent events have seen the way we live change considerably with almost every person having to adjust and adapt to the new living conditions. The same can also be said of how we have all had to do business. Those that have and do adapt will be the ones who will have the best...

 

 

Fabricator Support

BURBAGE CUSTOM WINDOWS PURCHASE MORE HAFFNER MURAT MACHINERY TO SUPPORT GROWTH INVESTMENT

Burbage Custom Windows has invested in additional Haffner Murat machinery to support its recent business expansion. Dan Richards from Burbage Custom Windows, said: "Having purchased several...

 
New Appointment

TONY BASILE STRENGTHENS SHEERLINE TECHNICAL SALES TEAM

Garnalex welcomes Tony Basile as one of the cornerstones of a strong Sheerline Technical Sales Team. Joining Paul Greenaway, in the newly-created roles of Technical Sales Managers, Tony will drive sales by helping customers set up...

 

 

A PERFECT MATCH WITH FORCE 8

Colour is now one of the largest selling points in the window and door market, and a great deal of this is focused on the door sector with an ever expanding range of styles and colours and matching frames. But this can easily turn into a nightmare for the installer, says window and door fabricator Force 8.

According to the company, getting the perfect match between a coloured door and frame when dealing with different manufacturers can be hit and miss. Using the right paint code does not always guarantee a good match, the only way to be sure is to...

 

 

New Appointment

SONIA TRAVIS PROMOTED TO HEAD OF COMMERCIAL SALES AT EPWIN WINDOW SYSTEMS

Sonia Travis has been announced as the new Head of Commercial Sales at Epwin Window Systems. Commenting on her new appointment, she said: "I am delighted to be taking up the post of Head of Commercial Sales. Epwin Window...

 
Awards

LINIAR ANNOUNCED AS NATIONAL AWARD FINALIST

Denby-based manufacturing company Liniar has been shortlisted for the Positive Social Impact award at the prestigious 2020 Lloyds Bank National Business Awards. Previous winners include fitness sensation Joe Wicks, DPD UK and Hotel...

 

 

HOW DO YOU PLAN FOR SOMETHING NO-ONE SAW COMING?

The word 'unprecedented' has been reaching the point of overuse in 2020, thanks to the coronavirus pandemic. As businesses temporarily closed their premises and homeowners shut themselves inside as part of the lockdown, we knew the only certainty was that the future was unclear.

Martin Thurley, Group MD at innovative systems company Liniar, gives his take on this unique point in history and how it's affecting our industry.

"The...

 

 

Rewards Scheme

DOUBLE BENEFITS WITH VELUX® REWARDS SCHEME THIS AUTUMN

Installers and builders urged to take advantage of extra rewards available throughout autumn with purchases of selected roof windows

Installers, builders and homeowners across the UK and Ireland can now benefit from a rewards boost from August...

 
Aluminium

ALU HAUS NOW FABRICATING STELLAR ALUMINIUM SYSTEM

Picture above: From left to right, Mark Austin – Epwin Window Systems and Jason Bamford – Alu Haus

Aluminium specialist Alu Haus has become the latest in a series of fabricators to start manufacturing Stellar, the double award-winning aluminium window and door system from Epwin Window Systems. Jason...

 

 

SECURING MORE ALUMINIUM BIFOLD DOOR SALES WITH FENTRADE

Trade fabricator Fentrade Aluminium Building Products has reported a significant increase in demand for their aluminium bifold doors post lockdown. Chris Reeks, Director of Fentrade said: "The increase in demand has come from retail installers and trade counters alike as a direct result of consumers looking to improve their homes over the lockdown period."

The Newport-based fabricator manufactures the Aluk BSF70 bifold door which offers an intelligent combination of form and function with open-in or open-out door options, available in a range of single or dual colours and anodised finishes. Chris said: "We are finding the most popular colour options are...

 

 

Aluminium

KINGFISHER WINDOWS SEES IMPRESSIVE SALES OF STELLAR ALUMINIUM SYSTEM

Picture from left to right, Mark Austin – Epwin Window Systems and Deborah Beeley – Kingfisher Windows

Kingfisher Windows recently added Stellar, the double-award winning aluminium window and door system from Epwin Window Systems, to its portfolio in June. Since then...

 
Marketing Support

A HUB OF SUPPORT FROM EPWIN WINDOW SYSTEMS

Epwin Window Systems' marketing portal, Brand Hub 360, offers a comprehensive range of marketing assets to support its growing customer base. The range of marketing tools has recently been extended to help further support fabricators and installers and now includes a new range of corporate clothing, product posters and window vinyls.

 

 

Ensinger trusts in the leading trade fair BAU

The insulating profile specialist for energy-efficient windows, doors and façades wants to step up its interactions – both face to face and digitally

The coronavirus crisis has been dramatic and is not yet over. And yet, it is also releasing new energy and creativity. "It is precisely now that changes are possible which can shape the future of construction", says Matthias Rink, Head of Sales for insulbar at Ensinger. "Direct communication with new and existing partners is very important to us. That is why we are once again appearing at the trade fair in Munich in January. Being a leading global...

 

 

Aluminium

MODPLAN ADDS LEKA SYSTEMS SKYLIGHT TO ITS PORTFOLIO

Trade fabricator Modplan has just added the Leka Systems Skylight to its portfolio. Heidi Sachs at Modplan, said: "The Leka Systems Skylight gives installers a competitive edge by providing an innovative and flexible solution to bringing natural light into a conservatory."

The Leka Systems Skylight is the latest innovation from Leka Systems. It is a fully...

 
Marketing Support

PROFILE 22 OPTIMA WINDOWS FITTED IN HIGH SPECIFICATION HOUSING DEVELOPMENT

Over 300 Optima windows from Profile 22 have been installed in a private housing development in Chipping near Preston in Lancashire.

The project specified flush casement windows in 7016 anthracite on white, which would provide a classic heritage appearance and...

 

 

MASTERFRAME CHANGES COURSE WITH THREE NEW WEBSITES

Masterframe, the sash window specialist has launched the first of three new websites, bringing their online image right up to date with a crisp and clean lead generation site with user friendly navigation.

The new retail facing website at masterframe.co.uk signals a change in strategy for the company, with all their product offerings brought together under the well-established Masterframe brand.

Carol Slade Managing Director says "We have engaged the services of experts to create a user friendly, lead generation site that promotes all our products, whilst primarily showcasing our Bygone Collection to retail...

 

 

New Appointment

NEW APPOINTMENT AT MERCURY TO SUPPORT GROWTH

Specialist fabricator Mercury has appointed experienced industry professional Paul Russell as Procurement Manager. Steve Cross, Director at Mercury, said: "We are delighted to welcome Paul to Mercury. He's got some impressive management credentials and we know he'll add value to our team."

Paul added: "I am proud to have joined Mercury.

 
New Appointment

NEW APPOINTMENT FOR ODL EUROPE

ODL Europe has announced the appointment of Paul Kitching to the position of Operations Manager at the Bootle-based business. Nathan Barr, Managing Director of ODL Europe, said...

 

 

VBH INTRODUCES NEW LIFT/SLIDE DOOR SYSTEM

Leading hardware company VBH has added the ClearLIFT hardware system for aluminium lift/slide patio doors to its greenteQ range.

Lift/slide doors are gaining in popularity due to their ability to carry very large and very heavy sliders. They also provide large glazed areas that allow uninterrupted views and maximise the natural light.

ClearLIFT can carry sashes weighing up to 300Kg and measuring up to 3.33m wide or 2.7m high, subject to the systems company's recommendations. VBH advise that stock holding is reduced as all door heights are achieved with just two gear heights.

The system has been cycle tested to 25,000 operations and...

 

 

New Appointment

Window Supply Company strengthens focus on manufacturing excellence with directorial appointment

West Lothian based Window Supply Company (WSC) is pleased to announce the appointment of Lee Harding as Production Director as the...

 
Doors

CONTEMPORARY DOOR DESIGNS PROVE POPULAR FROM ODL EUROPE

If you want to take advantage of the growth in contemporary composite door designs, look no further than ODL Europe. This is the view of Suzanne Nicholl, Business Development Manager of Bootle-based ODL Europe who said...

 

 

QUALITY WITHIN FROM ODL EUROPE

When it comes to composite doors, quality and strength are essential in the overall credibility of a quality door. And when you choose the Capstone composite door slab from ODL Europe, that's exactly what you get. Ian Glenister, Technical Sales Manager of ODL Europe, comments: "Composite doors need to stay looking good for years to come, they need to be secure and they need to be robust enough to stand up to daily use. For a door slab that ticks all these boxes – and more – the Capstone composite door slab from ODL Europe is the answer. It has...

 

 

Doors

FENTRADE'S ALUMINIUM INLINE SLIDER PROVING POPULAR

Aluminium trade fabricator Fentrade has revealed that its Aluminium Inline Slider is seeing a rise in demand as the industry returns from lockdown. Chris Reeks, Director of Fentrade, said: "We have been delighted to see demand growing as...

 
Machinery

LIVE DEMONSTRATIONS AT HAFFNER MURAT

Leading machinery experts, Haffner Murat now offer live demonstrations of a range of their machinery to potential customers from the company's state-of-the-art showroom in Staffordshire. Dave Thomas, Managing Director of Haffner Murat, explains: "We promote our machines through various digital, video and offline platforms but for potential customers to...

 

 

EPWIN WINDOW SYSTEMS' NEW COLOUR COLLECTION REFLECTS THE LATEST TRENDS IN COLOUR

Epwin Window Systems' new Colour Collection has been designed to help its customers lead the way in colour by offering the latest trends in colour today and the favourites of the future. Gerald Allen, Marketing Manager at Epwin Window Systems, said: "By reflecting the latest colour trends and direction, we can give our customers a clear point of difference."

The new Colour Collection includes an expanded number of popular heritage shades, including Sage, Claystone, Pebble Grey, Anthracite Grey Smooth and Cream on White. Gerald commented: "The new additions to the range reflect the latest market research and feedback from our customers....

 

 

Machinery

HAFFNER MURAT TO OPEN NEW FACTORY AS MASK MANUFACTURING TAKES OFF

At the start of the Covid-19 pandemic, automation machinery specialists Haffner Murat pivoted to manufacturing face masks to help overcome the critical shortage throughout the world. The company has just announced it is to expand this part of its operation to meet growing global demand having secured a sizeable 10-digit £ contract with the USA.

 
| | | |
| --- | --- | --- |
| | 0780 505 1322 | |