15th April 2021
CURO, EMPLAS AND KUBU FOR A SMARTER NEW BUILD STANDARD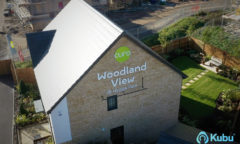 Curo Group have become the first housebuilder in the UK to provide PVC doors equipped for Kubu smart-sensor technology as standard on all new sites, in partnership with their manufacturing partner, Emplas.
Curo Group is a West of England Housing Association that own a range of property...
Installer News

INDEPENDENT NETWORK UNVEILS WEBSITE SOLUTION FOR ITS MEMBERS

Independent Network powered by VEKA, has unveiled an online tool that allows members to create their own websites free of charge.

The new websites are set to make an impact in the industry and the company has already seen a fantastic take up from many members. This is only the start for Independent Network's online service to members. With the change in...

FROM INFINITY TO BEYOND VEKA IS LEADING THE WAY IN THE FUTURE OF RECYCLED PVCU

This month, VEKA plc has unveiled plans to grow usage of recycled material beyond its existing Infinity system.

VEKA has been the industry leader in recycling and sustainability throughout its history with the first VEKA recycling plant opening in Germany in 1993. In 2007, VEKA Recycling opened its doors, the UK's first windows recycling plant. Last year, the company's ongoing commitment to sustainability has seen VEKA Recycling invest £150k in six new silos to increase the storage capacity at its state-of-the-art Wellingborough recycling plant, the most advanced of its kind in Europe.

VEKA plc led the way in recycling PVCu launching its...

Installer News

DOUBLE AWARD WIN FOR ELMHURST WINDOWS

For Leeds-based installer Elmhurst Windows, 2021 started with a bang! The Liniar installer won a Business Achievement Award in the Yorkshire Post's Business Excellence Awards then followed that with an Outstanding Achievement Award at the GGP Installer Awards! We sit down with Managing Director Richard Abrahams to discuss why 2020 was a turning point for the company – and what led to the recent awards.
Doors

PATIOMASTER SOUTH EAST REPORTS ON LATEST TRENDS IN SLIDING PATIO DOORS

With the rise in popularity for sliding patio doors, Simon Spiers, Director of PatioMaster South East, says his company's sales patterns clearly reflect two of today's most popular design trends.

He says: "We know that today's homeowners focus on design-led aesthetics without wanting to compromise on practicality. It's why the PatioMaster sliding patio door in...

EPWIN WINDOW SYSTEMS' CONNECT BRINGS A WEALTH OF BENEFITS TO INSTALLERS

Connect, the new digital resource centre for Epwin Window Systems' customers, has already attracted much attention from installers looking to capitalise on the many benefits the digital platform has to offer. Gerald Allen, Marketing Manager at Epwin Window Systems, says: "Connect brings a wealth of benefits to our installing customers, not to mention exclusive discounts and unique offers."

Through Connect, installers can get access to a range of exclusive benefits, including a discount fuel card in partnership with Discount Fuel Services as well as a 10% discount in partnership with TradePoint.

But that's just the start. There are homeowner finance options, insurance-backed...

Doors

NEW HIGH PERFORMANCE FIRE DOOR FROM ENDURANCE

Endurance Doors have just launched a new high performance FD30 fire door, after a two-year research and development programme which has realised a product solution that exceeds the latest standards.

The physical testing of the doors was carried out by Efectis, who are a global player in fire science, covering all aspects of fire safety through testing and modelling...
Doors

ENDURANCE REAFFIRMS ITS 3MM BOWING GUARANTEE

Following on from the announcement in September 2020, Endurance Doors have reaffirmed their 3mm bowing guarantee for their range of solid core composite doors, despite recent weather.

This move was widely welcomed by Installer Partners at the time, as it represented complete confidence in the Endurance Doors product proposition, and it was also a pledge...

dormakaba LAUNCHES NEW FEATURES FOR POPULAR KTV REVOLVING DOOR

Leading supplier of security and entrance systems solutions, dormakaba, has upgraded its KTV Revolving Door system, which now offers improved installation times and a new automatic Night Shield.

With the dormakaba Direct Drive, the KTV Revolving Doors now feature an impressive shallow ceiling assembly of just 100mm, with an integrated LED light ring, allowing for the seamless integration with existing architecture. Thanks to the brushless motor, the doors benefit from enhanced life cycles – tested to 2 million cycles. Plus, the new Weldless floor ring uses threaded rods instead of welded brackets, meaning the floor ring can be more easily...

Doors

APEER OFFERS HIGH QUALITY COMPOSITE STANDARD DOORSETS IN 12-15 DAYS

As many UK doormakers quote lead times of 12 weeks and more due to delays in the supply of door slabs from Far Eastern factories, Apeer is quoting delivery from order in just 12 to 15 days, to anywhere in the UK and Ireland, including in-demand 44mm flush fit and double rebate styles.

With the delays caused by a number of...
Marketing Support

EPWIN WINDOW SYSTEMS LAUNCHES CONNECT

Epwin Window Systems has launched Connect, a new industry-leading integrated digital resource centre designed to help its customers make the most of their partnership with the systems company. Gerald Allen, Marketing Manager at Epwin Window Systems, said: "Our customers have access to a wealth of cutting-edge business, technical, commercial and marketing support and the new Connect digital platform brings all these elements and...

CONSERVATORY OUTLET CHIEF HITS OUT AT SCOTTISH COVID-19 DISPARITY AS £MILLIONS OF ORDERS PUT ON HOLD

The boss of one of the UK's leading manufacturers of high-quality windows, doors, home extensions and conservatory products has hit out at the Scottish Government for continuing to enforce a Covid-19 lockdown that prevents work being completed in homes – unless it is essential maintenance.

This rule, which is not in place in England and Wales, means Conservatory Outlet's five home improvement specialist companies north of the border are not able to take on new work, resulting in a £multi-million loss of orders and over 250 direct or indirect staff currently furloughed.

Greg Kane is urging the powers that be at Holyrood...

Marketing Support

NEW RESIDENCE BROCHURE FOR CONSERVATION AREAS AND LISTED BUILDINGS

A new 20-page brochure outlining solutions and design credentials for conservation areas and listed buildings has been published by The Residence Collection.

Residence 9, or R9 as it is known, is the most authentic timber alternative casement window thanks to the revolutionary product design and specification. The profile dimensions perfectly replicate the documented window designs of the...
Case Study

LINIAR INTRODUCES PAS24 SECURE MODLOK™ SLIDING PATIO DOORS

Innovation can take many forms. For Liniar, this means launching new, cutting-edge products and continually improving its existing product range to be more efficient in terms of security, safety or energy efficiency.

The latest new development has now been launched and relates to Liniar's...

TRAINING FUND UNAFFECTED BY GREEN HOMES CANCELLATION

Picture above: John Ogilvie

Building Our Skills has had confirmation from the Midlands Energy Hub and BEIS that the funding provided for skills training is unaffected by the cancellation of the Green Homes Voucher Scheme.

Speaking about the announcement and the funding, Building Our Skills Ambassador John Ogilvie commented "I think there had been a feeling for some time that the Green Homes Scheme was not delivering as had been originally hoped, and it was a concern to hear it had been cancelled as a big part of it was a commitment from BEIS to upskill the nation's trades people on the...

Software Support

MAKE JOB MANAGEMENT EASIER WITH ONSITE 7

Onsite 7 the new cloud-based job management software designed for the trade by the trade, has been attracting attention from many installers looking to make job management more straightforward. Rhys Hoddinott, CEO at Onsite 7, said: "As industry people ourselves, we know what installers really need to manage their jobs efficiently. It's why we're seeing...
Conservatories

TAP INTO MODULAR GROWTH WITH MODPLAN

Leading trade fabricator Modplan has reported a significant upturn in demand for their Leka Xi conservatory wall and base system during the past twelve months. The Leka Xi modular system allows installers to tap into the trend for thermally efficient home extensions or freestanding garden rooms whilst offing fast installation too.

Heidi Sachs, Managing Director at Modplan, said: "The LEKA Xi Conservatory...

SPECTUS VERTICAL SLIDING WINDOWS FITTED IN PRESTIGIOUS NEW BUILD DEVELOPMENT

77 Spectus Vertical Sliding windows have been manufactured and installed in the first phase of a new 900 home development in Holbeach, Lincolnshire. The prestigious Holbeach Meadow Development features a mixture of one-five-bedroomed homes and is designed and built by Ashwood Homes. The Spectus Vertical Sliding windows were specified for installation in the new executive five-bedroomed detached homes on this first-phase.

The new build project was awarded to Spectus' fabricator Highseal Manufacturing Company based in Scunthorpe. Established in 2012, Highseal is an experienced fabricator and installer committed to delivering product excellence at every level. The business operates under stringent CE Markings...

Patio Doors

WIDE APPEAL FOR PATIOMASTER

PatioMaster, manufacturers of the UK's leading brand of PVC-U inline sliding patio doors, has confirmed a widening appeal for their products as installers continue to capitalise on the domestic boom. Carmen Velilla, PatioMaster's Brand Manager, explains: "Over the last twelve months, the market has witnessed a resurgence in popularity for inline sliding patio doors, especially from the domestic sector. Consumers continue to aspire to light-filled spaces which patio doors deliver.
Exhibition News

REVOLUTIONARY TECH COMPANY ONSITE7 TO EXHIBIT AT FENEX

Onsite7, the tech company currently breaking new ground in the installation side of the fenestration market with their CRM system dedicated to installers, has signed on to exhibit at the FENEX main...

STOCKED MACHINERY FROM HAFFNER MURAT

Award-winning machinery experts Haffner Murat Ltd has confirmed their popular SBA-2 and SBA-4 machining centres are now available from stock with rapid delivery into fabricators. Dave Thomas, Managing Director at Haffner Murat, explains: "Due to the completion of our new state-of-the-art purpose-built factory in Istanbul, Turkey, we have rapidly increased our manufacturing output. This has resulted in two of our most popular machining centres now being available from stock, which supports the growing demand from customers looking to bring high-quality automation into their businesses."

The SBA-2 and SBA-4 machines are the stalwarts of Haffner Murat's expanding machine portfolio with features and...

Exhibition News

LEKA SYSTEMS JOINS FENEX 2021

Leka Systems, one of the sector's leading solid conservatory roof manufacturers, has joined online exhibition platform FENEX in what is a series of high-profile additions to the growing FENEX family.

Rhys Hoddinott, Managing Director of Leka Systems, said: "Although Leka have had significant success exhibiting at live shows over recent years, we feel an element of uncertainty surrounding attendance levels...
Windows

STELLAR FACILITIES FOR EPWIN WINDOW SYSTEMS

The manufacturing facilities for Stellar, the triple award-winning aluminium window and door system from Epwin Window Systems, offer state-of-the-art production at every level. Clare O'Hara, Managing Director at Epwin Window Systems, said: "Stellar sets a new standard for the aluminium industry and this starts from...

ODL EUROPE FURTHER STRENGTHENS MANAGEMENT TEAM WITH NEW KEY APPOINTMENT

ODL Europe has further strengthened its management team with the appointment of Davy Chada as Finance Manager. Davy joined the Bootle-based business in February 2021 as successor to Steve Ellison, who is leaving the company at the end of March 2021. Speaking of the appointment, Nathan Barr, Managing Director at ODL Europe, said: "I am delighted to welcome Davy to ODL Europe. He brings with him a wealth of experience that will be invaluable to the business. I would also like to personally thank Steve for his superb contribution over the past twelve years with...

Doors

APEER OFFERS HIGH QUALITY COMPOSITE STANDARD DOORSETS IN 12-15 DAYS

As many UK doormakers quote lead times of 12 weeks and more due to delays in the supply of door slabs from Far Eastern factories, Apeer is quoting delivery from order in just 12 to 15 days, to anywhere in the UK and Ireland, including in-demand 44mm flush fit and double rebate styles.
Windows

SPECTUS VERTICAL SLIDERS DELIVER HERITAGE AUTHENTICITY FOR GRADE II LISTED BUILDING

130 Spectus Vertical Sliding windows have been used in the sensitive refurbishment of a prestigious Grade II listed building in Harrogate, North Yorkshire. Sovereign Park House is set in a conservation area and had previously been converted into...

NEIL EVANS ON HIS FIRST 50 DAYS AS VEKA MD

Just 50 days into his new role as Managing Director of VEKA plc, Neil Evans explains how the company has started the year with record breaking results.

Was it difficult taking over in the middle of a pandemic?

Last autumn, when I was still Sales Director, we had a VEKA plc board meeting and started to set out a new five-year plan for the business. This helped the transition, because it meant I was able to lead on a vision that we had all collectively developed.

The last few months have been about building on this plan and starting to roll it out...

Windows

COMPETITIVE ADVANTAGE WITH FENTRADE'S ALUMINIUM FLUSH CASEMENT WINDOW

The Flush Casement window market's popularity continues to flourish for Fentrade Aluminium, with year-on-year sales growth for its aluminium Flush Casement windows. Chris Reeks, Director at Fentrade, said: "We know that high-end window products...
| | | |
| --- | --- | --- |
| | 0780 505 1322 | |
Fenestra Build Limited 19 Heather Close, Tickhill, Doncaster, Yorkshire DN11 9UU
To view our privacy policy click here. To Unsubscribe please click here.
© Copyright Fenestra Build 2020