1st April 2021
FINAL TEST COMPLETES £300K R&D INVESTMENT BY STRUCTURAL GLASS PIONEERS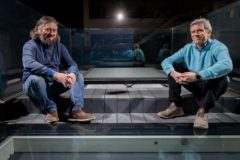 Senior designer Robert Pasek, left, with William Sharman and the new sky.by.cantifix rooflight
Structural glass pioneers Cantifix have reached another milestone, completing a £300,000 investment in their sky.by.cantifix range of moving rooflights.
Marketing Support

EPWIN WINDOW SYSTEMS LAUNCHES CONNECT

Epwin Window Systems has launched Connect, a new industry-leading integrated digital resource centre designed to help its customers make the most of their partnership with the systems company. Gerald Allen, Marketing Manager at Epwin Window Systems, said: "Our customers have access to a wealth of cutting-edge business, technical, commercial and marketing support and the new Connect digital platform brings all these elements and...

CONSERVATORY OUTLET CHIEF HITS OUT AT SCOTTISH COVID-19 DISPARITY AS £MILLIONS OF ORDERS PUT ON HOLD

The boss of one of the UK's leading manufacturers of high-quality windows, doors, home extensions and conservatory products has hit out at the Scottish Government for continuing to enforce a Covid-19 lockdown that prevents work being completed in homes – unless it is essential maintenance.

This rule, which is not in place in England and Wales, means Conservatory Outlet's five home improvement specialist companies north of the border are not able to take on new work, resulting in a £multi-million loss of orders and over 250 direct or indirect staff currently furloughed.

Greg Kane is urging the powers that be at Holyrood...

Marketing Support

NEW RESIDENCE BROCHURE FOR CONSERVATION AREAS AND LISTED BUILDINGS

A new 20-page brochure outlining solutions and design credentials for conservation areas and listed buildings has been published by The Residence Collection.

Residence 9, or R9 as it is known, is the most authentic timber alternative casement window thanks to the revolutionary product design and specification. The profile dimensions perfectly replicate the documented window designs of the...
Case Study

LINIAR INTRODUCES PAS24 SECURE MODLOK™ SLIDING PATIO DOORS

Innovation can take many forms. For Liniar, this means launching new, cutting-edge products and continually improving its existing product range to be more efficient in terms of security, safety or energy efficiency.

The latest new development has now been launched and relates to...

TRAINING FUND UNAFFECTED BY GREEN HOMES CANCELLATION

Picture above: John Ogilvie

Building Our Skills has had confirmation from the Midlands Energy Hub and BEIS that the funding provided for skills training is unaffected by the cancellation of the Green Homes Voucher Scheme.

Speaking about the announcement and the funding, Building Our Skills Ambassador John Ogilvie commented "I think there had been a feeling for some time that the Green Homes Scheme was not delivering as had been originally hoped, and it was a concern to hear it had been cancelled as a big part of it was a commitment from BEIS to upskill the nation's trades people on the...

Software Support

MAKE JOB MANAGEMENT EASIER WITH ONSITE 7

Onsite 7 the new cloud-based job management software designed for the trade by the trade, has been attracting attention from many installers looking to make job management more straightforward. Rhys Hoddinott, CEO at Onsite 7, said: "As industry people ourselves, we know what installers really need to manage their jobs efficiently. It's why we're seeing strong take-up at the moment."
Conservatories

TAP INTO MODULAR GROWTH WITH MODPLAN

Leading trade fabricator Modplan has reported a significant upturn in demand for their Leka Xi conservatory wall and base system during the past twelve months. The Leka Xi modular system allows installers to tap into the trend for thermally efficient home extensions or freestanding garden rooms whilst offing fast installation too.

Heidi Sachs, Managing Director at Modplan, said: "The LEKA Xi Conservatory...

SPECTUS VERTICAL SLIDING WINDOWS FITTED IN PRESTIGIOUS NEW BUILD DEVELOPMENT

77 Spectus Vertical Sliding windows have been manufactured and installed in the first phase of a new 900 home development in Holbeach, Lincolnshire. The prestigious Holbeach Meadow Development features a mixture of one-five-bedroomed homes and is designed and built by Ashwood Homes. The Spectus Vertical Sliding windows were specified for installation in the new executive five-bedroomed detached homes on this first-phase.

The new build project was awarded to Spectus' fabricator Highseal Manufacturing Company based in Scunthorpe. Established in 2012, Highseal is an experienced fabricator and installer committed to delivering product excellence at every level. The business operates under stringent CE Markings...

Patio Doors

WIDE APPEAL FOR PATIOMASTER

PatioMaster, manufacturers of the UK's leading brand of PVC-U inline sliding patio doors, has confirmed a widening appeal for their products as installers continue to capitalise on the domestic boom. Carmen Velilla, PatioMaster's Brand Manager, explains: "Over the last twelve months, the market has witnessed a resurgence in popularity for inline sliding patio doors, especially from the domestic sector. Consumers continue to aspire to light-filled spaces which...
Exhibition News

REVOLUTIONARY TECH COMPANY ONSITE7 TO EXHIBIT AT FENEX

Onsite7, the tech company currently breaking new ground in the installation side of the fenestration market with their CRM system dedicated to installers, has signed on to exhibit at the FENEX main event which will be held in September 2021.

Specifically set up to aid installers in keeping their vast amounts of work organised and free-flowing, Onsite7 is an app and...

STOCKED MACHINERY FROM HAFFNER MURAT

Award-winning machinery experts Haffner Murat Ltd has confirmed their popular SBA-2 and SBA-4 machining centres are now available from stock with rapid delivery into fabricators. Dave Thomas, Managing Director at Haffner Murat, explains: "Due to the completion of our new state-of-the-art purpose-built factory in Istanbul, Turkey, we have rapidly increased our manufacturing output. This has resulted in two of our most popular machining centres now being available from stock, which supports the growing demand from customers looking to bring high-quality automation into their businesses."

The SBA-2 and SBA-4 machines are the stalwarts of Haffner Murat's expanding machine portfolio with features and...

Exhibition News

LEKA SYSTEMS JOINS FENEX 2021

Leka Systems, one of the sector's leading solid conservatory roof manufacturers, has joined online exhibition platform FENEX in what is a series of high-profile additions to the growing FENEX family.

Rhys Hoddinott, Managing Director of Leka Systems, said: "Although Leka have had significant success exhibiting at live shows over recent years, we feel an element of uncertainty surrounding attendance levels of future shows and...
Doors

ENDURANCE REAFFIRMS ITS 3MM BOWING GUARANTEE

Following on from the announcement in September 2020, Endurance Doors have reaffirmed their 3mm bowing guarantee for their range of solid core composite doors, despite recent weather.

This move was widely welcomed by Installer Partners at the time, as it represented complete confidence in the Endurance Doors...

ODL EUROPE FURTHER STRENGTHENS MANAGEMENT TEAM WITH NEW KEY APPOINTMENT

ODL Europe has further strengthened its management team with the appointment of Davy Chada as Finance Manager. Davy joined the Bootle-based business in February 2021 as successor to Steve Ellison, who is leaving the company at the end of March 2021. Speaking of the appointment, Nathan Barr, Managing Director at ODL Europe, said: "I am delighted to welcome Davy to ODL Europe. He brings with him a wealth of experience that will be invaluable to the business. I would also like to personally thank Steve for his superb contribution over the past twelve years with ODL, and we all wish...

Doors

APEER OFFERS HIGH QUALITY COMPOSITE STANDARD DOORSETS IN 12-15 DAYS

As many UK doormakers quote lead times of 12 weeks and more due to delays in the supply of door slabs from Far Eastern factories, Apeer is quoting delivery from order in just 12 to 15 days, to anywhere in the UK and Ireland, including in-demand 44mm flush fit and double rebate styles.
Windows

SPECTUS VERTICAL SLIDERS DELIVER HERITAGE AUTHENTICITY FOR GRADE II LISTED BUILDING

130 Spectus Vertical Sliding windows have been used in the sensitive refurbishment of a prestigious Grade II listed building in Harrogate, North Yorkshire. Sovereign Park House is set in a conservation area and had previously been converted into...

NEIL EVANS ON HIS FIRST 50 DAYS AS VEKA MD

Just 50 days into his new role as Managing Director of VEKA plc, Neil Evans explains how the company has started the year with record breaking results.

Was it difficult taking over in the middle of a pandemic?

Last autumn, when I was still Sales Director, we had a VEKA plc board meeting and started to set out a new five-year plan for the business. This helped the transition, because it meant I was able to lead on a vision that we had all collectively developed.

The last few months have been about building on this plan and starting to roll it out...

Windows

COMPETITIVE ADVANTAGE WITH FENTRADE'S ALUMINIUM FLUSH CASEMENT WINDOW

The Flush Casement window market's popularity continues to flourish for Fentrade Aluminium, with year-on-year sales growth for its aluminium Flush Casement windows. Chris Reeks, Director at Fentrade, said: "We know that high-end window products...
Windows

STELLAR FACILITIES FOR EPWIN WINDOW SYSTEMS

The manufacturing facilities for Stellar, the triple award-winning aluminium window and door system from Epwin Window Systems, offer state-of-the-art production at every level. Clare O'Hara, Managing Director at Epwin Window Systems, said: "Stellar sets a new standard for the aluminium industry...

HOME IMPROVEMENT BOOM DELIVERS RECORD-BREAKING £1.25M MONTH OF SALES FOR PENNINE

Picture above: (Left-right) Michael Kirkpatrick, Jonathan Young, Grace Matthews, Rebecca Mann and Lindsay Marshal

A massive surge in homeowner spending has helped a North East company record the best-ever sales month in its 43-year history.

Pennine Home Improvements, which is part of the London Stock Exchange 1000-recognised Conservatory Outlet Group, has achieved more than £1.25m of orders in just twenty-eight days.

The firm has passed this impressive milestone with its two showrooms in Durham and Newcastle closed due to the Covid-19 lockdown, switching from face-to-face meetings to an impressive new digital approach.

Clients have been using video calls, a 3D virtual reality package and a...

Aluminium

A STELLAR SIX MONTHS FOR BDC ALUMINIUM

Experienced aluminium fabricator BDC Aluminium began fabricating Stellar, the multi-award-winning aluminium window and door system from Epwin Window Systems, in September 2020. The company has reported a sharp increase in demand as a result. David Green, Managing Director of BDC Aluminium, said: "From the start, we knew that Stellar offered the industry something ground-breaking due to the superb flush aesthetics and speed of installation. And it would seem our customers agree.
Solid Roofing

WE-FIT WINDOWS, DOORS AND CONSERVATORIES GOES FROM STRENGTH TO STRENGTH WITH LEKA SYSTEMS

Worksop-based We-Fit Windows, Doors and Conservatories is capitalising on the trend for solid roof conversions. Gareth Matusevics, We-Fit's Managing Director, says that Leka Systems is one of the reasons why.

UAP LTD UNLOCKS THE DOOR TO CELEBRATIONS FOR ITS SILVER ANNIVERSARY

The company maybe more familiar with plated steel, but it will be silver all the way for UAP Ltd in 2021 as the hardware specialist celebrates its silver anniversary after 25 years in business.

UAP first started trading as Universal Imports in July 1996 with a single product – a door knocker – and a makeshift bedroom office. By 2000, the company had moved to its HQ in North Manchester and changed its name to UAP. These days, it has grown to a £22 million business, selling more than 3,000 products across 25 countries with a portfolio of brands including Fullex,...

Charity News

GM FUNDRAISING MOVES PEAK, PADDLE, PEDAL TO 2022

GM Fundraising has announced its 2021 Peak, Paddle, Pedal charity event to raise money for Hope House Children's Hospices has been further postponed until 2022.

Gary Morton, the founder of GM Fundraising, said: "Having already postponed our scheduled 2020 event back to...
The Fit Show

PURPLEX MARKETING & INSIGHT DATA ANNOUNCE MAJOR PRESENCE AT FIT SHOW 21

Two of the fenestration industry's leading brands have announced that they will have a major presence at FIT Show 2021 (September 26 – 28, NEC Birmingham).

Purplex Marketing and Insight Data, part of the Ascot Group, will headline the 'Marketing Village' at FIT Show, as well as having a standalone presence with two exhibition stands.

VEKA CHOOSES TO CHALLENGE FOR INTERNATIONAL WOMEN'S DAY

Picture above: Anda Gregory

International Women's Day on the 8th March celebrates the achievements of women across the globe and champions inclusivity. This year the theme is 'Choose to Challenge' and that is something that the women who work at VEKA plc and the wider industry and beyond do every day. VEKA has spoken to several women leaders on their roles and the inspiration they have taken throughout their careers.

Anda Gregory, Managing Director of the Commercial Group, Glass and Glazing Federation (GGF), spoke of being a senior figure in the glass and glazing industry:

"I've never found it a problem to be...

The Fit Show

FIT SHOW STRENGTHENS TEAM WITH KEY APPOINTMENT

FIT Show organisers have announced a key appointment to its FIT Show marketing team with the appointment of Zoe Wooster as portfolio marketing manager.

Wooster joins FIT Show from Futurebuild where she spent three years as marketing manager and played an integral role in taking the sustainable built environment event independent.

The appointment comes at a pivotal time for FIT Show, hot on the...
| | | |
| --- | --- | --- |
| | 0780 505 1322 | |
Fenestra Build Limited 19 Heather Close, Tickhill, Doncaster, Yorkshire DN11 9UU
To view our privacy policy click here. To Unsubscribe please click here.
© Copyright Fenestra Build 2020