19th August 2021
CREATING A FLUSH FINISH WITH KAWNEER'S  ENHANCED CURTAIN WALL SYSTEMS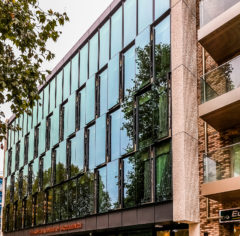 With ever-increasing market demands for more robust and flexible façade systems, Kawneer, the leading manufacturer of architectural aluminium glazing systems has launched a new version of its successful AA®100 and AA®110 curtain wall products. In addition to a +/- 5mm building expansion joint for its SSG curtain wall variant and a higher weight capacity for its capped option, one of the key enhancements is a concealed vent option within the product to help produce a beautiful, finished aesthetic to a building's façade.
Glass Brochure

EVERY TOOL YOU NEED IN THE NEW GLASS AND GLAZING BROCHURE FROM CRL

Featuring all the tools and accessories needed to install glass safely, accurately and efficiently, the new Glass and Glazing Brochure is now available from CRL.

Packed full of over 200 pages of products, the latest brochure has been updated for 2021 with a new look and all the latest products and solutions available from the market-leading providers of architectural metals, glass fittings, and professional-grade glazing supplies.

GM FUNDRAISING TO HUMOUR THE PINK JOKE CAMPAIGN

GM Fundraising are backing the 21-year anniversary for Window Widgets and specifically their forthcoming publication of the Little Pink Book of Jokes, which will be fuelled by submissions from across the industry and supported with sponsorship opportunities.

Everyone across the glazing and fenestration sectors will be encouraged to submit jokes for the Little Pink Book which can be done by emailing jokes@windowwidgets.co.uk, visiting the landing page here or via social media using the #WidgetsComedy hashtag. Money has already been pledged here to help the fundraising effort gain early traction.

The publication will be designed, printed and distributed by Window Widgets who will cover the entire cost, whilst the aim from a fundraising aspect is to raise a minimum of...

Timber Look Doors

AZTEC LAUNCHES NEW TIMBER-LOOK DOORS

Halo customer, Aztec Windows (Coventry) Ltd, has launched new mechanically jointed Residential and French Doors as part of its growing Prestige Collection®.

Aztec's Prestige Collection® has gained recognition throughout the industry for being a great timber alternative, and the new doors will be following the success of Tinidor, Aztec's new small composite door.

Director Michael Hagan explains: "We are very excited to launch our new Mechanically...
Aluminium

A KEY ELEMENT IN BUSINESS SUCCESS

When Mark Creaby started a high-end glazing business in the Home Counties at the start of the first lockdown in 2020, his priority was to find a supplier that could match the ambition and the exceptionally demanding standards of him and his team.

He found that in Blackburn-based AluFold Direct, which has been supplying Mark's fast growing Open Square Glazing business with aluminium windows...

FENTRADE HIGHLIGHTS THE DEMAND FOR RETAIL ALUMINIUM

Aluminium trade fabricator Fentrade has reported a continued growth in demand for its retail aluminium products. Chris Reeks, Director of Fentrade Aluminium, said: "Commercial aluminium products continue to be strong sellers. But where we've noticed the difference in demand is from our installers who work in the domestic market. I see it as part of the homeowner trend to higher value products."

For the domestic market, Fentrade offers a range of AluK aluminium windows that help installers meet demand. The high-quality window range includes two sash options and a heritage option too. The windows also feature Roto twin-cam locking...

Aluminium

WILL THE INDUSTRY FIND A WAY?

Responding to the Future Homes Standard By Sioned Roberts, Marketing Director, AluK

Within a year, we'll see the first changes to Part L of the Building Regs, in line with the requirements of the Future Homes Standard. In June 2022, U-Values for windows and glazed doors in new build will reduce from 1.4 to 1.2 and for opaque and semi glazed doors they will standardise to 1.0.
Case Study

RAISING THE BAR ON CUSTOMER SERVICE WITH MADE FOR TRADE

Ever since Made for Trade was incorporated in 1979, quality service has been an important part of the company ethos. The simple recipe of the best products available, at the best prices, backed up with the best service were the building blocks to MFT's success and they still form the mission statement of the company some 42 years later.

Now I'm sure you have all been in a position where you have received poor service, and sadly it's not uncommon

MORLEY GLASS & GLAZING MAKES MILESTONE DONATION WITH GREENVISION FUND

Morley Glass and Glazing has made its 10th donation to local sustainable projects with its GreenVision Fund.

The integral blind company's generous fund uses money generated by the CRUSH recycling scheme to benefit local communities and the environment. Each donation of up to £500 helps community groups or schools that wish to create green spaces or sustainable projects to bring their ideas into fruition.

The 10th beneficiary is Flourishing Families Leeds, which works to combat food poverty/poor nutrition, supports family literacy and helps tackle the challenges faced by primary school-aged children living in deprivation through activity-based mentoring.

Richard Colbrook from Flourishing Families said:...

Case Study

"WHEN I GROW UP, I'D LIKE TO DESIGN DOOR AND WINDOW SYSTEMS" – WAS THE STATEMENT NO CHILD EVER SAID TO THEIR CAREERS ADVISOR

Engineering is a broad term and sticking your neck out you could say it's a career that young people usually get involved in from an early fascination with vehicles. Bikes, cars, planes, trains and the plethora of parts and systems that make them work. Whether right or wrong about the primary drivers one thing is certain Brunel didn't lie...
Training

EPWIN WINDOW SYSTEMS WIDENS COMMERCIAL TRAINING OPPORTUNITIES

Epwin Window Systems has launched additional new training courses to support fabricators who are members of its Approved Commercial Manufacturers scheme. Katie Allman, Commercial Marketing Manager at Epwin Window Systems, commented: "ACM members have access to wide-ranging commercial support to help them extend their knowledge, drive best...

Epwin Window Systems gears up for the GMF 100 cycling challenge

Epwin Window Systems' six-man team is undertaking final preparations before taking part in GM Fundraising's GMF 100 cycling challenge on Sunday 8th August. The charity event will raise vital funds for Hope House Children's hospices, which provides palliative care for children with life-limiting conditions and support for their families.

Between them, the team members will cycle 100 miles, starting and finishing from Epwin Window Systems' headquarters in Telford, Shropshire.

The Epwin Window Systems team will be lining up alongside 85 other riders from twelve industry companies who will all be taking on the team challenge from their respective head offices.

Software

VALUE ADDED FEATURES FROM ONSITE 7 JOB MANAGEMENT SOFTWARE

Onsite 7 is the simple but incredibly powerful cloud-based system that is fast gaining a reputation for being the easiest and most comprehensive job management system on the market. But as Rhys Hoddinott, CEO at Onsite 7 says, there's a lot more to it than first meets the eye. "Onsite 7 is job management software that was built for installing companies by industry experts who had worked directly...
Sustainability

Stellar sustainability credentials

With the government's 2050 net zero target, sustainability is a critical issue across our industry. Phil Parry, Business Development Director at Epwin Window Systems, has been discussing the sustainability credentials of the Stellar aluminium window and door system and how the multi...

HAFFNER SUPPORTS FIT SHOW RESCHEDULING

Following the rescheduling of the FIT Show to May 2022, industry machinery specialist Haffner has said it's in full support of the decision. Dave Thomas, Managing Director at Haffner, said: "We're obviously disappointed the event has been postponed. However, it's clearly the sensible thing to do and we'll look forward to returning to face-to-face exhibiting in May 2022."

The show has been postponed until Spring 2022 when the organisers believe the majority of the UK will have been vaccinated, supply chain issues will have started to ease and there will be more certainty around large-scale events. Dave commented: "The safety of...

Website

MERCURY LAUNCHES THEIR NEW WEBSITE

Specialist fabricator, Mercury Glazing Ltd has just launched its new website, mercuryglazing.co.uk. The new improved site has been designed to showcase their comprehensive range of durable PVC-U and aluminium window and doors, suitable for both commercial and residential properties.

Visitors canSpecialist fabricator, Mercury...
Windows

HIGH RISE SOLUTION FROM EPWIN WINDOW SYSTEMS

Replacing windows on high rise blocks is typically an expensive, time-consuming operation with plenty of scheduling challenges. But with Optima and Elite 70 commercial windows from Epwin Window Systems, it's a different story.

Lance Clarry, Head of Specification Sales at Epwin Window Systems, explains: "Both our Optima and Elite 70 window systems...

SALES GROWTH FOR THE TRIED AND TRUSTED TRISYS™ GLAZING CASSETTE FROM ODL EUROPE

ODL Europe has reported continued sales growth for its tried and trusted TriSYS™ glazing cassette. Nathan Barr, Managing Director of ODL Europe, explains: "TriSYS™ is the market-leading composite door glazing system for a reason. It's packed with innovative features that make assembly quick and easy while still delivering outstanding quality to our customers. We've seen unprecedented demand in recent months and continue to build up healthy stock levels using our in-house injection moulding capabilities as we continue to supply our growing customer base."

The speed and ease of fitting are down to TriSYS™ intelligent design which consists of just three...

Windows

SECONDARY GLAZING NOISE REDUCTION DELIGHTS RADIO BROADCASTER

"I just cannot believe how quiet it is" exclaimed a radio broadcaster to his wife after secondary glazing manufactured and supplied by Granada Glazing was installed throughout their period Buxton property to improve thermal efficiency and reduce external noise.

BBC radio producer Stephen Shipley, who has retired but continues to record...
| | | |
| --- | --- | --- |
| | 0780 505 1322 | |
Fenestra Build Limited 19 Heather Close, Tickhill, Doncaster, Yorkshire DN11 9UU
To view our privacy policy click here. To Unsubscribe please click here.
© Copyright Fenestra Build 2020