18th February 2021
CONSERVATORY OUTLET COMPLETES FACTORY EXPANSION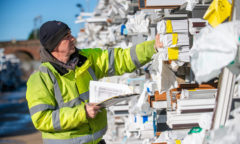 Leading UK manufacturer, Conservatory Outlet Ltd, has officially completed a 10,000 sq ft factory expansion as part of a four-stage manufacturing investment.
The Wakefield-based company, which produces cutting-edge home improvement products to a UK-wide network of retail partners, began the...
Roofing

ALL UNDER ONE ROOF WITH MODPLAN

With the continued growth in the solid conservatory roof market, leading trade fabricator Modplan has confirmed that their Leka Solid Roof System provides the perfect opportunity to take a strategic advantage.

Heidi Sachs, Managing Director at Modplan explains: "For some time there has been a steady growth for solid conservatory roofs but we have seen a huge spike in demand following the pandemic.

Structura brings Shakespeare's first theatre back to life

Structura UK, the fabricator and installer of glass curtain walling and specialist refinishing expert, has completed an intriguing project at 'The Box' on New Inn Broadway, London and it's a project full of firsts!

The location is the site of 'The Theatre', Shakespeare's first polygonal purpose-built theatre and precursor to The Globe. It is also the first site where Structura has combined curtain walling with Accoya wood panels.

Combining five floors of exhibition space and offices, the whole front façade has been supplied and installed by Structura. An open plan ground floor and basement features an exhibition run in conjunction with the...

Fabricator Case Study

MODPLAN: ONWARDS AND UPWARDS

2020 has been a challenging year in many ways. From lockdown measures to unprecedented demand throughout the fenestration industry, adaptability has been key for everyone in business.

As a company whose business has spanned more than four decades, leading trade fabricator Modplan of Newport, South Wales has proven it has what it takes to stand the test of time, despite any economic and industry challenges.
Bi-fold Doors

SECURING MORE ALUMINIUM BIFOLD DOOR SALES WITH FENTRADE

Trade fabricator Fentrade Aluminium Building Products prides itself on offering added-value benefits to maximise market opportunities for their growing customer base. This is evident in the uptake for their high-security aluminium bifolding doors fitted with upgraded hardware from VBH Q-Secure. Chris Reeks, Director of...

NEW VEKA MD SHARES HIS STRATEGIC APPROACH TO 2021 AND BEYOND

The newly appointed MD of VEKA plc, Neil Evans, has a clear strategy for 2021 and is leading the business to ensure VEKA, and its customers, continue to thrive in challenging times, not just this year but in the years to come.

Squaring up to the challenges of Covid-19, Neil took the helm of the business in January 2021 and has this week revealed his intentions for the year ahead for the business.

VEKA placed people at its heart in the challenging trading year of 2020 – customers, suppliers and employees – and this, combined with a trusted brand, strong heritage and...

Hardware

UAP LAUNCHES INDUSTRY LEADING FULLEX KINETICA+ K4 LOCK

UAP, the leading manufacturer of security and fire safety hardware for doors and windows, has launched the Fullex Kinetica+ K4; a state of the art locking system that combines advanced, patented features to deliver one of the most secure 3* cylinder locks ever produced.

Building on the credentials of the...
Software

Protect your margins and your reputation with Onsite 7

Onsite 7, the new cloud-based job management software developed by the trade for the trade, is seeing stronger than ever take-up. Rhys Hodinott, CEO at OnSite 7 is clear as to the reasons why savvy installers are now using the software. He said: "Onsite 7 helps installers to grow their business and more...

MADE FOR TRADE DRIVING FORWARD IN 2021

Made for Trade have announced a significant long-term investment in the expansion of their fleet of delivery vehicles. Each of the 10 new vehicles also comes equipped with another MFT design innovation, changing the way their products are handled both at the factory and also at delivery sites, the new design significantly decreases risk and puts safety of their employees first.

MFT's announcement, along with other news of their product expansion is a strong indication of their industry position and growth plans throughout 2020-2021 and beyond.

"For some time, we have been looking at the handling challenges presented by the loading and...

Doors Report

'V' SHAPED RECOVERY FOR UK RESIDENTIAL ENTRANCE DOOR MARKET – AMA RESEARCH

Picture above: Laura Pardoe

A new report into the UK residential entrance door market has forecast a positive outlook for the sector over the next five years, despite a significant decline in 2020 due to the impact of Covid 19 and lockdown restrictions.
Hardware

GET SMART WITH Q-SMART

Hardware expert VBH has added the Q-Smart electronic smart handle to its range of premium quality window and door hardware and furniture.

It's a keyless product which gives the homeowner 3 methods of gaining access. The first is a proximity fob that communicates with a reader built into the handle unit; the second is via the Blusafe app that allows the user to use their mobile phone as a key, and the third is finger print recognition. The large reader pad is concealed under a hinged tab to keep it dry.

The app enables the main user to...

Economical thermal break for aluminium systems

Ensinger is presenting a new standard programme for insulating profiles for metal frames of windows, doors and façades

Ensinger is starting the new year with an expanded, easy-to-use insulbar catalogue. With this, the plastic specialist is offering system manufacturers of windows, doors and façades a wealth of validated insulating profiles and finishing options for thermally optimising their products. Virtually all common solutions for aluminium systems can thereby be implemented quickly and without any costs for customised tools.

"In order to meet a wide variety of technical, climate-related and ecological requirements, the standard programme comprises numerous materials and profile geometries in insulation depths...

COVID-19 Hero

LINIAR RECEIVES BPF RECOGNITION FOR PPE SUPPORT

The COVID-19 pandemic has impacted our communities, our industry and the entire world, presenting challenges which have not been experienced before.

In March 2020, whilst shutters were down and showrooms darkened, industry-leading PVCu systems company Liniar turned its downtime into an opportunity to make a difference with the provision of personal protective equipment (PPE) to key workers.

This initiative saw the design, manufacture and donation of tens...
Windows

SPECTUS FLUSH TILT & TURN WINDOWS SPECIFIED FOR NEW BUILD EXTRA CARE DEVELOPMENT

200 Spectus Flush Tilt & Turn Windows were specified for a 60-home extra care development in Grimsby. The three-storey building, Burchester Court, comprises of 60 one and two-bedroom apartments, all with accessible and open plan living space.

Designed for people who are aged 55 and over, the development...

BETTER DATA, SAFER BUILDING: CPA LAUNCHES CONSULTATION ON NEW PRODUCT INFORMATION CODE

The Construction Products Association (CPA) is launching an industry-wide consultation into a new proposed Code for Construction Product Information (CCPI), to gather the views on the Code before it is formally launched later this year.

The Code has been developed by the CPA's Marketing Integrity Group (MIG), which was tasked with responding to the issues raised in Dame Judith Hackitt's report 'Building A Safer Future', and the credibility challenge facing our industry following the Grenfell Tower fire. The report confirmed radical change was needed for construction products, particularly in the areas of testing, information and marketing.

Windows

SPECTUS FLUSH TILT & TURN WINDOWS SPECIFIED FOR NEW BUILD SOCIAL HOUSE DEVELOPMENT

300 Spectus Flush Tilt & Turn Windows were specified in the development of 22 one-bedroom and 16 two-bedroom flats in Cricket Hill Road, Sheffield. Formerly the site of a social club, the site was secured for a development of a social housing apartment block.

The development required 300 windows, all with demanding...
2021 Investment

ODL EUROPE INVESTS FOR FURTHER GROWTH

ODL Europe has just announced two large scale investments in its business that will support its ambitious growth strategy in 2021 and beyond. Nathan Barr, Managing Director of ODL Europe, said: "As a business, we focus on being a valuable partner for our customers. The investments we are making now will enhance our ability to do this."

UAP INVESTS FOR EXPANSION IN 2021

Leading door hardware and locking systems specialist, UAP, is set to start 2021 with a schedule of new product launches, international expansion and more stockholding than ever before thanks to strategic planning and investment to ensure the company can meet demand in the year ahead.

A leader in the sector celebrating 25 years in ironmongery and locking systems in 2021, UAP was quick to recognise the threat posed by COVID-19 and had begun to put measures in place to protect people and ensure operational continuity long before the start of the first lockdown. Thanks to the company's agile response, it has...

2021 Investment

MODPLAN INVESTS FOR ITS NEXT STAGE OF GROWTH

Trade fabricator Modplan has just completed a largescale investment in 12 new fabrication machines from Avantek to support its next stage of growth. The machines have been installed across Modplan's multiple production facilities enabling the company to continue to deliver the outstanding quality and...
New Brochure

MERCURY GLAZING SUPPLIES INTRODUCES THEIR NEW RETAIL BROCHURE

Mercury Glazing Supplies has just published a new retail brochure to help promote their sash windows...

OBITUARY – DES TURNBULL

Hardware specialist VBH have announced the sad news that Des Turnbull, until recently the Area Sales Manager for the Northern Counties, passed away in hospital on the morning of Saturday 16th January.

"Des was an integral part of the VBH team for the best part of 2 decades before retiring last February. He was very well respected and much liked by his customers, suppliers, and all at VBH.

"Des was very knowledgeable, and enjoyed passing on his expertise. He was particularly helpful to newcomers to our industry, helping them understand some of the vagaries of window and door hardware. He was always quick...

Machinery

D&I WINDOW SOLUTIONS SCALES UP PRODUCTION WITH HAFFNER MURAT MACHINERY

Established domestic fabricator D&I Window Solutions is scaling up its operation with investment in numerous aluminium fabrication machines from industry specialists Haffner Murat. The large-scale investment is a result of D&I Window Solutions' strategic expansion into trade manufacture.
GQA News

YOUGOV SURVEY REVEALS PARENTS' FENESTRATION INDUSTRY INSIGHTS

Picture above: Anda Gregory Managing Director, GGF Commercial

GQA, GGF and FENSA Give Their Assessment

Hot on the heels of news that the Universities Minister believes the education system is too geared to directing young people onto courses that do nothing to prepare them for later life, a YouGov...

BUILDING OUR SKILLS APPOINTED AS GREEN HOMES GRANT TRAINING PROVIDER

Following a rigorous vetting process, Building Our Skills has been appointed as a specialist fenestration training provider as part of the Green Homes Grant scheme. The offer of fully funded training for the fenestration industry is a part of the initiative devised by BEIS and the Midlands Energy Hub to help train the next generation of tradespeople to deliver home improvement measures through the Green Homes voucher scheme in England.

John Ogilvie, Director of Building Our Skills is now calling on fenestration industry employers to make the most of the time-limited, fully funded practical training that Building Our Skills can offer...

GQA News

SURGE IN JOB OPPORTUNITIES WELCOMED BY GQA

GQA welcomes news of a surge in job opportunities for glaziers, window fabricators and installers. Reported at www.fenews.co.uk, it is understood that total job posts in these categories were up by just over 111% between June and September.
New Appointment

Gowercroft Joinery appoints new Technical Manager

Multi award-winning timber window and door manufacturer Gowercroft Joinery has appointed a new Technical Manager to drive its ambitious programme of new product development and innovation.

Gary Chatwood is joining the company with over forty years of experience in the timber fenestration, conservatory and home improvement market.

UAP MD BECOMES INTERNATIONAL CHARITY VICE PRESIDENT

David Jennings, managing director of door and window security and fire safety specialist, UAP Limited, has been appointed as Vice President of the Encephalitis Society*; an international charity that aims to provide support and information for patients and families affected by this often devastating neurological condition.

It is a cause very close to David's heart, following the loss of his brother, Phillip, to encephalitis aged just 17. After contracting measles, Phillip developed encephalitis because the virus infected his brain. The loss of his brother has made David passionate about ensuring others understand the risk factors of encephalitis and...

Aluminium

HIGH PRAISE FOR STELLAR

Stellar, the triple award-winning aluminium window and door system from Epwin Window Systems continues to prove a hit with installers due to its fast-fit properties. The ease of installation is down to its unique pre-gasketed, knock-in beads that make fitting rapid and provides a high-level finish.

The benefits of quick-fitting Stellar were reiterated by installer R Bell Construction who recently completed...
| | | |
| --- | --- | --- |
| | 0780 505 1322 | |
Fenestra Build Limited 19 Heather Close, Tickhill, Doncaster, Yorkshire DN11 9UU
To view our privacy policy click here. To Unsubscribe please click here.
© Copyright Fenestra Build 2020