21st January 2021
PYROGUARD FIRESAFE: TAKING MODIFIED TOUGHENED FIRE SAFETY GLASS TO ANOTHER LEVEL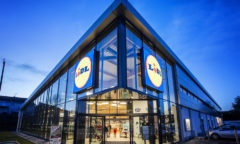 Introducing Pyroguard Firesafe; the unrivalled new range of modified toughened fire safety glass from leading manufacturer, Pyroguard. Lightweight with exceptional performance benefits, this monolithic solution is designed to meet individual specification requirements and fulfills customers' expectations on lead time and availability.
2021 Investment

ODL EUROPE INVESTS FOR FURTHER GROWTH

ODL Europe has just announced two large scale investments in its business that will support its ambitious growth strategy in 2021 and beyond. Nathan Barr, Managing Director of ODL Europe, said: "As a business, we focus on being a valuable partner for our customers. The investments we are making now will enhance our ability to do this."

UAP INVESTS FOR EXPANSION IN 2021

Leading door hardware and locking systems specialist, UAP, is set to start 2021 with a schedule of new product launches, international expansion and more stockholding than ever before thanks to strategic planning and investment to ensure the company can meet demand in the year ahead.

A leader in the sector celebrating 25 years in ironmongery and locking systems in 2021, UAP was quick to recognise the threat posed by COVID-19 and had begun to put measures in place to protect people and ensure operational continuity long before the start of the first lockdown. Thanks to the company's agile response, it has...

2021 Investment

MODPLAN INVESTS FOR ITS NEXT STAGE OF GROWTH

Trade fabricator Modplan has just completed a largescale investment in 12 new fabrication machines from Avantek to support its next stage of growth. The machines have been installed across Modplan's multiple production facilities enabling the company to continue to deliver the outstanding quality and...
Windows

Spectus Flush Tilt & Turn Windows Specified for New Build Social House Development

300 Spectus Flush Tilt & Turn Windows were specified in the development of 22 one-bedroom and 16 two-bedroom flats in Cricket Hill Road, Sheffield. Formerly the site of a social club, the site was secured for a development of...

TAKING ON THE BANK!

Lockdown may have put the brakes on Euroglaze's fundraising campaign for Retina UK initially, but the team at the Barnsley based Rehau fabricator are now on a roll once again.

Managing Director Martin Nettleton has challenged Euroglaze's bankers Barclays to a virtual 1000km bike ride, with Barclays matching the sponsorship money raised.

Having completed 5000 virtual miles during 2020 on his turbo trainer at home, Martin is confident that he can set an impressive pace for his friendly bank manager Daniel Firth to match.

This virtual challenge replaces the Prudential Ride100 which Martin and his tandem ride partner Andrew Oates were scheduled to...

Windows

A BEAUTIFUL BLACK TUDOR RESIDENCE

Sussex-based Nuglaze Home Services recently completed a replacement window and door project with Residence 9, in a period home with true Tudor detailing, including leaded top lights, structural corner posts and two oriel bay windows, all in the No.10 Black finish.

In years gone by such installations were the domain of timber only and it is only with...
New Brochure

MERCURY GLAZING SUPPLIES INTRODUCES THEIR NEW RETAIL BROCHURE

Mercury Glazing Supplies has just published a new retail brochure to help promote their sash windows into the consumer. Steve Cross, Director at Mercury, said "Our latest high-end consumer brochure showcases our range of quality sash windows to help inspire homeowners.

OBITUARY – DES TURNBULL

Hardware specialist VBH have announced the sad news that Des Turnbull, until recently the Area Sales Manager for the Northern Counties, passed away in hospital on the morning of Saturday 16th January.

"Des was an integral part of the VBH team for the best part of 2 decades before retiring last February. He was very well respected and much liked by his customers, suppliers, and all at VBH.

"Des was very knowledgeable, and enjoyed passing on his expertise. He was particularly helpful to newcomers to our industry, helping them understand some of the vagaries of window and door hardware. He was always quick...

Machinery

D&I WINDOW SOLUTIONS SCALES UP PRODUCTION WITH HAFFNER MURAT MACHINERY

Established domestic fabricator D&I Window Solutions is scaling up its operation with investment in numerous aluminium fabrication machines from industry specialists Haffner Murat. The large-scale investment is a result of D&I Window Solutions' strategic expansion into trade manufacture.
GQA News

YOUGOV SURVEY REVEALS PARENTS' FENESTRATION INDUSTRY INSIGHTS

Picture above: Anda Gregory Managing Director, GGF Commercial

GQA, GGF and FENSA Give Their Assessment

Hot on the heels of news that the Universities Minister believes the education system is too geared to directing young people onto courses that do nothing to prepare them for later life, a YouGov survey...

BUILDING OUR SKILLS APPOINTED AS GREEN HOMES GRANT TRAINING PROVIDER

Following a rigorous vetting process, Building Our Skills has been appointed as a specialist fenestration training provider as part of the Green Homes Grant scheme. The offer of fully funded training for the fenestration industry is a part of the initiative devised by BEIS and the Midlands Energy Hub to help train the next generation of tradespeople to deliver home improvement measures through the Green Homes voucher scheme in England.

John Ogilvie, Director of Building Our Skills is now calling on fenestration industry employers to make the most of the time-limited, fully funded practical training that Building Our Skills can offer...

GQA News

SURGE IN JOB OPPORTUNITIES WELCOMED BY GQA

GQA welcomes news of a surge in job opportunities for glaziers, window fabricators and installers. Reported at www.fenews.co.uk, it is understood that total job posts in these categories were up by just over 111% between June and September.
New Appointment

Gowercroft Joinery appoints new Technical Manager

Multi award-winning timber window and door manufacturer Gowercroft Joinery has appointed a new Technical Manager to drive its ambitious programme of new product development and innovation.

Gary Chatwood is joining the company with over forty years of experience in the timber fenestration, conservatory and home improvement market.

UAP MD BECOMES INTERNATIONAL CHARITY VICE PRESIDENT

David Jennings, managing director of door and window security and fire safety specialist, UAP Limited, has been appointed as Vice President of the Encephalitis Society*; an international charity that aims to provide support and information for patients and families affected by this often devastating neurological condition.

It is a cause very close to David's heart, following the loss of his brother, Phillip, to encephalitis aged just 17. After contracting measles, Phillip developed encephalitis because the virus infected his brain. The loss of his brother has made David passionate about ensuring others understand the risk factors of encephalitis...

Aluminium

HIGH PRAISE FOR STELLAR

Stellar, the triple award-winning aluminium window and door system from Epwin Window Systems continues to prove a hit with installers due to its fast-fit properties. The ease of installation is down to its unique pre-gasketed, knock-in beads that make fitting rapid and provides a high-level finish.

The benefits of quick-fitting Stellar were reiterated by installer R Bell Construction who recently completed...
Rooflights

NEW LOOK FOR THE NEW YEAR: TUFFX LAUNCHES 'FRAMELESS' INFINITY ALL GLASS ROOFLIGHTS

TuffX is starting 2021 with a bang – with the launch of a new All Glass rooflight in its popular Infinity range.

Offering a sleek, contemporary take on the traditional rooflight, the new frameless-look All Glass Infinity rooflight is designed to give...

AVOID BREXIT PRICE HIKES WITH ALUTECH SYSTEMS

As the industry adapts to the changes imposed by Brexit from 1st January 2021, Alutech Systems is reassuring customers that their prices will be unaffected by the changes because they import from outside the EU, therefore the costs are already covered. At the end of last year, the aluminium systems supplier confirmed that there would be no price increase implemented in January.

European System Suppliers have previously pay zero customs duty when importing into the UK, however this has all changed with Brexit and their customers could see a price increase of around 5-8% depending on product.

Here's some key points to...

Award Winner

Thermoseal Group Wins Spacer Bar Manufacturer of the Year 2020

Thermoseal Group, the UK's leading manufacturer of warm edge spacer systems and distributor of over 2,500 insulated glass (IG) components, has been named 'Spacer Bar Manufacturer of the Year' in the National Fenestration Awards for the second time.

The National Fenestration Awards...
New Appointment

NEW HR APPOINTMENT AT ODL EUROPE

ODL Europe has announced the appointment of Laura Cribb as its HR Manager. Nathan Barr, Managing Director of ODL Europe, said: "We are...

DARREN PUSEY JOINS ODL EUROPE

ODL Europe has announced the appointment of Darren Pusey as Operations Manager. Nathan Barr, Managing Director at ODL Europe, said: "We are delighted to welcome Darren to the business. He's well-known in the industry and having worked with him in the past I know first-hand what an asset he'll be to the team."

Darren said: "I am delighted to join ODL Europe and can't wait to get going! The principles that underpin the business are admirable. It has a real people-first culture as well as impressive roster of products and I'm excited to be part of the growth plans for the...

New Appointment

NEW APPOINTMENT AT ODL EUROPE

ODL Europe has appointed Stephen Porter in the position of Production Manager to head up its composite door operations for the Bootle-based business.

Stephen, who has previously held senior operational roles within the industry, is ideally placed to head up the growing composite door facilities and help support the company's ambitious growth strategy.
Projects

FENTRADE ALUMINIUM DELIVERS FOR SCHOOL RENOVATION PROJECT

Fentrade Aluminium has recently manufactured and supplied a range of commercial products for a renovation project at Ysgol Pontrhydfendigaid School in Ystrad Meurig, near Aberystwyth. The project involved creating new entrance screens into the main building and various classrooms to improve the...

ULTION DELIVERS WEEKEND ORDERS ON MONDAYS

Ultion orders placed over a weekend will now be delivered to customers on Monday. All telephone and on-line orders placed up until 1pm on a Sunday will be with locksmiths and installers ready for the working week. This also includes bespoke orders for keyed alike requirements.

Brisant Secure, the hardware house behind Ultion, has a reputation in the industry for smashing standards and a series of firsts. Providing homeowners with extreme security needs to be 24/7, but until now locksmiths can wait days for a bespoke requirement, ordering on a Friday afternoon and not receiving product until Tuesday for example.

Nick Dutton,...

Award Winner

LINIAR BRINGS HOME A DOUBLE AT THE NFAS!

This year's annual National Fenestration Awards announcement brought a smile to the team at Liniar this past November, as they discovered they'd won two of the coveted awards.

With everyone keeping a keen eye on their Twitter feeds, the Liniar team was delighted to see Alumina and Liniar pop up as winners in two categories of...
Machinery

SECOND LUNA R INVESTMENT FOR EPWIN WINDOW SYSTEMS

Epwin Window Systems has taken delivery of its second Luna R automatic profile lamination machine, which further increases the company's foiling capacity. Clare O'Hara, Managing Director at Epwin Window Systems, said: "This latest investment will support the continuing growth for our coloured products by reducing set up times, increasing product output and delivering superb product accuracy."

PROFILE 22'S OPTIMA WINDOWS FITTED IN NEW LONDON HOUSING DEVELOPMENT

97 Optima windows by Profile 22 were manufactured and installed in a new seven-story residential development in Pelier Street, London. The new build development contained 17 dwellings for social rent, consisting of four one-bedroom flats, nine two-bedroom flats and four three-bedroom flats. The new development is located within an urban densely populated area of London.

The 97 windows manufactured and supplied were predominately Optima Flush Tilt and Turn Windows from Profile 22 along with a small number of Optima open-out casement windows too.

The fabrication contract was awarded to experienced Profile 22...

New Appointment

NEW QHSE MANAGER FOR ODL EUROPE

ODL Europe has appointed John Brady as Quality, Health, Safety & Environment (QHSE) Manager. John joined the Bootle-based business back in November with a remit to improve the safety of all employees and site operations whilst overseeing the exacting quality standards of the company's various product groups.

John, who was previously with Total Glass for thirty years, is ideally placed to head...
| | | |
| --- | --- | --- |
| | 0780 505 1322 | |
Fenestra Build Limited 19 Heather Close, Tickhill, Doncaster, Yorkshire DN11 9UU
To view our privacy policy click here. To Unsubscribe please click here.
© Copyright Fenestra Build 2020