7th January 2021
NEW AND IMPROVED SCHÜCO ASS 70 FD BI-FOLD DOOR SYSTEM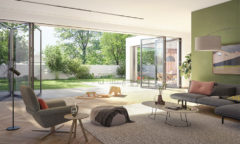 The Schüco ASS 70 FD bi-fold system has long been a mainstay of both residential and commercial buildings – and now Schüco has improved its technical values. The ASS 70 FD system is available in a more diverse range of vent widths, meaning fewer vents are needed and therefore fewer aluminium sightlines.
Rooflights

NEW LOOK FOR THE NEW YEAR: TUFFX LAUNCHES 'FRAMELESS' INFINITY ALL GLASS ROOFLIGHTS

TuffX is starting 2021 with a bang – with the launch of a new All Glass rooflight in its popular Infinity range.

Offering a sleek, contemporary take on the traditional rooflight, the new frameless-look All Glass Infinity rooflight is designed to give...

AVOID BREXIT PRICE HIKES WITH ALUTECH SYSTEMS

As the industry adapts to the changes imposed by Brexit from 1st January 2021, Alutech Systems is reassuring customers that their prices will be unaffected by the changes because they import from outside the EU, therefore the costs are already covered. At the end of last year, the aluminium systems supplier confirmed that there would be no price increase implemented in January.

European System Suppliers have previously pay zero customs duty when importing into the UK, however this has all changed with Brexit and their customers could see a price increase of around 5-8% depending on product.

Here's some key points to...

Award Winner

Thermoseal Group Wins Spacer Bar Manufacturer of the Year 2020

Thermoseal Group, the UK's leading manufacturer of warm edge spacer systems and distributor of over 2,500 insulated glass (IG) components, has been named 'Spacer Bar Manufacturer of the Year' in the National Fenestration Awards for the second time.

The National Fenestration Awards...
New Appointment

NEW HR APPOINTMENT AT ODL EUROPE

ODL Europe has announced the appointment of Laura Cribb as its HR Manager. Nathan Barr, Managing Director of ODL Europe, said: "We are delighted to welcome Laura to the team. Here at ODL Europe we put our people first, so our HR function is critically important to the business."

Laura commented: "I'm really looking forward...

DARREN PUSEY JOINS ODL EUROPE

ODL Europe has announced the appointment of Darren Pusey as Operations Manager. Nathan Barr, Managing Director at ODL Europe, said: "We are delighted to welcome Darren to the business. He's well-known in the industry and having worked with him in the past I know first-hand what an asset he'll be to the team."

Darren said: "I am delighted to join ODL Europe and can't wait to get going! The principles that underpin the business are admirable. It has a real people-first culture as well as impressive roster of products and I'm excited to be part of the growth plans for the...

New Appointment

NEW APPOINTMENT AT ODL EUROPE

ODL Europe has appointed Stephen Porter in the position of Production Manager to head up its composite door operations for the Bootle-based business.

Stephen, who has previously held senior operational roles within the industry, is ideally placed to head up the growing composite door facilities and help support the company's ambitious growth strategy.
Projects

FENTRADE ALUMINIUM DELIVERS FOR SCHOOL RENOVATION PROJECT

Fentrade Aluminium has recently manufactured and supplied a range of commercial products for a renovation project at Ysgol Pontrhydfendigaid School in Ystrad Meurig, near Aberystwyth. The project involved creating new entrance screens into the main...

ULTION DELIVERS WEEKEND ORDERS ON MONDAYS

Ultion orders placed over a weekend will now be delivered to customers on Monday. All telephone and on-line orders placed up until 1pm on a Sunday will be with locksmiths and installers ready for the working week. This also includes bespoke orders for keyed alike requirements.

Brisant Secure, the hardware house behind Ultion, has a reputation in the industry for smashing standards and a series of firsts. Providing homeowners with extreme security needs to be 24/7, but until now locksmiths can wait days for a bespoke requirement, ordering on a Friday afternoon and not receiving product until Tuesday for example.

Award Winner

LINIAR BRINGS HOME A DOUBLE AT THE NFAS!

This year's annual National Fenestration Awards announcement brought a smile to the team at Liniar this past November, as they discovered they'd won two of the coveted awards.

With everyone keeping a keen eye on their Twitter feeds, the Liniar team was delighted to see Alumina and Liniar...
Machinery

SECOND LUNA R INVESTMENT FOR EPWIN WINDOW SYSTEMS

Epwin Window Systems has taken delivery of its second Luna R automatic profile lamination machine, which further increases the company's foiling capacity. Clare O'Hara, Managing Director at Epwin Window Systems, said: "This latest investment will support the continuing growth for our coloured products by reducing set up times, increasing product output and delivering superb product accuracy."

The innovative Luna...

PROFILE 22'S OPTIMA WINDOWS FITTED IN NEW LONDON HOUSING DEVELOPMENT

97 Optima windows by Profile 22 were manufactured and installed in a new seven-story residential development in Pelier Street, London. The new build development contained 17 dwellings for social rent, consisting of four one-bedroom flats, nine two-bedroom flats and four three-bedroom flats. The new development is located within an urban densely populated area of London.

The 97 windows manufactured and supplied were predominately Optima Flush Tilt and Turn Windows from Profile 22 along with a small number of Optima open-out casement windows too.

The fabrication contract was awarded to experienced Profile 22 Approved Contractor Kingfisher Windows and the installation was carried out...

New Appointment

NEW QHSE MANAGER FOR ODL EUROPE

ODL Europe has appointed John Brady as Quality, Health, Safety & Environment (QHSE) Manager. John joined the Bootle-based business back in November with a remit to improve the safety of all employees and site operations whilst overseeing the exacting quality standards of the company's various product groups.

John, who was previously with Total Glass for thirty years, is ideally placed to head up the QHSE management operation to ensure...
NFA Winner

Haffner Murat wins Machinery Supplier of the Year in the NFA Awards 2020

Leading machinery experts Haffner Murat has just been announced as the joint winner of the Machinery Supplier of the Year category of the National Fenestration Awards 2020.

Dave Thomas, Managing Director of Haffner Murat, said: "We are delighted to win this award, particularly as it's voted for by our industry...

OBITUARY – CLIVE SMITH

It is with great sadness that we announce the death of our former colleague and dear friend Clive Smith who died suddenly on Tuesday 29th December, 2020.

Clive had worked in the glazing industry for many years and prior to his retirement in 2017 was Technical Sales Manager at Trojan Manufacturing Group.

Clive was a popular industry figure and respected by both his colleagues and customers. He will be greatly missed.

Clive is survived by his wife Lyn and children Matt and Hayley.

Our thoughts are with Clive's family and friends at this very sad and difficult time.

NFA Winner

STELLAR WINS NEW PRODUCT OF THE YEAR IN THE NFA AWARDS 2020

Stellar Aluminium Systems has won the New Product of the Year at the National Fenestration Awards 2020.

Clare O'Hara, Managing Director at Epwin Window Systems, said: "We are delighted to win this award. It's particularly special because it's voted for by people in the industry.
Aluminium

THE ALUTECH BIO-COLOUR COLLECTION – INNOVATIVE HEALTH PROTECTION FOR YOUR PROFILE

As we are now all too familiar, modern day living creates the perfect environment for a wide variety of microbes to successfully grow on almost every surface we touch. Doors and windows, equipment, stationery and work surfaces can all be affected by microbial growth.

The growth of microbes such as bacteria...

BEDFORDSHIRE WINDOWS GOES FROM STRENGTH TO STRENGTH WITH HAFFNER MURAT

Picture above: from left to right: Gary Walker – Bedfordshire Windows, Tom Pitts – Bedfordshire Windows

Trade and retail fabricator Bedfordshire Windows has just invested in a new TT405 Double Mitre Saw from machinery experts, Haffner Murat.

Tom Pitts, Director at Bedfordshire Windows, said: "We saw a dramatic uplift in sales following the first lockdown and we needed to upscale our production fast. Automation gives us the ability to do this quickly and easily. The TT405 Double Mitre Saw automates profile cutting and gives us the speed we needed."

The machine is the second Bedfordshire has purchased from Haffner Murat. Last year, the...

Aluminium

FENTRADE'S EXPERTISE CENTRAL TO UNIVERSITY OF BATH REFURBISHMENT PROJECT

Trade aluminium fabricator Fentrade has recently manufactured 13 sets of single and double entrance doors for the refurbishment of the University of Bath's main campus.

The project's main contractor was Bray & Slaughter and the window contractor was Fentrade customer EWS Facade. Chris Reeks, Director of Fentrade...
GM Fundraising

STERLING GENEROSITY FROM TWO INDUSTRY BUSINESSES

Industry machinery experts Haffner Murat Ltd and Warrington-based fabricator Sterling Windows, Doors and Conservatories have made a combined £5,000 charitable donation...

ERA'S PARENT COMPANY TO PAY BACK MONEY FROM JOB RETENTION SCHEME

Tyman plc, the parent company of ERA, Zoo, Schlegel-Giesse and Access360, has announced that it intends to pay back £2.3m received in 2020 under the UK Government's Job Retention Scheme*. The payment will be made in full before year end.

Darren Waters, Divisional CEO for Tyman UK and Ireland, explains the rationale behind this decision:

"During the second half, our businesses have benefited from the strong recovery in the residential and commercial markets and we are in the fortunate position where we are able to return this money. The Job Retention Scheme served its purpose in supporting us to preserve jobs through...

GM Fundraising

ERA DONATES £8,000 TO HOPE HOUSE CHILDREN\'S HOSPICES

ERA, the Wolverhampton-based security expert, is donating £8,000 to Hope House Ty Gobaith Children\'s Hospices, and making it the company\'s nominated charity for 2021, for the second year running.

Hope House Ty Gobaith Children\'s Hospices supports families in Shropshire, Cheshire, Mid and North Wales who are either caring for a terminally ill child
Windows

OXFORDSHIRE ESTATE BOASTS MORE THAN 1000 STEEL WINDOWS

When Steel Window Association member, Cotswold Casements, (www.cotswold-casements.co.uk) was approached to look at a tender for a brand-new housing estate in Oxfordshire, the scale of the project was immediately apparent – over 1000 steel windows! The Station Road Development at Bletchingdon, comprising 61 properties with architecture commissioned by...

GQA INFLUENCE REACHES POLICY MAKERS

The influence of the fenestration industry's leading awarding body was widened substantially recently when its CEO was quoted in the highly prestigious 'Parliamentary Review' talking about the importance of qualifications. This guide to political and industry best practice in management is sent to over 500,000 leading business executives, policy makers and other relevant individuals. In recent years, it has featured forewords by Theresa May, David Cameron, Caroline Lucas, Lucy Powell and many other political figures.

GQA's Mick Clayton said in the Review:

"Qualifications are very much the currency of competence for those operating in the fenestration, glass, glazing and construction industries, with...

Windows

Swadlincote Windows gets an Upgrade!

Located in Derbyshire, Swadlincote Windows has been in operation since 1998 and has a well-earned reputation for delivering high quality, bespoke projects for property owners throughout the East Midlands and beyond.

John Birch, Swadlincote\\'s Managing Director, comments, \\"Our fabrication operation has been working with the same machinery for over a decade, and we knew that we needed to upgrade to...
Installer Support

NEW FREEFOAM VIDEO FEATURING UK MARKETING MANAGER, LOUISE SANDERSON

Freefoam are pleased to launch another short video in a series to mark our 30 year anniversary. This film features Louise Sanderson, UK Marketing Manager.

Louise has worked at Freefoam for 10 years and explains how her role has changed and developed over that time. Working with both direct customers to help them promote and sell Freefoam products...

ENSINGER TO SHOW INSULBAR INNOVATIONS AT BAU

Picture above: During the coronavirus crisis, proper dialogue with customers in an atmosphere of mutual trust is still very important to Ensinger – the plastics specialist is inviting customers to its digital showroom.

Insulating bars make it possible to improve the energy efficiency of windows, doors and façades in a way that is sustainable and conserves resources.

As a leading trade fair, BAU remains an important meeting point for the industry – even if the coronavirus means we can only come together online", says Matthias Rink, Sales Director at Ensinger. "Between 11 and 15 January we will be using our virtual showroom to present highlights from our portfolio along with two innovations.

Installer Support

NEW ONLINE MARKETPLACE IS AIMED AT INSTALLERS

This month sees the launch of a new, first-of-its kind online service aimed at fenestration industry installers. Recognising that the business support needed by installers and SMEs in the industry is often difficult to reach, 'UBoom' aims to make such support not only affordable but instantly accessible.

Incorporating products and services chosen specifically for the sector, UBoom offers...
| | | |
| --- | --- | --- |
| | 0780 505 1322 | |
Fenestra Build Limited 19 Heather Close, Tickhill, Doncaster, Yorkshire DN11 9UU
To view our privacy policy click here. To Unsubscribe please click here.
© Copyright Fenestra Build 2020