8th July 2021
TWC HOME IMPROVEMENTS ANNOUNCES PLANS FOR £250,000 NEW SHOWROOM IN SWINDON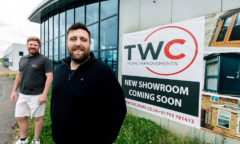 A leading Wiltshire home improvement specialist has announced ambitious expansion plans that include the opening of a major new showroom in Swindon.
TWC, which has been supporting homeowners for the last thirty years, has unveiled a £250,000 investment in an impressive facility facing the Elgin Drive roundabout in the town.
Doors

ODL EUROPE TAKES CONTROL OF DOOR CASSETTE PRODUCTION

ODL Europe, which manufactures high quality core products and value-added upselling lines, has taken delivery of an injection moulding machine for their door cassette production. Nathan Barr, Managing Director of ODL Europe, said: "This is great news for our business and customers because it gives us control over our complete cassette production and means we aren't reliant on third parties."

Liniar shortlisted for three awards in EM Chamber's Derbyshire Business Awards 2021

A leader in the fenestration industry, Derbyshire manufacturing company Liniar was delighted to discover it's been shortlisted in this year's annual East Midlands Chamber of Commerce Business Awards for Derbyshire. Not in one category, but in three: Excellence in Innovation, Community Impact and Environmental Impact!

"Being shortlisted for these awards is a huge honour and well-deserved recognition for everyone across our business – especially after the last 18 months, which have been challenging for us all," comments Group Managing Director Martin Thurley. "These three categories are especially gratifying, as Innovation, Community and Sustainability are amongst the very foundations of our...

Doors

STELLAR LIFT & SLIDE PATIO DOOR OPENS UP MORE OPPORTUNITIES

The Stellar Lift & Slide door from Epwin Window Systems supports current market trends perfectly with its slimline, clean aesthetics and quick fitting innovations. With the recent resurgence in sliding door popularity driven by consumer demand for a larger glazed area, the Stellar Lift & Slide door is fast becoming the sliding door of choice with installers.

Philip Parry, Business Development Director at Epwin Window Systems explains...
Machinery

BIG RESPONSE TO FIRST FUSION QUAD WELDER INSTALLED BY EMMEGI

The video of Emmegi's striking new Fusion 4H PVC-U Quad Welder being installed at O'Grady UPVC's factory in Kiltormer, Galway has already been viewed almost 5000 times on LinkedIn, demonstrating the level of interest which exists right across the market in this innovative, automatically adjustable, fully digital CNC machine.

This is the first installation carried...

STELLAR PERFECTION FOR £2.5 MILLION RENOVATED PROPERTY

Stellar aluminium windows and doors have been manufactured and installed in a palatial £2.5 million newly renovated property in St Brelade, Jersey. The modern detached four-bedroom home was fitted with fourteen Stellar aluminium fully flush casement windows, two sets of Stellar double doors and two single Stellar doors. All Stellar products were manufactured by specialist fabricator Capital Windows of Uxbridge, Greater London and fitted by local Jersey installer, Window Glaze Servicing Ltd.

The property is set in a desirable location and exacting standards were needed throughout the whole renovation, including the choice of windows and doors. Stellar was selected due to...

Machinery

BEDFORDSHIRE WINDOWS CONTINUES TO INVEST WITH HAFFNER

Trade and retail fabricator Bedfordshire Windows has invested in a new SMR-4 Four-Headed Welder and TT425 Double Mitre Saw from award-winning machinery experts, Haffner. The new machinery package is the third largescale machine investment with Haffner, and the latest machines will further support Bedfordshire Windows' growth strategy.
Doors

ODL EUROPE INTRODUCES NEW DOOR CASSETTE BROCHURE

ODL Europe has just published a new door cassette brochure that showcases the depth and range of their multiple door glazing systems. Nathan Barr, ODL Europe's Managing Director, said: "Our new door cassette brochure showcases our complete collection including our market-leading TriSYS™ three-piece frame system."

IT'S ALL SQUARED FOR THE RESIDENCE COLLECTION

With demand for contemporary living high on the style agenda for consumers, R2 from The Residence Collection is enjoying an increase in demand and has been supported by the launch of a new, premium 20-page consumer brochure.

R2 shares the same front to back dimensions of R9, but instead of the revered period detailing, this window and door system has a contemporary square finish, with perfect, architectural appeal. Thanks to its 9 chambered design, it's also incredibly energy efficient and capable of an A++ WER rating and a UW value of 0.79 W/(m2k). There are the options of 28mm or 44mm glazing with complementary square...

Doors

Sliding doors framed in style with Brooklyn

Available in a sophisticated matte black finish, the CRL Brooklyn frame system brings style and timeless elegance to sliding glass door partitioning for domestic and commercial use.

In the domestic setting, CRL Brooklyn taps into the move towards open-plan living, acting as a practical partition between kitchen and living areas...
Windows

CAPITAL WINDOWS SEES SOARING SALES WITH STELLAR

Specialist fabricator Capital Windows reports strong sales growth for Stellar, the multi-award-winning aluminium window and door system from Epwin Windows Systems. Peter Adams, General Manager at Capital Windows, said: "We started manufacturing Stellar last year because we were impressed with the unique flush aesthetics of the aluminium...

TRI-TEC WINDOWS TURNS TO HAFFNER FOR NEW MACHINERY

Tri-tec Windows in Chelmsford has just purchased an SMR-5 Five Head Welding Machine from Haffner and the machine is already making a big difference to the company. Fletcher Hodgins, Managing Director at Tri-Tec, said: "We invested in the SMR-5 to give us additional capacity and improved quality. Our machine operator is amazed with the speed and quality of the welds the machine delivers compared to a standard welding machine. It's more than living up to expectations."

The SMR-5 is just the latest in a series of purchases Tri-tec has made from Haffner. The company invested in a TT405 Double Mitre Saw,...

Windows

PROFILE 22'S OPTIMA WINDOWS AND DOORS SELECTED FOR CARE HOME AND ASSISTED LIVING APARTMENTS

Over 300 Optima casement windows and 60 doors from Profile 22 have been manufactured and installed in a new 85-bed care home and 45 assisted living apartments in Sutton Coldfield. The developer is renowned for delivering exceptional quality projects...
Customer Support

AVANTEK AND LINIAR COLLABORATION LEADS TO WORLD CLASS CUSTOMER SUPPORT

Fabrication machinery is essential for automation and precision – but in order to ensure a smooth set-up, you need to know the machinery provider will work hand in hand with the systems company. Not only will this help to avoid 'blame games' when unexpected delays occur...

FIT SHOW 2021 LINEUP SEES UPLIFT IN NEW BRANDS

Visitors to FIT Show 2021 can expect to see more new brands than ever before when the UK's flagship event for the glass and glazing industry returns to the NEC this September (26-28, 2021.)

FIT Show event organisers have announced that over 40% of its exhibiting brands will be making their FIT Show debuts. Brands including Rockdoor, Exlabesa, Solar Calibre, STORM Building Products, UK Doors Online and Adminbase are all set to premiere at FIT Show.

Visitor pre registration figures continue to track at over 100% above the figures for the same period in the campaign for its 2019 event, reinforcing the...

Aluminium

FENTRADE ALUMINIUM DELIVERS FOR SWANSEA LANDMARK DEVELOPMENT

Fentrade Aluminium has recently manufactured and supplied sixteen sets of non-thermally broken commercial shopfront doors and screens as part of £6m makeover project at a landmark development in Swansea.

The four-storey building called Orchard...
Sustainability

LINIAR SMASHES ITS CLIMATE CHANGE AGREEMENT BY 54%, SAVING 20,400 TONNES OF CO²!

Whilst the main focus of the last 12 months has been on keeping its workforce safe during the pandemic and meeting the high demand in the marketplace, PVCu systems manufacturer Liniar has also continued to drive forward its Climate Change Agreement (CCA) targets.

April 2021 saw the latest audit of Liniar's ISO 14001 accreditation which highlights...

WINDOW MAKER QUICKSLIDE FOCUSES RESOURCES TO HOUSEBUILDERS

Specialist window and door manufacturer Quickslide has further increased its focus on production of windows, doors and related products for the housebuilding sector, with the creation of a distinct department to service the specific needs of the sector. This includes resources that will provide support with areas such as regulatory and statutory demands; product development and design including technology and market trends; logistics; and after-sales support.

Quickslide already enjoys significant sales of windows and doors to housebuilders, who are attracted by the company's understanding of the particular needs of the sector, in addition to an impressive investment in manufacturing technology. Combined,...

Awards

DOUBLE WIN FOR LINIAR AT QUANEX ANNUAL AWARDS

Liniar is delighted to announce it's been awarded wins in two categories in this year's annual Quanex Safety & Stakeholder Awards!

Initially nominated in four categories (Safety, Hometown Award, Engagement and the President's Stakeholder Award), Liniar was proud to discover the UK PVCu systems company had won both the Safety Recognition and Hometown Award.

Liniar's parent company Quanex Building Products has developed the new annual...
Machinery

AVANTEK MACHINERY ANNOUNCES MOST SUCCESSFUL YEAR EVER

2020 was a year most of us will never forget, no matter how much we'd like to. The COVID-19 pandemic presented challenges...

KNOCK, KNOCK…WHO'S THERE? THE LITTLE PINK BOOK OF JOKES

As 21st birthday celebrations continue, Window Widgets have launched a fun and exciting charity campaign to help collate content for their Little Pink Book of Jokes, which everyone has the opportunity to be part of.

Everyone across the industry is encouraged to submit jokes for the Little Pink Book and this can be done by emailing jokes@windowwidgets.co.uk, visiting the landing page at www.windowwidgets.co.uk/widgetscomedy or via social media using the #WidgetsComedy hashtag.

In addition to the main publication, there will be a separate children's activity and joke book available, where...

Trickle Vents

THE VEXED ISSUE OF THE TRICKLE VENT

As consultations around the Government's new Future Buildings Standard close, VEKA Plc's Technical Director, Paul Kennington, applauds plans to make homes more energy efficient but questions whether the vexed issue of ventilation has been solved.

The results are in; over the last two years, the Government has been running...
News

ANDY JONES STEPS DOWN FROM VICTORIAN SLIDERS

Well respected industry leader, Andy Jones, has stepped down as Group Managing Director at Victorian Sliders, to pursue new opportunities.

It follows a period of rapid growth for the PVC-U sash window supplier, which has recently added over 50 new staff to cope with demand for its popular ECOSlide sash window.

BIFOLD LOCAL SEES SIGNIFICANT GROWTH WITH STELLAR

Trade and domestic fabricator Bifold Local started manufacturing the Stellar aluminium system from Epwin Window Systems in February 2021 and is already seeing significant growth on the back of the decision. In fact, demand for the Stellar Aluminium Bifold Door in particular means it's having to invest in new automated fabrication machinery to keep pace with demand.

Liam Duffy, Director at Bifold Local, says Stellar's aesthetics are proving very popular with his customers. "Stellar has the slim profiles that are so popular with consumers and the bifold door has real appeal. It's allowing us to capitalise on demand for this popular...

News

APEER ANNOUNCES £500K MACHINERY INVESTMENT DURING MAYOR'S VISIT

Apeer has announced another sizable investment in machinery for 2021, during a site visit by the local council's Mayor to see the factory's latest extension and to hear about the business's continuing successful growth and recent workforce expansion.
Retail

New retail brochure available from Modplan

Leading trade fabricator Modplan has just published a new high-end consumer brochure to help their customers leverage further sales for their impressive product portfolio. Heidi Sachs, Managing Director at Modplan, says: "Feedback from our customers have told us how important our retail brochure is in...

Morley Glass & Glazing adds new SV+ system to Uni-Blind range.

Integral blinds manufacturer Morley Glass & Glazing is giving customers even more choice with the launch of the SV+.

Exclusive to Morley Glass, the SV+ is a completely symmetrical version of the highly popular ScreenLine SV (sliding venetian) Uni-Blind system thanks to the addition of a slim dummy rail on the opposite side to the sliding operating system.

The SV+ works the same way as the SV System, using a manually operated magnetic slider on either the left or right-hand edge of the sealed unit to raise, lower and tilt the slats of the blind. It is a cordless system...

Retail

Father and daughter team open their first showroom in Horsham

A father and daughter team are investing over £100,000 into opening their first ever showroom.

Leighanne and Greg Cox are looking to expand Speedy Home Improvements by creating a dedicated space in Horsham that will showcase six different living spaces and their new windows and doors range.
| | | |
| --- | --- | --- |
| | 0780 505 1322 | |
Fenestra Build Limited 19 Heather Close, Tickhill, Doncaster, Yorkshire DN11 9UU
To view our privacy policy click here. To Unsubscribe please click here.
© Copyright Fenestra Build 2020