10th June 2021
VEKA LAUNCHES STATE OF THE ART UK VIRTUAL TOUR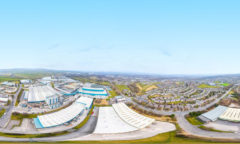 VEKA plc has introduced a state of the art virtual tour allowing fabricators to view the factory, including the new Lamination building, from anywhere in the world.
The huge site in Burnley, Lancashire, covers 400,000 square feet and spans two...
Sustainability

LINIAR SMASHES ITS CLIMATE CHANGE AGREEMENT BY 54%, SAVING 20,400 TONNES OF CO²!

Whilst the main focus of the last 12 months has been on keeping its workforce safe during the pandemic and meeting the high demand in the marketplace, PVCu systems manufacturer Liniar has also continued to drive forward its Climate Change Agreement (CCA) targets.

April 2021 saw the latest audit of Liniar's ISO 14001 accreditation which highlights...

WINDOW MAKER QUICKSLIDE FOCUSES RESOURCES TO HOUSEBUILDERS

Specialist window and door manufacturer Quickslide has further increased its focus on production of windows, doors and related products for the housebuilding sector, with the creation of a distinct department to service the specific needs of the sector. This includes resources that will provide support with areas such as regulatory and statutory demands; product development and design including technology and market trends; logistics; and after-sales support.

Quickslide already enjoys significant sales of windows and doors to housebuilders, who are attracted by the company's understanding of the particular needs of the sector, in addition to an impressive investment in manufacturing technology. Combined,...

Awards

DOUBLE WIN FOR LINIAR AT QUANEX ANNUAL AWARDS

Liniar is delighted to announce it's been awarded wins in two categories in this year's annual Quanex Safety & Stakeholder Awards!

Initially nominated in four categories (Safety, Hometown Award, Engagement and the President's Stakeholder Award), Liniar was proud to discover the UK PVCu systems company had won both the Safety Recognition and Hometown Award.

Liniar's parent company Quanex Building Products has developed the new annual...
Machinery

AVANTEK MACHINERY ANNOUNCES MOST SUCCESSFUL YEAR EVER

2020 was a year most of us will never forget, no matter how much we'd like to. The COVID-19 pandemic presented challenges that most businesses were unprepared for.

Industry-leading fenestration machinery company Avantek Machinery was able to adapt to the changing industry environment, with the result of making the last 12 months its most successful ever!

KNOCK, KNOCK…WHO'S THERE? THE LITTLE PINK BOOK OF JOKES

As 21st birthday celebrations continue, Window Widgets have launched a fun and exciting charity campaign to help collate content for their Little Pink Book of Jokes, which everyone has the opportunity to be part of.

Everyone across the industry is encouraged to submit jokes for the Little Pink Book and this can be done by emailing jokes@windowwidgets.co.uk, visiting the landing page at windowwidgets.co.uk/widgetscomedy or via social media using the #WidgetsComedy hashtag.

In addition to the main publication, there will be a separate children's activity and joke book available, where new Window Widgets superhero brand icons will be introduced. These will...

Trickle Vents

THE VEXED ISSUE OF THE TRICKLE VENT

As consultations around the Government's new Future Buildings Standard close, VEKA Plc's Technical Director, Paul Kennington, applauds plans to make homes more energy efficient but questions whether the vexed issue of ventilation has been solved.

The results are in; over the last two years, the Government has been running consultations that first covered domestic new build through the Future Homes Standard...
News

ANDY JONES STEPS DOWN FROM VICTORIAN SLIDERS

Well respected industry leader, Andy Jones, has stepped down as Group Managing Director at Victorian Sliders, to pursue new opportunities.

It follows a period of rapid growth for the PVC-U sash window supplier, which has recently added over 50 new staff to cope with demand for its popular ECOSlide sash window.

BIFOLD LOCAL SEES SIGNIFICANT GROWTH WITH STELLAR

Trade and domestic fabricator Bifold Local started manufacturing the Stellar aluminium system from Epwin Window Systems in February 2021 and is already seeing significant growth on the back of the decision. In fact, demand for the Stellar Aluminium Bifold Door in particular means it's having to invest in new automated fabrication machinery to keep pace with demand.

Liam Duffy, Director at Bifold Local, says Stellar's aesthetics are proving very popular with his customers. "Stellar has the slim profiles that are so popular with consumers and the bifold door has real appeal. It's allowing us to capitalise on demand for this popular...

News

APEER ANNOUNCES £500K MACHINERY INVESTMENT DURING MAYOR'S VISIT

Apeer has announced another sizable investment in machinery for 2021, during a site visit by the local council's Mayor to see the factory's latest extension and to hear about the business's continuing successful growth and recent workforce expansion.
Retail

New retail brochure available from Modplan

Leading trade fabricator Modplan has just published a new high-end consumer brochure to help their customers leverage further sales for their impressive product portfolio. Heidi Sachs, Managing Director at Modplan, says: "Feedback from our customers have told us how important our retail brochure is in...

Morley Glass & Glazing adds new SV+ system to Uni-Blind range.

Integral blinds manufacturer Morley Glass & Glazing is giving customers even more choice with the launch of the SV+.

Exclusive to Morley Glass, the SV+ is a completely symmetrical version of the highly popular ScreenLine SV (sliding venetian) Uni-Blind system thanks to the addition of a slim dummy rail on the opposite side to the sliding operating system.

The SV+ works the same way as the SV System, using a manually operated magnetic slider on either the left or right-hand edge of the sealed unit to raise, lower and tilt the slats of the blind. It is a cordless system...

Retail

Father and daughter team open their first showroom in Horsham

A father and daughter team are investing over £100,000 into opening their first ever showroom.

Leighanne and Greg Cox are looking to expand Speedy Home Improvements by creating a dedicated space in Horsham that will showcase six different living spaces and their new windows and doors range.
Aluminium

Fentrade Aluminium delivers for hospital renovation project

Fentrade Aluminium has recently manufactured and supplied a new entrance porch enclosure as part of a largescale refurbishment project at St Joseph's private hospital in Newport, Gwent. The exacting brief was to create an enclosed area at...

KORNICHE ROOF LANTERN SHORTLISTED

Made for trade are proud to announce that Korniche have been shortlisted for the Homebuilding & Renovating Show Awards 2021 for the category of Best Roof Lantern Supplier. Following the success of the win in 2020 it's amazing to be shortlisted in consecutive years and shows how much impact the Korniche Lantern has made in recent years. The products engineering, design and aesthetics have great appeal for both the trade installer and the homeowner. We are looking forward to being allowed back out at the shows, not least with our #FITShow family in September.

If builders, installers and architects are left...

Aluminium

A STELLAR BIFOLD PACKAGE FROM EPWIN WINDOW SYSTEMS

Epwin Window Systems has launched a new dedicated support package to help its customers market their popular Stellar Aluminium Bifold Door. Gerald Allen, Marketing Manager at Epwin Window Systems, said: "The aluminium bifold door market is very strong at the moment and the Stellar Aluminium Bifold Door has attracted considerable interest from both consumers and installers.
Windows

Spectus Windows and doors complete new Lincolnshire residential housing development

247 white Spectus casement windows, 25 French doors and 10 residential doors have been manufactured and installed on a new 36 home Ashwood Homes development at Balmoral Way, Holbeach...

VISITOR APPETITE FOR FIT SHOW AT RECORD HIGH

FIT Show organisers have announced that its visitor pre registration numbers are tracking at 130% above the figures for the same period in the campaign for its 2019 event.

The announcement follows the easing of lockdown restrictions across the UK, with the country entering the penultimate phase of the UK Government's 'roadmap to recovery', which is on track to culminate with the lifting of all restrictions from June 21st.

FIT Show will return to the NEC Birmingham from Sunday September 26 – 28, 2021. The event, which is free to attend, will see over 200 brands from the home...

Installer Support

Onsite 7 job management software proving its worth with installers

Onsite 7, the job management software designed for the trade by the trade has been gaining plaudits with installers due to the numerous benefits it can deliver to businesses. Jason Grafton-Holt, Managing Director of B&P Windows...
Canopies

HIGH PRAISE FOR SWISSPACER'S INNOVATIVE CANOPY SYSTEM

SWISSPACER's La Pensilina glass canopy system has received a stamp of approval from Staffordshire-based customer, Montane Projects, thanks to its high-quality design and performance.

Montane Projects, which specialises in the design, fabrication and supply of aluminium windows, bi-folds, doors and curtain walling, recently supplied and installed six La Pensilina canopies across six blocks of apartments at Blythe...

Window Ware-Rapierstar partnership continues to give customers the edge

Rapierstar's 20-year partnership with leading distributor Window Ware has proved invaluable in ensuring fastener supplies to its fabricator customers have continued reliably, and consistently, throughout the exceptionally busy home improvement boom of the past 12 months.

Reflecting the value both companies place on long term supply partnerships, Window Ware and Rapierstar have worked together for over two decades to develop a deep understanding of each other's businesses for the ultimate benefit of fabricators and installers.

Thanks to Window Ware's extensive experience of supplying its loyal customer base and Rapierstar's ability to increase supply to accommodate peaks in demand, the partnership has been...

Software

GUARANTEED SAVINGS WITH ONSITE 7 MANAGEMENT SOFTWARE

Onsite 7, the new cloud-based job management software designed for the trade by the trade can deliver considerable savings for installers. In fact, the company is so confident in the software's ability to save installation businesses money, it is now offering six months free of charge, if savings haven't been made in the first year of use.

Rhys Hoddinott, CEO at Onsite 7, explains: "An installation company with 10-15 employees could make potential savings of approximately £45,000 per annum by investing in Onsite 7. Similarly, installation businesses with employees of 1-5 are likely to save approximately...
Windows

OPTIMA CASEMENT WINDOWS AND DOORS FROM PROFILE 22 SELECTED FOR HIGH QUALITY HOUSING DEVELOPMENT IN BATH

1,667 Optima casement windows and entrance doors from Profile 22 were installed in 170 high quality new build homes at Mulberry Park in Bath, Somerset. The new windows and doors completed the third phase of the development...

CRL UK is proud to be a dormakaba sales partner

Following the success of the CR Laurence and dormakaba partnership announced in Germany last year, both companies will now proceed with the same arrangement in the UK and Ireland.

As part of the partnership, CRL will hold stock of the most popular dormakaba glass product range and deliver the highest level of technical guidance and support to customers.

Simon Boocock, Managing Director of CR Laurence Europe, comments: "We are delighted to be able to form a close working partnership with dormakaba, one of the world's leading door hardware brands. CRL continues with its commitment to bring customers breadth of choice, high quality...

Windows

DEVON AND CORNWALL WINDOWS BRING FAST-FITTING STELLAR TO ITS PORTFOLIO

Devon and Cornwall Windows have recently begun manufacturing Stellar, the triple award-winning aluminium window and door system from Epwin Window Systems. Adam Page, Owner of Devon and Cornwall Windows, said: "Stellar's ease of fitting is a huge advantage to our customers. Just as importantly, its superior slimline flush...
Marketing

MUCH MORE THAN A MARKETING PLATFORM

Connect, the fully integrated digital resource centre from Epwin Window Systems, gives fabricators and installers what is believed to be the industry's largest and most valuable online portal which far outreaches comparative industry platforms. It provides a vast range of support tools, discounts, training and more to add value to both fabricators and installers' businesses.

Gerald Allen, Marketing Manager at Epwin Window Systems...

HAFFNER ANNOUNCES EXCLUSIVE PARTNERSHIP WITH GRAF SYNERGY

Leading machinery experts Haffner has announced an exclusive supply partnership with Italian-machine innovators, Graf Synergy. The new partnership will give Haffner the largest and most comprehensive machine portfolio in the industry and further consolidate Graf Synergy's presence in the UK fenestration market.

Speaking on the new exclusive partnership, Dave Thomas, Haffner's Managing Director, said: "Graf Synergy offers state-of-the-art automated machinery at every level. By working with Graf Synergy, we'll be able to offer even more choice to fabricators and further cement our position as the go-to machinery experts."

Graf Synergy has an outstanding product offering and delivers a range of machines for...

FIT Show

LEKA SYSTEMS SIGNS UP FOR FIT SHOW 2021

Conservatory roof innovators Leka Systems has announced its presence at FIT Show 2021. The Leka stand will showcase a range of their popular conservatory roof solutions including the Leka Warm Roof, Leka Orangery roof and the modular Leka Xi conservatory wall and base system which taps into the trend for thermally efficient home extensions or freestanding garden rooms. Rhys Hoddinott, Managing Director...

g
| | | |
| --- | --- | --- |
| | 0780 505 1322 | |
Fenestra Build Limited 19 Heather Close, Tickhill, Doncaster, Yorkshire DN11 9UU
To view our privacy policy click here. To Unsubscribe please click here.
© Copyright Fenestra Build 2020