18th March 2021
Insulbar RE-LI scores double climate points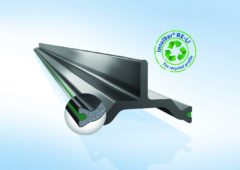 New insulating bar from foamed recycled polyamide: Ensinger combines superior insulating effect with an outstanding environmental footprint
Nufringen (Germany), 21 January 2021 - With insulbar RE-LI, Ensinger is presenting its greenest insulating bar for thermal breaks in aluminium systems for windows, doors and façades. Thanks to the use of unmixed, recycled polyamide...
Hardware

LINIAR INTRODUCES PAS24 SECURE MODLOK™ SLIDING PATIO DOORS

Innovation can take many forms. For Liniar, this means launching new, cutting-edge products and continually improving its existing product range to be more efficient in terms of security, safety or energy efficiency.

The latest new development has now been launched and relates to Liniar's ModLok™ Patio...

WIDGETS ACHIEVES ZERO LANDFILL MARK

After a two-and-a-half-year waste management programme, Window Widgets has now achieved a zero-landfill mark, as the company looks to build further upon its impressive green credentials.

Driven by Andrew Taylor, QHSE Manager, the waste management programme ensures that only compliant waste carriers with an up-to-date licence are used across the recycling and re-processing of nineteen different types of waste. Investment has been made in waste bailers and compactors at their site in Quedgeley, Gloucestershire and there are additional plans to help process further materials for recycling, that are currently designated as general waste.

The general waste that can't be recycled is transported...

Hardware

HERITAGE GETS SMARTER WITH KUBU

Shrewsbury-based Heritage Glass has become the latest high profile installation company to become a Kubu installer, adopting their pioneering smart-sensors on a range of doors in a newly refurbished showroom environment, that's also been supported by their manufacturing partner CWG Choices.

Over the last 18 months, Kubu has become increasingly adopted industry-wide as both installers and...
Windows

SPECTUS VERTICAL SLIDERS DELIVER HERITAGE AUTHENTICITY FOR GRADE II LISTED BUILDING

130 Spectus Vertical Sliding windows have been used in the sensitive refurbishment of a prestigious Grade II listed building in Harrogate, North Yorkshire. Sovereign Park House is set in a conservation area and had previously been converted into...

NEIL EVANS ON HIS FIRST 50 DAYS AS VEKA MD

Just 50 days into his new role as Managing Director of VEKA plc, Neil Evans explains how the company has started the year with record breaking results.

Was it difficult taking over in the middle of a pandemic?

Last autumn, when I was still Sales Director, we had a VEKA plc board meeting and started to set out a new five-year plan for the business. This helped the transition, because it meant I was able to lead on a vision that we had all collectively developed.

The last few months have been about building on this plan and starting to roll it out...

Windows

COMPETITIVE ADVANTAGE WITH FENTRADE'S ALUMINIUM FLUSH CASEMENT WINDOW

The Flush Casement window market's popularity continues to flourish for Fentrade Aluminium, with year-on-year sales growth for its aluminium Flush Casement windows. Chris Reeks, Director at Fentrade, said: "We know that high-end window products...
Windows

STELLAR FACILITIES FOR EPWIN WINDOW SYSTEMS

The manufacturing facilities for Stellar, the triple award-winning aluminium window and door system from Epwin Window Systems, offer state-of-the-art production at every level. Clare O'Hara, Managing Director at Epwin Window Systems, said: "Stellar sets a new standard for the aluminium industry and this starts from our in-house UK production facilities."

The new powder coating plant is the perfect example of the quality and forward-thinking set-up of the production...

HOME IMPROVEMENT BOOM DELIVERS RECORD-BREAKING £1.25M MONTH OF SALES FOR PENNINE

Picture above: (Left-right) Michael Kirkpatrick, Jonathan Young, Grace Matthews, Rebecca Mann and Lindsay Marshal

A massive surge in homeowner spending has helped a North East company record the best-ever sales month in its 43-year history.

Pennine Home Improvements, which is part of the London Stock Exchange 1000-recognised Conservatory Outlet Group, has achieved more than £1.25m of orders in just twenty-eight days.

The firm has passed this impressive milestone with its two showrooms in Durham and Newcastle closed due to the Covid-19 lockdown, switching from face-to-face meetings to an impressive new digital approach.

Clients have been using video calls, a 3D virtual reality package and...

Aluminium

A STELLAR SIX MONTHS FOR BDC ALUMINIUM

Experienced aluminium fabricator BDC Aluminium began fabricating Stellar, the multi-award-winning aluminium window and door system from Epwin Window Systems, in September 2020. The company has reported a sharp increase in demand as a result. David Green, Managing Director of BDC Aluminium, said: "From the start, we knew that Stellar offered the industry something ground-breaking due to the superb flush aesthetics and speed of installation. And it would seem our customers agree.
Solid Roofing

WE-FIT WINDOWS, DOORS AND CONSERVATORIES GOES FROM STRENGTH TO STRENGTH WITH LEKA SYSTEMS

Worksop-based We-Fit Windows, Doors and Conservatories is capitalising on the trend for solid roof conversions. Gareth Matusevics, We-Fit's Managing Director, says that Leka Systems is one of the reasons why.

UAP LTD UNLOCKS THE DOOR TO CELEBRATIONS FOR ITS SILVER ANNIVERSARY

The company maybe more familiar with plated steel, but it will be silver all the way for UAP Ltd in 2021 as the hardware specialist celebrates its silver anniversary after 25 years in business.

UAP first started trading as Universal Imports in July 1996 with a single product – a door knocker – and a makeshift bedroom office. By 2000, the company had moved to its HQ in North Manchester and changed its name to UAP. These days, it has grown to a £22 million business, selling more than 3,000 products across 25 countries with a portfolio of brands including Fullex,...

Charity News

GM FUNDRAISING MOVES PEAK, PADDLE, PEDAL TO 2022

GM Fundraising has announced its 2021 Peak, Paddle, Pedal charity event to raise money for Hope House Children's Hospices has been further postponed until 2022.

Gary Morton, the founder of GM Fundraising, said: "Having already postponed our scheduled 2020 event back to...
The Fit Show

PURPLEX MARKETING & INSIGHT DATA ANNOUNCE MAJOR PRESENCE AT FIT SHOW 21

Two of the fenestration industry's leading brands have announced that they will have a major presence at FIT Show 2021 (September 26 – 28, NEC Birmingham).

Purplex Marketing and Insight Data, part of the Ascot Group, will headline the 'Marketing Village' at FIT Show, as well as having a standalone presence with two exhibition stands.

VEKA CHOOSES TO CHALLENGE FOR INTERNATIONAL WOMEN'S DAY

Picture above: Anda Gregory

International Women's Day on the 8th March celebrates the achievements of women across the globe and champions inclusivity. This year the theme is 'Choose to Challenge' and that is something that the women who work at VEKA plc and the wider industry and beyond do every day. VEKA has spoken to several women leaders on their roles and the inspiration they have taken throughout their careers.

Anda Gregory, Managing Director of the Commercial Group, Glass and Glazing Federation (GGF), spoke of being a senior figure in the glass and glazing industry:

"I've never found it a problem to be...

The Fit Show

FIT SHOW STRENGTHENS TEAM WITH KEY APPOINTMENT

FIT Show organisers have announced a key appointment to its FIT Show marketing team with the appointment of Zoe Wooster as portfolio marketing manager.

Wooster joins FIT Show from Futurebuild where she spent three years as marketing manager and played an integral role in taking the sustainable built environment event independent.

The appointment comes at a pivotal time for FIT Show, hot on the...
Doors

GUARDSMAN FIRE DOOR FROM ODL EUROPE ATTRACTING ATTENTION

The Guardsman Fire Door slab from ODL Europe is billed as a gamechanger for the 30- minute composite fire door market. The strength of its credentials is being reflected in the strong interest ODL Europe is seeing since it introduced the product in late 2020. Nathan Barr, Managing Director of ODL Europe, said: "The commercial sector is very interested in the...

VELUX REWARDS SCHEME OFFERS UP TO £35 FOR PURCHASES THIS SPRING

Installers and builders can take advantage of extra rewards with top retail and high street brands when purchasing selected roof windows

Construction industry professionals and homeowners across the UK and Ireland can now benefit from an extra rewards boost this spring, thanks to roof window manufacturer VELUX®.

Introduced in 2015, VELUX Rewards is a scheme designed to provide installers, builders and homeowners an opportunity to further benefit from buying roof windows from the premium roof window brand by providing access to vouchers redeemable at top high street and online brands each time they make a purchase. Rewards can be claimed for all...

Doors

BIFOLD LOCAL SIGN UP TO FAST-FITTING STELLAR

Trade and domestic fabricator Bifold Local have begun manufacturing Stellar, the multi-award-winning aluminium window and door system from Epwin Window Systems. Liam Duffy, Director at Bifold Local, said: "We are delighted to be fabricating Stellar. Its superior flush aesthetics and ease of fitting are already proving popular with our trade and domestic customers. The Epwin Window...
Doors

UK DOORS ONLINE INVESTS IN FOM INDUSTRIE ADIR C CNC MACHINING CENTRE FROM HAFFNER MURAT

Specialist aluminium door manufacturer UK Doors Online has recently invested in a FOM Industrie Adir C CNC Machining Centre from Haffner Murat.

FROM DIRECTORS TO DOGS, THE UAP TEAM WERE ALL DRESSED UP FOR WORLD ENCEPHALITIS DAY

There was a rosy glow amongst the team at hardware specialist, UAP Ltd, on Monday, as the team dressed in red to support World Encephalitis Day on 22nd February for the Encephalitis Society.

Thanks to the pandemic, the UAP team has largely been working from home for the past year but social distancing couldn't stop the fun with many of the team getting their four-legged 'office assistants' involved!

Major donor and CEO of UAP Ltd, David Jennings, has recently been appointed as Vice President of the Encephalitis Society in the UK. The cause is close to his heart following the loss of his...

Integral Blinds

NEW FEATURES FOR INTEGRAL BLINDS FROM ODL EUROPE

The industry-leading Blink® Blinds + Glass from ODL Europe has recently added a new feature to further improve functionality to their popular integral blind range. The encapsulated blinds are now available with multi-positioning magnet choices, which is ideal for when blinds are situated in difficult to reach areas. Andy Meakin, Business Development Manager at ODL Europe, explains: "Our new multi...
Windows

OVER 200 SPECTUS WINDOWS FITTED IN NEW GOLD-STANDARD DEVELOPMENT

Over 200 Elite 70 casement windows and 32 French door sets were manufactured and installed in a new 32-home development in Scunthorpe, North Lincolnshire. The 32 new home development were designed and built to exacting high standards incorporating Secured by Design features throughout, including Police Preferred specification for the windows and doors.

The manufacture...

NEW PARTNERSHIP LETS BUILDING OUR SKILLS ATTRACT MULTI-DISCIPLINE NEWCOMERS TO FENESTRATION INDUSTRY

Building Our Skills has teamed up with the Learning Skills Partnership in an initiative that is intended to attract newcomers into roles in the fenestration industry that go beyond those of the well-known hands-on site-based variety.

Going forwards, Building Our Skills will offer a range of apprenticeships run by the Learning Skills Partnership in the business areas of trade supply, accountancy, customer service, administration and project management. Of particular interest is expected to be the Trade Supplier Apprenticeship, which is ideal for those operating a trade counter. John Ogilvie, Director Building Our Skills explains more:

"I think we would all agree that the...

Fit Show

HAFFNER MURAT FINALISES THE LARGEST EVER STAND AT FIT 2021

Picture above: Dave Thomas

Haffner Murat has announced its presence at FIT 2021 with the largest ever stand in the FIT Show's history, an eyewatering 405 sqm of exhibiting space. The Haffner stand will showcase a complete range of fabrication machinery including some new machine innovations and platforms. Dave Thomas, Managing Director of Haffner Murat, said: "Our stand is a statement of intent for Haffner...
Growth Plans

ADDITIONAL CAPACITY AT MODPLAN SUPPORTS LONG-TERM GROWTH

Leading trade fabricator Modplan has made several strategic investments across the business, which has opened up new opportunities and provided additional capacity to support their long-term growth efforts. Managing Director at Modplan, Heidi Sachs, said: "Our recent...

INDEPENDENT DECEUNINCK POLL FINDS COLOUR IS KEY

The findings of an independent survey of UK homeowners suggests that colour and finish are key factors in determining their purchasing decisions.

Revealed this month [March], the survey conducted by leading pollster, YouGov, and commissioned by Deceuninck, found that at a headline level 75% of homeowners surveyed think that choice of colour is important in shaping their purchasing decisions.

Security, energy efficiency and sustainability, were also cited by respondents as key influences on their purchasing decisions. Price point was also a significant factor for some groupings but less so for others.

Manufacturing

MODPLAN BECOMES A MEMBER OF MANUFACTURING WALES

Leading trade fabricator Modplan has become a member of Manufacturing Wales, a prestigious association representing the vision and ambitions of manufacturers across Wales.

Both David Burles and Heidi Sachs of Modplan are delighted to have become members.
| | | |
| --- | --- | --- |
| | 0780 505 1322 | |
Fenestra Build Limited 19 Heather Close, Tickhill, Doncaster, Yorkshire DN11 9UU
To view our privacy policy click here. To Unsubscribe please click here.
© Copyright Fenestra Build 2020