13th May 2021
TAKING CARE OF THE COMMERCIAL SECTOR WITH R7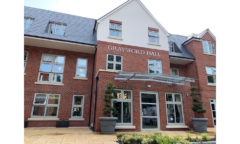 R7 windows and doors from The Residence Collection were recently supplied by their manufacturing partner, Frametrade and installed by The Nottingham Window Company at Graysford Hall, a new luxury care home in the suburbs of Leicester.
Canopies

HIGH PRAISE FOR SWISSPACER'S INNOVATIVE CANOPY SYSTEM

SWISSPACER's La Pensilina glass canopy system has received a stamp of approval from Staffordshire-based customer, Montane Projects, thanks to its high-quality design and performance.

Montane Projects, which specialises in the design, fabrication and supply of aluminium windows, bi-folds, doors and curtain walling, recently supplied and installed six La Pensilina canopies across six blocks of apartments at Blythe Valley Park, a Crest Nicholson housing development in Solihull.

The canopies were required to be large enough to shelter people coming in and out of the buildings, as well as providing cover...

Window Ware-Rapierstar partnership continues to give customers the edge

Rapierstar's 20-year partnership with leading distributor Window Ware has proved invaluable in ensuring fastener supplies to its fabricator customers have continued reliably, and consistently, throughout the exceptionally busy home improvement boom of the past 12 months.

Reflecting the value both companies place on long term supply partnerships, Window Ware and Rapierstar have worked together for over two decades to develop a deep understanding of each other's businesses for the ultimate benefit of fabricators and installers.

Thanks to Window Ware's extensive experience of supplying its loyal customer base and Rapierstar's ability to increase supply to accommodate peaks in demand, the partnership has been...

Software

GUARANTEED SAVINGS WITH ONSITE 7 MANAGEMENT SOFTWARE

Onsite 7, the new cloud-based job management software designed for the trade by the trade can deliver considerable savings for installers. In fact, the company is so confident in the software's ability to save installation businesses money, it is now offering six months free of charge, if savings haven't been made in the first year of use.

Rhys Hoddinott, CEO at Onsite 7, explains: "An installation company with 10-15 employees could make potential savings of approximately £45,000 per annum by investing in Onsite 7. Similarly, installation businesses with employees of 1-5 are likely to save approximately...
Windows

OPTIMA CASEMENT WINDOWS AND DOORS FROM PROFILE 22 SELECTED FOR HIGH QUALITY HOUSING DEVELOPMENT IN BATH

1,667 Optima casement windows and entrance doors from Profile 22 were installed in 170 high quality new build homes at Mulberry Park in Bath, Somerset. The new windows and doors completed the third phase of the development...

CRL UK is proud to be a dormakaba sales partner

Following the success of the CR Laurence and dormakaba partnership announced in Germany last year, both companies will now proceed with the same arrangement in the UK and Ireland.

As part of the partnership, CRL will hold stock of the most popular dormakaba glass product range and deliver the highest level of technical guidance and support to customers.

Simon Boocock, Managing Director of CR Laurence Europe, comments: "We are delighted to be able to form a close working partnership with dormakaba, one of the world's leading door hardware brands. CRL continues with its commitment to bring customers breadth of choice, high quality...

Windows

DEVON AND CORNWALL WINDOWS BRING FAST-FITTING STELLAR TO ITS PORTFOLIO

Devon and Cornwall Windows have recently begun manufacturing Stellar, the triple award-winning aluminium window and door system from Epwin Window Systems. Adam Page, Owner of Devon and Cornwall Windows, said: "Stellar's ease of fitting is a huge advantage to our customers. Just as importantly, its superior slimline flush...
Marketing

MUCH MORE THAN A MARKETING PLATFORM

Connect, the fully integrated digital resource centre from Epwin Window Systems, gives fabricators and installers what is believed to be the industry's largest and most valuable online portal which far outreaches comparative industry platforms. It provides a vast range of support tools, discounts, training and more to add value to both fabricators and installers' businesses.

Gerald Allen, Marketing Manager at Epwin Window Systems...

HAFFNER ANNOUNCES EXCLUSIVE PARTNERSHIP WITH GRAF SYNERGY

Leading machinery experts Haffner has announced an exclusive supply partnership with Italian-machine innovators, Graf Synergy. The new partnership will give Haffner the largest and most comprehensive machine portfolio in the industry and further consolidate Graf Synergy's presence in the UK fenestration market.

Speaking on the new exclusive partnership, Dave Thomas, Haffner's Managing Director, said: "Graf Synergy offers state-of-the-art automated machinery at every level. By working with Graf Synergy, we'll be able to offer even more choice to fabricators and further cement our position as the go-to machinery experts."

Graf Synergy has an outstanding product offering and delivers a range of machines for...

FIT Show

LEKA SYSTEMS SIGNS UP FOR FIT SHOW 2021

Conservatory roof innovators Leka Systems has announced its presence at FIT Show 2021. The Leka stand will showcase a range of their popular conservatory roof solutions including the Leka Warm Roof, Leka Orangery roof and the modular Leka Xi conservatory wall and base system which taps into the trend for thermally efficient home extensions or freestanding garden rooms. Rhys Hoddinott, Managing Director...
Windows

FENTRADE ANNOUNCES EXPANSION PLANS

Award-winning aluminium trade fabricator Fentrade has announced significant investment in its operations to meet growing demand. Chris Reeks, Director of Fentrade, said: "We're a young business but we're built on tried and tested foundations – offering the highest standards in every area of our business. I'm delighted to say it's an approach that's seeing us win...

WE CARE | WE ACT

Picture above: Dawn Stockell

VEKA plc's Marketing Director, Dawn Stockell explains how the company is repositioning the business and helping to create a new global message bringing together the whole VEKA Group family.

'We Care | We Act' is unveiled as the new company ethos for VEKA and as Dawn explains is a much stronger statement communicating the caring nature of the family-owned business as it takes action to build a stable, sustainable future.

Q. How did the new positioning come about?

A. No one could have planned for last year and Covid-19 has had a big part in the changes we're making. What...

Windows

300 OPTIMA CASEMENT WINDOWS USED IN REFURBISHMENT HOUSING PROJECT

Profile 22's Optima Fully Sculptured windows were chosen for the refurbishment of 38 properties, consisting of a mixture of houses and flats, in Wolverhampton, West Midlands.

The manufacture and installation of the 300 white Optima casement windows was awarded to longstanding Profile 22 Approved...
Technical Support

NEW TECHNICAL SUPPORT MANAGER AT KENRICK

Leading hardware supplier Kenrick has appointed Daran Woodcock as technical support manager.

Daran has joined Kenrick from The Residence Collection, where he was technical support engineer. Daran, who is celebrating 21 years in the industry this year, has also worked in engineering and technical roles for a number of well-known names in the industry, including Epwin, Wintech and Emplas.

Based at Kenrick's headquarters in West Bromwich, Daran will provide technical support to Kenrick's nationwide customer base. He will help customers with...

COMPETITIVE PRICING AND PANDEMIC-PROOF PRODUCTION SECURE SALES FOR TUFFX

TuffX's All Glass Infinity rooflight continues to prove a roaring success with customers – as week-on-week sales of the popular product range go from strength to strength.

Along with steady and consistently increasing order numbers each week, TuffX has also seen a rise in the amount of enquiries about its all-glass 'frameless' rooflights, from both new and existing customers.

TuffX's Managing Director Graham Price believes the strong demand is in part due to the product's competitive pricing, along with the company's pandemic-proof in-house manufacturing process.

"Due to its lightweight, slim-line design constructed completely from glass and without any aluminium frame, our All Glass...

Careers

MAKE A DIFFERENCE, MAKE A PLEDGE AND COMMIT TO INSPIRING THE FUTURE

Picture above: Stephanie Tague

Building Our Skills – Making Fenestration A Career of Choice (BOS) has embarked on a recruitment drive with a difference – 'highlighting the need for the industry to come together and eliminate its ever-growing skills gap'.

Continuing to build on its key objective, heighten awareness of the Fenestration industry to new and young people, the organisation is encouraging individuals from the industry's community to make a pledge by signing up and committing to its 'Inspiring The Future' campaign.
Charity Event

GM FUNDRAISING LAUNCHES THE 'GMF 100' CYCLING CHALLENGE

Industry charity fundraiser GM Fundraising has just launched a new team cycling challenge, which will be held on Sunday 8th August 2021. The event, called the 'GMF 100' is a cycling challenge and is being sponsored by Epwin Window Systems. All funds raised will go directly to Hope House Children's Hospices, which provides...

KOLORSEAL ENHANCES BUSINESS POTENTIAL FOR CUSTOMERS

For Kolorseal, one of the UK's leading colour coating companies, there has been a recent surge in orders for striking new colours in the range.

Despite tough market conditions over the last 12 months, homeowners have continued to invest in their houses and drive the market forward. For Deborah Hendry, Managing Director at Kolorseal, it has been noticeable that there is a growing trend to personalise property with colour.

With the ability to paint pvc-u, aluminium and composite materials using premium spray finishes, the range is proving attractive to end users who want to make a statement that will enhance their homes.

Machinery

FURTHER EXPANSION AT HAFFNER MURAT

Award-winning machinery experts Haffner Murat Ltd have just commissioned a further expansion at their impressive Staffordshire headquarters. The new 1,990 sqm extension will house a new striking showroom to showcase its expanding machinery offer.

Dave Thomas, Managing Director of Haffner Murat said: "The new purpose-built showroom will offer an ideal platform...
Installer News

INDEPENDENT NETWORK UNVEILS WEBSITE SOLUTION FOR ITS MEMBERS

Independent Network powered by VEKA, has unveiled an online tool that allows members to create their own websites free of charge.

The new websites are set to make an impact...

FROM INFINITY TO BEYOND VEKA IS LEADING THE WAY IN THE FUTURE OF RECYCLED PVCU

This month, VEKA plc has unveiled plans to grow usage of recycled material beyond its existing Infinity system.

VEKA has been the industry leader in recycling and sustainability throughout its history with the first VEKA recycling plant opening in Germany in 1993. In 2007, VEKA Recycling opened its doors, the UK's first windows recycling plant. Last year, the company's ongoing commitment to sustainability has seen VEKA Recycling invest £150k in six new silos to increase the storage capacity at its state-of-the-art Wellingborough recycling plant, the most advanced of its kind in Europe.

VEKA plc led the way in recycling PVCu launching its...

Installer News

DOUBLE AWARD WIN FOR ELMHURST WINDOWS

For Leeds-based installer Elmhurst Windows, 2021 started with a bang! The Liniar installer won a Business Achievement Award in the Yorkshire Post's Business Excellence Awards then followed that with an Outstanding Achievement Award at the GGP Installer Awards! We sit down with Managing Director Richard Abrahams to discuss why 2020 was a turning point for the company – and what led to the recent awards.
Doors

PATIOMASTER SOUTH EAST REPORTS ON LATEST TRENDS IN SLIDING PATIO DOORS

With the rise in popularity for sliding patio doors, Simon Spiers, Director of PatioMaster South East, says his company's sales patterns clearly reflect two of today's most popular design trends.

He says: "We know that today's homeowners focus on design-led aesthetics without wanting to compromise on practicality. It's why the PatioMaster sliding patio door in...

EPWIN WINDOW SYSTEMS' CONNECT BRINGS A WEALTH OF BENEFITS TO INSTALLERS

Connect, the new digital resource centre for Epwin Window Systems' customers, has already attracted much attention from installers looking to capitalise on the many benefits the digital platform has to offer. Gerald Allen, Marketing Manager at Epwin Window Systems, says: "Connect brings a wealth of benefits to our installing customers, not to mention exclusive discounts and unique offers."

Through Connect, installers can get access to a range of exclusive benefits, including a discount fuel card in partnership with Discount Fuel Services as well as a 10% discount in partnership with TradePoint.

But that's just the start. There are homeowner finance options, insurance-backed...

Doors

NEW HIGH PERFORMANCE FIRE DOOR FROM ENDURANCE

Endurance Doors have just launched a new high performance FD30 fire door, after a two-year research and development programme which has realised a product solution that exceeds the latest standards.

The physical testing of the doors was carried out by Efectis, who are a global player in fire science, covering all aspects of fire safety through testing and modelling...
Doors

ENDURANCE REAFFIRMS ITS 3MM BOWING GUARANTEE

Following on from the announcement in September 2020, Endurance Doors have reaffirmed their 3mm bowing guarantee for their range of solid core composite doors, despite recent weather.

This move was widely welcomed by Installer Partners at the time, as it represented complete confidence in the Endurance Doors product proposition, and it was also a pledge...

dormakaba LAUNCHES NEW FEATURES FOR POPULAR KTV REVOLVING DOOR

Leading supplier of security and entrance systems solutions, dormakaba, has upgraded its KTV Revolving Door system, which now offers improved installation times and a new automatic Night Shield.

With the dormakaba Direct Drive, the KTV Revolving Doors now feature an impressive shallow ceiling assembly of just 100mm, with an integrated LED light ring, allowing for the seamless integration with existing architecture. Thanks to the brushless motor, the doors benefit from enhanced life cycles – tested to 2 million cycles. Plus, the new Weldless floor ring uses threaded rods instead of welded brackets, meaning the floor ring can be more easily...

Doors

APEER OFFERS HIGH QUALITY COMPOSITE STANDARD DOORSETS IN 12-15 DAYS

As many UK doormakers quote lead times of 12 weeks and more due to delays in the supply of door slabs from Far Eastern factories, Apeer is quoting delivery from order in just 12 to 15 days, to anywhere in the UK and Ireland, including in-demand 44mm flush fit and double rebate styles.

With the delays caused by a number of...
| | | |
| --- | --- | --- |
| | 0780 505 1322 | |
Fenestra Build Limited 19 Heather Close, Tickhill, Doncaster, Yorkshire DN11 9UU
To view our privacy policy click here. To Unsubscribe please click here.
© Copyright Fenestra Build 2020