25th November 2021
STYLISH IN SUBURBIA WITH THE RESIDENCE COLLECTION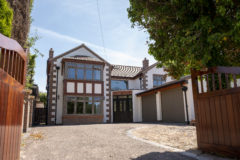 In a new case study from The Residence Collection, R9 windows in Silvered Oak featured on a large home renovation project in Essex, which involved two-storey building works to the front and rear elevation of property.
Installed by Belgrave Windows & Doors, the windows featured both top and side openers...
Skills Boost

EPWIN WINDOW SYSTEMS SUPPORTING SKILLS BOOST ACROSS THE INDUSTRY

The shortage of skilled staff coming up through the ranks is widely recognised in the industry. It's something that Epwin Window Systems is keen to tackle via its Connect digital platform. Gerald Allen, Marketing Manager at Epwin Window Systems, commented: "We have partnered with specialist industry training provider T3 Training...

PUT YOUR BUSINESS IN CONTROL WITH ONSITE 7 JOB MANAGEMENT SOFTWARE

As the industry boom continues, it's never been more important for installers to operate as efficiently as possible. Rhys Hoddinott, CEO at Onsite 7, says: "Job management software is an effective tool in helping installers stay in control of their businesses. We know from customer feedback that Onsite 7 is smart working for busy companies managing multiple jobs with multiple teams and back-end processes."

The Onsite 7 system includes a team calendar where installers can schedule their jobs. It helps ensure a smooth-running schedule and helps them manage their teams' time efficiently, preventing clashes and gaps in workflows. Installers can allocate...

Awards

MODPLAN REPORTS SIGNIFICANT GROWTH IN PATIO DOOR SALES

Trade fabricator Modplan has reported considerable growth in its patio door sales. Heidi Sachs, Managing Director of Modplan, commented: "Our customers tell us that retail sales of patio doors remain very strong at the moment as homeowners look to upgrade and improve their spaces. The quality, turnaround and versatility of our sliding door offer...
Awards

KOLORSEAL WINS NFA FOR THIRD YEAR RUNNING

Kolorseal Ltd is celebrating another victory as NFA Colour Specialist 2021. The company was awarded the accolade in recognition of its colour coating services to the fenestration sector in the #NFA20 and #NFA21 Independent Industry Awards.

The gala event held at Doncaster races on Saturday 6th December, was the first of its kind this year with trophy presentations for last year's winners...

Roseview Windows invests in second SBA-4 VS PVC-U Profile Machining Centre from Haffner

Roseview Windows, the UK's leading vertical slider manufacturer, has just invested in a second SBA-4 VS PVC-U Profile Machining Centre from Haffner to support continued growth in its manufacturing.

Roseview has grown year-on-year since it was established over 40 years ago and has witnessed a sharp upturn in demand in the past 18 months as a result of the continued popularity of feature-rich sash windows.

To help meet the growth in demand, Roseview ordered their first SBA-4 VS PVC-U Profile Machining Centre earlier this year to replace an ageing machine and drive greater efficiencies across the shop floor. Having been impressed with...

Awards

VICTORIAN SLIDERS CELEBRATES THIRD NFA WIN

Sash window specialists Victorian Sliders are celebrating after winning a much sought-after National Fenestration Award for the third year running.

Companies from across the industry attended the presentation event held at Doncaster Racecourse, where the Welsh company was announced as the winner of the Fabricator/Manufacturer award, one of the NFA's most competitive...
| | | |
| --- | --- | --- |
| | 0780 505 1322 | |
Fenestra Build Limited 19 Heather Close, Tickhill, Doncaster, Yorkshire DN11 9UU
To view our privacy policy click here. To Unsubscribe please click here.
© Copyright Fenestra Build 2020