13th October 2021
Latest News from Conservatory Outlet Conservatory Outlet recognises the importance of collaboration with special Gala Weekend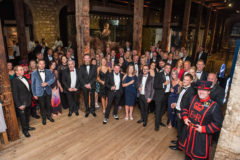 Wakefield-based fabricator Conservatory Outlet marked the power of collaboration last weekend by saying 'thank you' to its 27-strong network of retailers.
The multi-day event, which culminated with a Gala Dinner at the historic Tower of London, recognised the achievements of companies that have...
Doors

ODL EUROPE LAUNCHES NEW COMPOSITE DOOR BROCHURE

ODL Europe has just published a new composite door brochure to support their growing customer base. Ian Glenister, ODL Europe's Technical Sales Manager, said: "Our new brochure showcases our complete composite door collection, including our newly-launched Deco and Moderne door ranges. The brochure will continue to support our customers while appealing to...

VEKA ANNOUNCED AS FINALIST FOR TWO G AWARDS!

VEKA Plc is proud to have been shortlisted for not one, but two categories at this year's G21 Awards.

The winners will be announced at the famous G Awards dinner which will take place at Park Lane's London Hilton in November and will see VEKA among those named as a finalist in the 'Best Sustainability Initiative' and 'COVID 19 Business Hero' Award categories.

The Best Sustainability Initiative looks to honour companies who have adopted measures to minimise, reuse and recycle waste, protect the environment, and minimise energy use. They are also interested in measures that have demonstrated the mitigation of climate change.

Doors

MORE COMPOSITE COLOURS FROM ENDURANCE

Endurance Doors have extended their range of colours and finishes for their solid timber core composite doors to 19, with the introduction of Brilliant Blue and Sage.

The introduction of Brilliant Blue reflects the anticipated trend towards blue as the next 'in vogue' colour, which has been identified by many influential interior design and paint specialists over the last 12 months, including Dulux and Pantone.
G21 Awards

ODL EUROPE CONFIRMED AS A FINALIST AT INDUSTRY'S G21 AWARDS

ODL Europe has been confirmed as a finalist at the prestigious G21 Awards. Following the announcement, Nathan Barr, Managing Director at ODL Europe, said: "The G21 Awards celebrates excellence in the industry so we are delighted to have been named finalists. This nomination reflects the considerable investment, strategic planning...

THOSE IN THE KNOW CHOOSE TUFFX

Aluminium and uPVC specialists Framex prides itself on offering customers the highest quality products in the market. So when a homeowner came to them asking for three bespoke rooflights, Framex chose leading safety glass specialists TuffX to fulfil the brief.

The rooflights were required for a ground-floor residential extension in Rossendale, with the customer requesting blue-tinted solar glass to maximise the light, comfort and ambient feel of the space by reducing both glare and heat from the sun.

"We are seeing more and more customers requesting these flat rooflights to zone up the open plan living spaces within their properties, by introducing...

G21 Awards

LINIAR FEELING DOUBLE THE LOVE WITH G21 AWARD NOMINATIONS

Industry-leading systems company Liniar was recently announced as a finalist in the prestigious annual G Awards in two categories: COVID-19 Business Hero Award and Best Component Supplier. After more than a year during which the whole industry has seen disruption, the nominations come as a welcome highlight for the team at Liniar's Derbyshire HQ.
Windows

PROFILE 22'S OPTIMA WINDOWS USED IN A SYMPATHETIC COUNTRY HOTEL AND SPA RESTORATION

Profile 22's Optima Flush Casement Windows have been fitted as part of a sympathetic restoration at The Hand at Llanarmon Country House and Spa. The Hand at Llanarmon is an ancient hostelry tucked away in the Berwyn Mountains close to Llangollen in Wales. The building underwent a sympathetic restoration to preserve its character and sense of history while upgrading its fabric.

Ensinger presents climate strategy / Plastics processor to focus on renewable energy and material cycles

The manufacturing sector – particularly the plastics industry – has a key part to play in curbing climate change. With this in mind, the Ensinger Group's owners and management team are acknowledging their responsibility when it comes to limiting and gradually reducing the company's greenhouse gas emissions – in line with the requirements of the Paris Agreement on climate change.

As its first step, the climate strategy now adopted by the plastics processor envisages gaining a comprehensive overall picture of the company's worldwide greenhouse gas (GHG) emissions. On the basis of this, Ensinger will – during the course of the current...

Windows

250 SPECTUS ELITE 70 WINDOWS INSTALLED IN A NEW GREATER MANCHESTER NEW BUILD DEVELOPMENT

Longstanding Spectus fabricator Jade Windows has just completed the manufacture and installation of 250 Spectus Elite 70 casement windows and 12 sets of French doors in an exclusive development of 19 two, four and five-bedroom cottage-style apartments and townhouses in Monton, Greater Manchester.

The project was a Homes England-funded new build...
Installer Support

SUCCESSFUL SUPPORT FROM EPWIN WINDOW SYSTEMS

Leading trade fabricator Heritage Trade Frames has expanded its consumer facing marketing support materials with a suite of high-end consumer leaflets. Produced by the award-winning Epwin Window Systems marketing team, the range of professionally designed literature promotes Stellar and Optima products...

KUBU'S SMART INSURANCE SUPER-HIRO

Window and door smart-sensor pioneer, Kubu, has partnered with revolutionary online smart home insurance provider Hiro, to bring prevention-first insurance to the glazing and fenestration industries.

Kubu needs no introduction as the industry's preferred smart-sensor platform and the partnership with Hiro also marks a shift in positioning for the Kubu brand, as it will sit alongside other smart tech products. Kubu over the last 2 years has hit the market with a number of industry firsts, the first hardware range that can be updated with smart technology, the first sensor that can detect if the door is locked or unlocked. Now...

Installer Support

BUILDING CUSTOMER TRUST WITH ONSITE 7

Onsite 7 has rapidly developed a reputation for being the most user-friendly and comprehensive job management system on the market today. But many installers are also reporting other benefits beyond the job management system. One of these is the professional polish it gives a business and how it helps to build consumer trust.
Aluminium

MERCURY INTRODUCES THEIR NEW ALUMINIUM RETAIL BROCHURE

Mercury Specialist Frames Ltd has just published a new retail brochure to help promote its aluminium window and door products into the consumer. Steve Cross, Director at Mercury, said "Our latest high-end consumer brochure showcases our range of quality aluminium windows and doors to help inspire homeowners. It helps our customers sell to end users and close the sale by providing all the information they...

GM FUNDRAISING'S GMF CUP 2021 GOLFING COMPETITION TEES UP OVER £40,000 FOR HOPE HOUSE CHILDREN'S HOSPICES

GMF Fundraising has confirmed that its GMF Cup 2021 golfing competition has raised £41,033.74 for Hope House Children's Hospices. The Ryder-Cup style event took place 14-16 September in Quinta do Lago, Portugal and saw two teams made up of representatives from the industry go head-to-head.

Gary Morton, founder of GM Fundraising, said: "It was great to return to Quinta do Lago for our fundraising event. Having had to postpone it twice, it was incredibly rewarding to finally be able to get it over the line and raise some much-needed funds for the families and kids at Hope House Children's Hospices."

He continued:...

NFA Awards

MERCURY MAKES THE SHORTLIST IN THREE NFA 2021 CATEGORIES

Specialist aluminium and PVC-U trade fabricator Mercury have been named as finalists in three categories at the 2021 National Fenestration Awards. The categories include Bifold Door Manufacturer, Fabricator/Manufacturer and Vertical Sliding Window Company. Steve Cross, Director of Mercury, said: "Everyone at Mercury is delighted to have been shortlisted in three categories. These nominations celebrate the hard work and...
Fabricator News

SWAINSTONS AGREE THREE-YEAR PARTNERSHIP AGREEMENT WITH PROFILE 22

Picture above: L – R Karl Swainston, MD at Swainstons. Matt Scott – BDM, Epwin Window Systems

Domestic, trade and commercial fabricator Swainstons has agreed a new three-year partnership extension with popular Epwin Window Systems' brand Profile 22.

DELIVERING CERTAINTY FOR INSTALLERS

By Russell Yates, Managing Director, AluFold Direct

What installers want most at the moment is certainty. After so much disruption in the supply chain, they're quite rightly looking for fabricators who won't let them down.

There can't be a single fabricator in the UK that hasn't had to apologise to customers at some point over the past year because of extended lead times or dips in service levels. Certainly, at AluFold Direct, we faced sudden shortages in the summer of both aluminium and polyamide and we were acutely conscious of the impact that had on our customers. It was a humbling experience...

Machinery

FENTRADE MAKES NEW MACHINE INVESTMENT TO SUPPORT CONTINUED GROWTH

Aluminium trade manufacturer Fentrade has just purchased a new machine from Elumatec as part of its continued business expansion. Chris Reeks, Director of Fentrade, said: "The machine represents part of a significant investment programme linked to our overall growth...
Machinery

ABCELL CHOOSES HAFFNER TO SUPPORT ITS GROWTH STRATEGY

Trade fabricator Abcell recently expanded into PVC-U fabrication as part of an ambitious growth strategy. It chose Haffner for the machinery it needed to support its plans and secure success.

Neville Gleed, Director of Abcell, said: "We...

KÖMMERLING'S GETTING FLUSHED FOR THE FUTURE

KÖMMERLING has just launched a new 6-chambered flush sash profile for its 70mm platform that will achieve a U-value of 1.2 (W/m2K) as standard and in line with the eagerly anticipated new building regulations for the new housing and replacements sectors.

Available in 21 different colour combinations from stock, along with a fast-track service for other finishes, this new next generation flush sash has been designed with the future regulations in mind. It's also a product development that has been specifically engineered for the latest TimberWeld, MechWeld and seamless welding technologies.

Glazing options are from 28 to 40mm and the cleverly designed...

Garden Rooms

GREEN ROOM FABRICATION SEES CONTINUED GROWTH WITH LEKA SYSTEMS

Trade fabricator Green Room Fabrication has reported strong business growth since manufacturing the Leka Systems range. Having previously bought-in Leka products, the shrewd Berkshire-based business decided to go into fabrication to manufacture the complete product range in 2020, and it hasn't looked back. Ryan Harrison, Sales Account Manager at Green Room Fabrication, comments: "Having previously fitted the Leka product...
| | | |
| --- | --- | --- |
| | 0780 505 1322 | |
Fenestra Build Limited 19 Heather Close, Tickhill, Doncaster, Yorkshire DN11 9UU
To view our privacy policy click here. To Unsubscribe please click here.
© Copyright Fenestra Build 2020