2nd September 2021
CONSERVATION LIVING IN LYME PARK WITH R9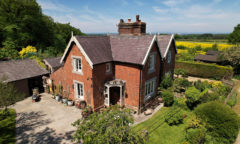 Nestled away in the Peak District, adjacent to Lyme Park National Trust, sits the latest installation from The Residence Collection. This perfectly showcases the outstanding heritage credentials of R9, which is unequivocally the ultimate true timber alternative window and door system.
UKCA Marketing

UKCA MARKING – ARE YOU READY?

With the departure of the UK from the EU the rules around CE marking are changing. On the 1st January 2022 all construction products must carry UKCA marking. Over the past 10 years manufacturers have become familiar with CE marking but it will soon become redundant in Great Britain and replaced by the UKCA mark. Whilst this date is still the matter of some continued debate, the move to UKCA is now inevitable and the construction product...

GEORGE BARNSDALE WELCOMES NEW APPROVED PARTNER MANAGER

As part of its commitment to growing its approved partner network, George Barnsdale has appointed Charlotte Deykin as its new Approved Partner Manager.

Based at the company's Lincolnshire factory, Charlotte brings a wealth of experience working with premium companies looking to expand into the UK market. Her account management skills coupled with her excellent business acumen mean she is well placed to work with new approved partners to help them maximise the opportunities presented by being part of the George Barnsdale Approved Partner scheme.

Set up to provide a supply and installation service to homeowners, the company is looking to expand its...

New Appointment

New Group Head of IT appointed to drive Conservatory Outlet's Digital Transformation

The UK's leading manufacturer of high-quality windows, doors, home extensions and conservatory products has kick-started a major digital transformation project with the appointment of a new Group Head of IT.

Conservatory Outlet Group, which employs over 400 people across it 60,000 sq ft...
Charity News

HAFFNER SUPPORTING LOCAL COMMUNITY SPORT

Award-winning machinery supplier Haffner has been the club sponsor for its local football team, Stone Old Alleynians, for a number of years. In addition to the sponsorship, the company has recently funded two significant initiatives. Dave Thomas, Managing Director at Haffner, said: "We're proud to be based in Stone and to be...

THE BUILDING INDUSTRY AND CLIMATE CHANGE – CAN WE HAVE AN IMPACT?

With the latest update from the Intergovernmental Panel on Climate Change (IPCC) and the United Nations, it's clear that the future of our planet needs more focus than ever. While we can't affect change in all parts of society, we can ask ourselves what impact the building industry could have on climate change and what we can do to help.

What does the IPCC Sixth Assessment say?

The Assessment is full of scientific jargon, but in brief it states that the impact of human influence on the climate has already raised the Earth's global surface temperature – the effects of this can...

Software

ONE STEP AHEAD WITH ONSITE 7 MANAGEMENT SOFTWARE

Onsite 7, the installer-friendly cloud-based job management software delivers end to end information that puts businesses in control of every installation. Rhys Hoddinott, CEO at Onsite 7, explains: "There are several pieces of information that the software delivers that are critically important for installation companies, but the job review section is particularly effective.
Aluminium

STELLAR WINDOWS AND DOORS TRANSFORM A GRADE II LISTED POOL HOUSE

The sleek slimline aesthetics of Stellar aluminium windows and doors from Epwin Window Systems were selected for a complex refurbishment of a Grade II listed high-end pool house for a home near Crediton in Devon. The Stellar windows and doors were manufactured...

FENTRADE ALUMINIUM SIGNS UP TO FIT 2022

Aluminium trade fabricator Fentrade has signed up to the FIT Show, which runs from 10th – 12th May, 2022. Chris Reeks, Director of Fentrade, said: "We recognise the FIT Show as the highlight of the exhibition calendar for the UK fenestration industry and the first opportunity for important face-to-face exhibiting, which is why we chose to sign up to the show."

Chris continued: "After the exceptional circumstances of the past 18 months and the copious amount of time spent on various video conferencing platforms, we are looking forward to attending our first event as an exhibitor and more importantly networking face-to-face with the industry...

Aluminium

EPWIN WINDOW SYSTEMS LAUNCHES LITERATURE FOR THE STELLAR LIFT & SLIDE DOOR

Epwin Window Systems has just released a suite of literature for the Stellar Lift & Slide Door. Gerald Allen, Marketing Manager at Epwin Window Systems, said: "The Lift & Slide Door is fast becoming the aluminium sliding door of choice for fabricators and installers and this...
Aluminium

WILL THE INDUSTRY FIND A WAY?

Responding to the Future Homes Standard

By Sioned Roberts, Marketing Director, AluK

Within a year, we'll see the first changes to Part L of the Building Regs, in line with the requirements of the Future Homes Standard. In June 2022, U-Values for windows and glazed doors in new build will reduce from 1.4 to 1.2 and for opaque and semi glazed doors they...

LEKA SYSTEMS PARTNERS WITH CHECKATRADE

Leka Systems has just announced a partnership with Checktrade giving Leka installers access to an exclusive Checkatrade membership discount. Leka Systems' Managing Director, Rhys Hoddinott, said: "We're delighted to be announcing this partnership because it will enable our installers to secure even more jobs with the UK's number one trade directory. As a Leka installer and a Checkatrade member you're really setting your business up for success."

13 million homeowners used Checkatrade trades last year and homeowners are 3 times more likely to search with Checkatrade than a similar provider. It means Checkatrade helps its members get a steady stream of...

Aluminium

PERLA WINDOWS JOINS STEEL WINDOW ASSOCIATION

London-based Perla Windows has joined the Steel Window Association (SWA).

Perla Windows is one of the UK's most prestigious suppliers and installers of steel and aluminium fenestration systems for interior and exterior windows, doors and façades. The company operates in the UK and Europe and deals directly with architects...
| | | |
| --- | --- | --- |
| | 0780 505 1322 | |
Fenestra Build Limited 19 Heather Close, Tickhill, Doncaster, Yorkshire DN11 9UU
To view our privacy policy click here. To Unsubscribe please click here.
© Copyright Fenestra Build 2020