30th September 2021
SCHÜCO ANNOUNCES WINNERS OF EXCELLENCE AWARDS 2021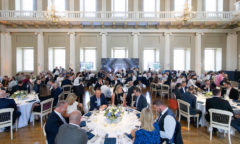 Schüco is delighted to announce the winners of its prestigious Excellence Awards following a celebratory lunch hosted by architectural designer and television presenter, Charlie Luxton, in the grand setting of Whitehall's Banqueting House.
Now in their eighth year, the awards, run in association with Architecture Today, are...
Machinery

ABCELL CHOOSES HAFFNER TO SUPPORT ITS GROWTH STRATEGY

Trade fabricator Abcell recently expanded into PVC-U fabrication as part of an ambitious growth strategy. It chose Haffner for the machinery it needed to support its plans and secure success.

Neville Gleed, Director of Abcell, said: "We decided to move into PVC-U fabrication as it made good business sense. We needed the best in PVC-U automation...

NEW BRANDING REFLECTS ON NEW CHAPTER FOR KORNICHE

The multi-award winning Korniche product line from Made for Trade has undergone a branding transformation, as the company builds on the name's ongoing success ahead of the next product launch under the celebrated title.

Since 2016, the name 'Korniche' has gone hand in hand with the brand's success in the industry, defining a new term where revolutionary engineering-led design and development meets quality and value – allowing Made for Trade to deliver the best products, with the best service at the best prices. The name initially became synonymous with the inaugural launch under the new brand – the Korniche Roof Lantern....

Garden Rooms

GREEN ROOM FABRICATION SEES CONTINUED GROWTH WITH LEKA SYSTEMS

Trade fabricator Green Room Fabrication has reported strong business growth since manufacturing the Leka Systems range. Having previously bought-in Leka products, the shrewd Berkshire-based business decided to go into fabrication to manufacture the complete product range in 2020, and it hasn't looked back.
Windwos

PROFILE 22'S OPTIMA WINDOWS HELP IMPROVE COVID-19 MEASURES FOR TILSTOCK C OF E PRIMARY SCHOOL

Oswestry Windows and Doors has recently transformed Tilstock C of E Primary School in Whitchurch, Shropshire and also improved its Covid-19 ventilation requirements thanks to replacement Optima windows from Profile 22.

The school recently underwent an extensive renovation programme to replace its ageing timber sash windows that were no longer...

SOUTH CHESHIRE GLASS USES SPECTUS FLUSH CASEMENT WINDOWS FOR COTTAGE RENOVATION

Spectus windows and doors have been manufactured and installed at a detached cottage in Shavington, Cheshire. The property was fitted with sixteen Spectus flush casement windows, two circular casement windows and two sets of Elite 70 French doors, all manufactured in Chartwell Green with astragal bar detailing. The products were manufactured by longstanding Spectus fabricator Universal Trade Frames and fitted by experienced domestic installer South Cheshire Glass.

The property is situated in a desirable location and the flush casement windows were chosen to replacing the property's ageing timber frames. The choice of windows needed to sympathetically reflect the style and character...

Windows

OPTIMA BY EPWIN WINDOW SYSTEMS CONTINUES TO BRING MODERN STYLING TO TINGDENE HOMES

Longstanding Optima fabricator, Tingdene Homes has confirmed a strong upturn in demand for its high-quality residential park homes and luxury holiday lodges. As one of the UK's leading specialist park home manufacturers the attention to detail in every property is crucial and Optima from Epwin Window Systems helps the business fulfil its strong commitment to quality and innovation.
Aluminium

HOW INCREASED DEMAND FOR HOME IMPROVEMENTS IS IMPACTING THE FENESTRATION INDUSTRY

Victoria Brocklesby, COO at Origin, the UK's leading manufacturer of aluminium doors and windows, talks to us about how the rising trend for home improvements brought on by the pandemic is generating an increase in demand within the fenestration industry, and discusses what Origin...

MODPLAN CELEBRATES 25 YEARS WITH VEKA

Leading trade fabricator Modplan is celebrating 25 years as a VEKA UK fabricator. To mark the anniversary, Neil Evans, VEKA UK's Managing Director presented both Heidi Sachs and David Burles, founder and Co-Directors of Modplan, with a commemorative plaque and an engraved bottle of 25-year-old Single Malt Scotch Whisky.

Heidi Sachs, Modplan's Managing Director, commented: "As a business we're committed to keeping our finger on the pulse and delivering the value-added products our customers need to grow their businesses. VEKA UK's products have consistently been at the forefront of window and door system design and we're delighted to be celebrating 25...

Aluminium

A KEY ELEMENT IN BUSINESS SUCCESS

When Mark Creaby started a high-end glazing business in the Home Counties at the start of the first lockdown in 2020, his priority was to find a supplier that could match the ambition and the exceptionally demanding standards of him and his team.

He found that in Blackburn-based AluFold Direct, which has been supplying Mark's fast growing Open Square Glazing business...
Windows

MOORVIEW WINDOWS SIGNS NEW THREE-YEAR SUPPLY AGREEMENT WITH PROFILE 22

Trade and retail fabricator Moorview Windows have announced it has signed a new three-year supply agreement with Profile 22, an Epwin Window Systems' brand. Jason Bowman, Director of Moorview Windows...

'100% RECYCLABLE ALUMINIUM?'

By Phil Slinger – CAB Chief Executive

A lot has been claimed about the benefits of aluminium by CAB and many other associations, but we should also ask: "Where would we be today without this material?" With a high strength to weight ratio, aluminium is a structural engineering material, without it we would not have the modern airliners of today, or indeed much in the way of space flight. On the ground, more of our vehicles are now being made from aluminium, as less weight means less energy used in propulsion and potentially longer lasting vehicles. In fact, there are so...

Software

THE LATEST ADDITION TO EPWIN WINDOW SYSTEMS' CONNECT HUB HELPS USERS ACHIEVE A FLEXIBLE TELECOMS SOLUTION

Epwin Window Systems has just launched an exclusive partnership with innovative telecoms provider ConXhub for users of its...
| | | |
| --- | --- | --- |
| | 0780 505 1322 | |
Fenestra Build Limited 19 Heather Close, Tickhill, Doncaster, Yorkshire DN11 9UU
To view our privacy policy click here. To Unsubscribe please click here.
© Copyright Fenestra Build 2020