20th January 2022
£100,000 DIGITAL MARKETING INVESTMENT BUILDS ON SALES BOOM FOR CONSERVATORY OUTLET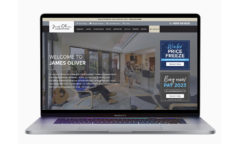 A leading home improvement product supplier has pressed the button on an £100,000 digital marketing drive to help its UK-wide network of retailers enjoy a strong 2022.
Wakefield-based Conservatory Outlet is working with DigitalKOG to develop the latest lead generation focused websites that will be tailored to all 27...
The Fit Show

CHECKATRADE TO MAKE DEBUT APPEARANCE AT FIT SHOW 2022

Checkatrade is set to make its debut at FIT Show, which is returning to the NEC between 10 – 12 May 2022.

Checkatrade is the UK's number one website for finding a tradesperson, with 44,000 trade members across the UK. It will be exhibiting at FIT Show to raise awareness of the benefits of membership and to talk to installers about the demand it is currently seeing within the trade industry.

The business was founded in 1998 after a tornado hit a...

ENTRIES FOR THE NINTH ANNUAL SCHÜCO EXCELLENCE AWARDS ARE NOW OPEN

The ninth annual Schüco Excellence Awards will take place this summer, for which project applications are now officially being accepted.

The well-established Schüco Excellence Awards for Design and Innovation, run in association with Architecture Today, recognise exceptional projects completed with Schüco systems all over the UK and Ireland. The deadline for entries is 27th April 2022.

Architectural designer and television presenter, Charlie Luxton will reprise his role as host for the awards event at The Banqueting House in London's Whitehall on Thursday 30th June 2022.

The Awards receive recognition across the industry, as was demonstrated by the landslide amount of...

The Fit Show

CR LAURENCE TO SHOWCASE 'GLASS ROOMS' AT FIT SHOW 22

CR Laurence (CRL), one of the leading wholesale distributors to the glazing, industrial, construction, architectural, hardware and automotive industries, had signed up to exhibit at FIT Show 2022.

FIT Show, the UK's leading event for the glazing industry, returns to the NEC Birmingham from May 10 – 12. CRL will utilise FIT Show as a platform to showcase its range of glazed solutions to fabricators and installers.
Installer Support

EPWIN WINDOW SYSTEMS' PRODUCT CHOICE HELPS INSTALLER CLOSE THE SALE

Epwin Window Systems is synonymous with offering the industry's largest range of award-winning window and door systems in a choice of product materials. The depth and breadth of their product offer has proved popular with installers who have multiple options at their disposal to capitalise...

HAFFNER SAYS SIZE DOES MATTER!

Haffner's stand at this year's FIT Show was already set to be the biggest stand in the show's history. But the company has confirmed that it's just got even bigger – the new space will be 610sqm. Dave Thomas, Managing Director of Haffner, said: "Our space at the FIT Show will be a must-visit for any fabricator. It will be first ever fully seamless machinery stand in the UK because it will showcase our complete Graf Synergy range, as well as machinery from our Haffner and FOM ranges."

Haffner took the decision to extend the stand because of a rapid increase...

Installer Support

EPWIN WINDOW SYSTEMS' CONNECT PLATFORM PROVING VALUABLE FOR INSTALLERS

Epwin Window Systems' Connect integrated digital platform is proving popular with installers with over 200 new installer registrations being made in the last four months.

Connect brings together all the vast...
Aluminium

SHEERLINE WELCOMES A WEALTH OF TECHNICAL EXPERTISE

Derby-based aluminium systems company, Sheerline Aluminium Windows and Doors has experienced exponential growth over the past two years through the introduction of its Classic, Prestige and S1 lantern range of products, and to strengthen customer support three new technical roles have been created.

TOTAL HARDWARE'S STRENGTH IN SUPPLY

As fabricators look to capitalise and manage the opportunities that today's buoyant market is offering, it's never been more important to choose supply partners carefully. Chris Pell, General Manager at Total Hardware, said: "With the market buoyant across domestic, commercial and new build, it's important to choose strong, reliable supply partners that can help you meet demand in all areas. This should include a large product range, strong stock-holding and rapid order turnaround."

Total Hardware offers a comprehensive range of products across all price points, including its own high-quality hardware ranges. For example, its Quantum range of premium...

Doors

NEW SITE OPENS DOORS FOR NEXT STAGE OF VIRTUOSO DOORS BOUNCEBACK

An intensive programme of factory upgrades following a site move is putting Gateshead-based composite door manufacturer Virtuoso Doors back on the path to renewed growth. The company is now producing up to 200 doors per day, despite the backdrop of the pandemic, materials shortages and escalating customer demand.
Aluminium

ALUMINIUM DAY – COMING SOON TO A SCREEN NEAR YOU!

Now in its fourth year, Senior Architectural Systems will be once again celebrating all things aluminium as part of its annual #AluminiumDay event. Taking place on the 13th March 2022, the leading aluminium fenestration systems supplier will be once again dedicating its social media channels to raising awareness of the benefits and different uses of aluminium and this year, there's...

A showroom to show off for Epwin Window Systems' installer L Pearce Home Improvements

L Pearce Home Improvements, an Epwin Window Systems' installer, has just opened a stunning new showroom in a Grade II-listed building which was previously an old pump house in Rhos-on-Sea, North Wales. The extensively refurbished building now showcases a wide range of Epwin Window Systems products including a selection of Optima PVC-U windows and doors, Stellar aluminium windows and doors and PatioMaster sliding doors. Taking centre stage is a 3.5 metre Stellar aluminium bifolding door which opens up to a kitchen bar area, demonstrating the open plan appeal that bifolding doors deliver.

Aluminium

FENTRADE – YOUR NEW ALUMINIUM FABRICATION PARTNER

If aluminium products are on your agenda in 2022, have a conversation with the team at Fentrade. That's the advice of Chris Reeks, Fentrade's Director. He says: "Aluminium is a growth sector and we know many businesses are looking at the opportunities. If you're one of those businesses, I'd love to have a conversation with you. We're a young award-winning business with the energy and...
| | | |
| --- | --- | --- |
| | 0780 505 1322 | |
Fenestra Build Limited 19 Heather Close, Tickhill, Doncaster, Yorkshire DN11 9UU
To view our privacy policy click here. To Unsubscribe please click here.
© Copyright Fenestra Build 2020