View Online • Unsubscribe
23rd June 2022
POLYFRAME SET FOR INTRODUCTION OF PART L AND PART F REGULATIONS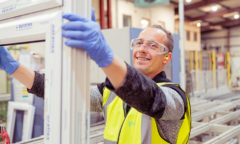 PVCu windows and doors fabricator, Polyframe, is prepared and ready to meet the new Building Regulations following the step-change in requirements which will come into force on Wednesday 15thJune.
Polyframe, which is part of the Customade Group, has worked with its profile manufacturers...
Hardware

Burg-Wachter Bike Security Receives Supreme Accreditation

With warmer weather approaching, more and more people will be turning to their bikes. But as cycling becomes more popular, bike theft is also on the rise. With over 50% of stolen bikes being left unlocked, it is imperative for cyclists...

MERCURY SPECIALIST FRAMES ADDS SMARTS' ALUSPACE SYSTEM TO ITS PORTFOLIO

Mercury Specialist Frames has just added the Aluspace System from Smart Systems to its portfolio. Steve Cross, Director at Mercury, said: "We are the first UK fabricator to complete our manufacturing training on this new internal door and screening system and we're delighted to be giving our customers a competitive advantage by adding it to our portfolio. It's the perfect system for fabricators and installers looking to make the most of the growth in high-end aluminium products."

Hardware

CARL F GROUPCO EXPANDS ITS PORTFOLIO WITH THE NEW STOCKED ARRONE™ DOOR HANDLE

Leading independent hardware distributors, Carl F Groupco has further expanded its product hardware inventory with the introduction of the new ARRONE™ door...
Aluminium

EPWIN WINDOW SYSTEMS LAUNCHES NEW STELLAR FLUSH TILT AND TURN WINDOW

Epwin Window Systems has launched its new aluminium Flush Tilt and Turn window, further expanding its Stellar Aluminium system range. Designed for use in medium and high-rise buildings, the new Stellar Flush Tilt & Turn window has a strikingly slim sash that sits flush against its frame and its...

20TH ANNIVERSARY FOR MERCURY GLAZING

July 2022 marks the 20th year in business for specialist trade fabricator Mercury Glazing Supplies. Directors and Co-founders Steve Cross and Martin Halford, take a look back at their journey that has made them the go-to fabricator for vertical sliding sash windows and cutting-edge aluminium products.

Ahead of the curve

When we came to market in July 2022 as one of the first manufacturers of the Spectus Vertical Sliding window, we set out a clear business focus to deliver a viable alternative to timber sash windows. It's fair to say the industry has come a long way since those early days, and our vertical...

Aluminium

The right glazing holds the key to aluminium systems compliance

REAL Aluminium, the manufacturer of bi-folding doors, sliding doors, residential doors and casement windows is advising that selecting the right glazing is the key to ensuring an aluminium profile system can meet the new Building Regulations, which are now in effect.
Awards

LINIAR SHINES AT THE QUANEX ANNUAL STAKEHOLDER AWARDS

Each year, Liniar's US based parent company holds the Quanex Annual Stakeholder Awards to acknowledge and reward the efforts of its plants around the world. Leading UK PVCu systems company Liniar, a subsidiary of Quanex since 2015, is delighted to be awarded not one, but four awards for its 2021 performance....

IS YOUR PVCU PROFILE SUPPLIER A 'STEADY SHIP'?

Since Covid-19, supply chain disruption has continued, leading to more turbulent waters for our industry. The one thing that's certain in business is that there will always be external pressures and uncertainty – so it's important to have the confidence that your suppliers are stable, reliable and customer-focused.

Choosing a profile supplier with the capacity for growth, good inventory levels, robust systems and a track record of excellent customer service delivery can help fabricators and installers weather the ongoing storms. We speak to PVCu systems house Liniar to find out why the company continues to receive positive customer feedback despite the...

Careers

Modplan further strengthens their Sales Management Team

Leading trade fabricator Modplan has further strengthened its Sales Management team with the recruitment of two new Business Development Managers, Gareth Burgess and Matthew Davies. The team, headed up by Field Sales Manager Ian...
Awards

Reynaers Shortlisted for Six Categories in the NFAs

Reynaers Aluminium has been shortlisted as a finalist in six categories of the National Fenestration Awards (NFAs) following nominations and votes by industry peers.

The premium aluminium supplier is finalist in the following categories: Aluminium Systems Company of the Year, Bi-Folding Door Manufacturer of the Year, Tom Cahill in the Business...

PART L COMPLIANT ALUMINIUM AS STANDARD WITH SHEERLINE

Tougher Part L requirements don't need to be a cause of concern for suppliers of aluminium products. In fact, if you choose the correct system supplier – these tighter standards can help give you an edge in a market that's set to become more competitive as the cost of living 'crisis' begins to encompass more middle income households.

With an ever-expanding range of Part L compliant aluminium windows, doors, bi-folds and roof lanterns – Sheerline's customers are reaping the benefits of choosing a modern aluminium system. Designed around Sheerline's innovative Thermlock® technology, which sits at the heart of every product, Thermlock®...

Hardware

Carl F Groupco stocks new patented Release and Turn handle

Leading independently-owned hardware distributor, Carl F Groupco has further expanded its product hardware inventory with the introduction of the new patented Release and Turn (RT) handle by J Banks & Co Ltd.

The new lockable, easy to operate RT...
| | | |
| --- | --- | --- |
| | 0780 505 1322 | |
Fenestra Build Limited 19 Heather Close, Tickhill, Doncaster, Yorkshire DN11 9UU
To view our privacy policy click here. To Unsubscribe please click here.
© Copyright Fenestra Build 2020