13th May 2022
Conservatory Outlet signs 'landmark' £20m deal with 5 Star Windows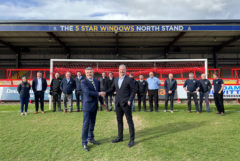 Conservatory Outlet has signed one of the largest deals in its history today after it extended its long-term partnership with a leading West Midlands home improvement specialist.
The Wakefield-based manufacturer put pen to paper on a new five-year contract with 5 Star Windows that is worth an estimated £20m between now and 2027.
Hardware

ADD VALUE TO THE SALE WITH CARL F GROUPCO'S SMARTSECURE RANGE

With nearly 60% of homes now having some sort of smart home device, there has never been a better time for fabricators and installers to embrace the added value benefits of smart technology. This is the view of John Crittenden, Managing Director of independently-owned hardware distributor Carl F Groupco who says. "Research shows that people value smart technology such...

SUNSQUARE'S NEW AERO PITCH SKYLIGHT IS PITCHED ROOF PERFECT

Unveiling the world's most advanced, thermally efficient skylight for 20-60° roofs

Rooflight pioneer Sunsquare has launched Aero Pitch – the world's most advanced and thermally efficient skylight for 20-60° tiled roofs. Making its first appearance at Grand Designs Live (ExCeL London, 30th April – 8th May 22), Aero Pitch is not only fully automated; it's condensation free, holds a BSI Kitemark for its safety and quality and is incredibly easy to install, with one universal flashing kit to fit any roof.

"We've been flat-roof skylight specialists for 18 years and this is our very first model specifically designed for 20-60° roofs," says Justin Seldis,...

Hardware

GENIUS PVC TRADE FRAMES SEES THE BENEFITS OF WORKING WITH TOTAL HARDWARE

Trade fabricator Genius PVC Trade Frames was founded by industry stalwarts Peter Dyson and David Eagle in 2019. Their hardware partner of choice from the start has been Total Hardware – and it's a choice both Peter and David are delighted with. Peter commented: "Genius was set up to provide high quality products to our customers so...
Part F

EPWIN WINDOW SYSTEMS PUBLISHES GUIDE TO THE CHANGES TO PART F

Epwin Window Systems has just published a guide to the changes to Part F of Building Regulations, which come into effect on 15 June 2022. Gerald Allen, Head of Marketing at Epwin Window Systems, commented: "15 June will mark the biggest update to Building Regulations in England for a number of years. Rest assured, we're here to help our customers...

OPEN THE DOOR TO THE COMPLETE ALUMINIUM LOOK

Sheerline have released the latest addition to their aluminium window and door range, the Prestige Composite Door Frame. Designed to allow installers and fabricators to offer 'whole-house' aluminium solutions, where all frames are perfectly matched across a project. With consistent styling, colours, performance and guarantees across the house, right down to the frames around the composite doors.

A choice of two aluminium outer frames that fit both 44 and 48/49mm door blanks are all ready to help doorsets meet the new requirements of Part L coming into force on June 15th this year, with Sheerline's unique Thermlock® thermal breaks delivering outstanding thermal...

Windows

SEKURA COMMERCIAL LTD SIGNS A NEW THREE-YEAR EXCLUSIVE SUPPLY AGREEMENT WITH EPWIN WINDOW SYSTEMS

Specialist social housing and new build fabricator Sekura Commercial Ltd has signed an exclusive new three-year supply agreement with Epwin Window Systems.

Sekura Commercial has been partnering with the systems house since 2004 and fabricates...
Colour

FREEFOAM SHOWCASE COLOUR

Freefoam Building Products are pleased to announce the launch of an updated colour brochure, to showcase the fascia, soffit and gutter range.

All the recent research in the Window and Door sector points towards an increase in colour. With statistics like 'Only 58% of PVC casements in 2021 were unfoiled' , the trends are clear to see. With the traditional woodgrain colours such as Rosewood, Golden Oak and...

BUILDING OUR SKILLS APPEALS FOR 50 VOLUNTEERS TO TAKE THE INDUSTRY TO THE EDUCATION SECTOR

Underlining its commitment to bringing more youngsters into the fenestration industry, Building Our Skills – Making Fenestration, Glass and Glazing a Career of Choice has strengthened its collaboration with the Education and Employers Charity to promote their 'Inspiring the Future' programme.

Inspiring The Future has been designed to connect young people with the world of work by encouraging volunteers to visit schools (in person or virtually) to help inform youngsters about the possibilities for their future careers and what they could achieve. The renewed collaboration is seen by Building Our Skills as key in helping to acquaint school age children, and...

Colour

KOLORSEAL ADVISES: KNOW YOUR KOLORS!

For Deborah Hendry, Managing Director at Kolorseal Ltd, the entrance to a home helps to reflect lifestyle choices. It is viewed as the focal point for any property and it is now being used by consumers to reflect lifestyles and individual personalities. Getting the colour right is essential.

"Choosing the right colour is more difficult than people may realise, which is something installers should consider when approaching...
| | | |
| --- | --- | --- |
| | 0780 505 1322 | |
Fenestra Build Limited 19 Heather Close, Tickhill, Doncaster, Yorkshire DN11 9UU
To view our privacy policy click here. To Unsubscribe please click here.
© Copyright Fenestra Build 2020